KUALA LUMPUR: After successive losses in 2016 and 2017, things have started to turn around for Focus Point Holdings Bhd.
The group delivered a stellar performance for its financial year ended Dec 31, 2018 (FY18) when it reported a record net profit of RM7.1 million on the back of a record revenue of RM179.27 million.
This momentum has continued into FY19, with the first quarter net profit surging 92.4% to RM2.15 million, while revenue increased 11.6% to RM45.73 million.
Focus Point president and chief executive officer (CEO) Datuk Liaw Choon Liang attributed the turnaround to the abolishment of the goods and services tax (GST) on June 1 last year following the change in the ruling government.
"The GST, which was implemented in April 2015, was a big challenge for retailers as it affected consumer spending, and 2016 and 2017 were the worst performing years for our company.
"Now with the sales and service tax kicking in, our only product that is subject to sales tax are sunglasses. However, sunglasses [sales] make up a small portion of our business, less than 20% [of revenue] so it is not a big impact to us," Liaw told The Edge Financial Daily.
Focus Point, lised on the ACE Market of Bursa Malaysia in 2010, is a leading optical player in the country, with close to 190 retail stores, of which 65 are franchised outlets and the rest directly owned by the group.
The group's outlets include its Focus Point stores, Focus Point Signature and Opulence which cater to the higher-end market, and Whoosh which features more affordable offerings.
Liaw said Focus Point has also changed its strategy from "being everywhere" (which means opening in even non-performing malls) to focusing on prime locations where there is significant footfall.
"We have relocated some of our non-performing stores. This is a common practice of chain operators, especially when there are malls which are not performing well.
"I would say now we are more cautious, or choosy on where we open our stores. We are still at the shopping malls, but at prime locations," he said.
Location aside, Liaw said the group has also shifted its strategy from one that is focused on pricing, to professionalism.
"We want to provide value-added services to our customers, so that when they walk into Focus Point today it's not just for a pair of glasses. They also get professional advice from our qualified optometrists," he said.
Regionally, the group has stores in Brunei, and is considering the option to expand its stores to other Southeast Asian markets such as the Philippines.
Around 89% of the group's revenue is derived from its optical segment, and 8% from its food and beverage (F&B) segment.
Focus Point operates Japanese concept bakery Komugi under its F&B segment. The group has Komugi stores in Malaysia, the Philippines, Australia, and recently opened a Komugi store in Brunei through a franchisee.
However, Komugi had been quite a challenge for the group, as its operations have been in the red since it started in 2013. Nevertheless, the losses have been narrowing, from RM2.75 million in 2017 to RM1.3 million in 2018, and Liaw expects Komugi's operations to turn around this year.
"We have changed the business model of our F&B segment. Previously we used to focus just on the retail element, but now we have adopted a wholesale model where we supply Komugi products to third parties, such as convenience stores and cafes, and this has had a positive impact on our financial results," said Liaw.
The group recently saw a surge in its share price, which has tripled from 19.3 sen a year ago to a record high of 58 sen on July 16.
Liaw and his wife Datin Goh Poi Eong control some 59% of Focus Point shares, while Perbadanan Nasional Bhd has a 15% stake.
"I think our share price performance is reflective of the confidence of investors have in us, given the improvement in our financial performance last year, and we also declared a dividend of 1.5 sen this year," he said.
On top of that, the group announced a second single interim dividend of one sen per share last week (Aug 13).
In comparison, Focus Point only declared a dividend of one sen in FY18. It did not declare any dividend from 2015 to 2017, during the GST implementation period.
To improve the trading liquidity of its shares, the group recently proposed a one-for-three bonus issue of 55 million shares.
Moving forward, Liaw said the group aims to transfer to the Main Market of Bursa Malaysia in two to three years' time.
"We actually could have qualified for a transfer earlier, but unfortunately due to our venture into F&B in 2013, it pulled back [our profit]. But now that things have settled down, hopefully we can transfer within the next two to three years," he said.
Liaw also has a succession plan set in motion, and is currently grooming his 25-year-old son, Kelvin Liaw Kai Xuan, to succeed him.
Kelvin was appointed Focus Point executive director in December 2017. He is a business and marketing management graduate, and has worked as a sales assistant within the group's optical outlets. He is currently involved in group marketing, as well as operation planning and execution.
"I started this company 30 years ago when I was 22. I have plans to step down [as CEO] in three years, so I am currently grooming my son as my successor, as we believe this is very important to ensure there is a proper transition," said Liaw.
Under his stewardship, Liaw has grown Focus Point from a small counter in a shopping mall in Muar 30 years ago to a successful homegrown retail chain today.
Whether Liaw's son will be able to continue his legacy, and whether the company will be able to maintain its earnings momentum, will be a key focus for investors.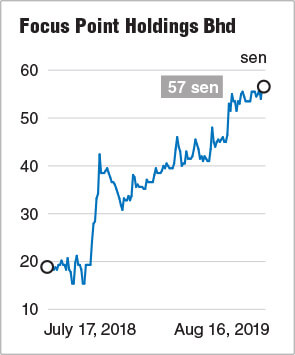 https://www.theedgemarkets.com/article/better-days-ahead-focus-point