Wong Ee Lin
/
The Edge Financial Daily
December 09, 2019 09:13 am +08
This article first appeared in The Edge Financial Daily, on December 9, 2019.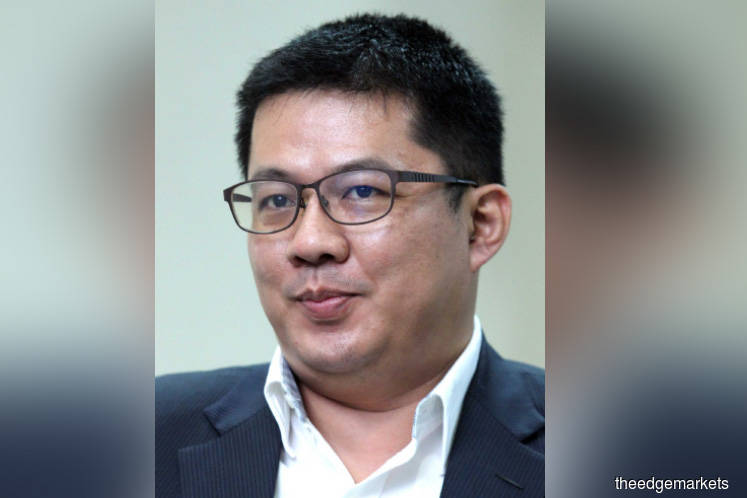 Lin says competition was getting more stiff and this posed a major challenge for the company to achieve smooth growth. Photo by Kenny Yap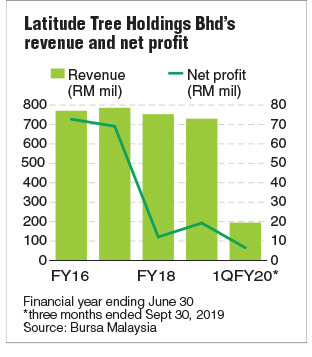 SHAH ALAM: While the worst is over for furniture maker Latitude Tree Holdings Bhd, its managing director Lin Chin Hung is quick to add that the company's "golden years are [also] over".
Lin, blaming intensifying competition, said annual earnings of RM30 million to RM40 million are the norm for Latitude Tree now.
It is a far cry from the situation just a couple of years ago. The company posted a net profit of RM77.81 million for the financial year ended June 30, 2015 (FY15), RM72.73 million for FY16 and RM69.07 million for FY17.
"Those days are over ... when we were earning RM60 million to RM70 million. Competition at that time was less, plus the ringgit was in the range of 4.2 to 4.3 against the US dollar," Lin told The Edge Financial Daily.
For FY18, Latitude Tree's net profit plunged to RM12.08 million before seeing some recovery to RM19.35 million for FY19. Revenue, on the other hand, has been in the range of RM710 million and RM786.02 million over the past five financial years.
Lin said competition was getting more and more stiff, posing a major challenge for the company to achieve smooth growth. The competition was especially felt in Vietnam where a lot of Chinese manufacturers were moving to, he said, adding: "Not just manufacturers in our industry, but all other industries."
As much as 77% of the orders received by Latitude Tree are from its Vietnam plant compared with just 19% from its Malaysian plant and 3% from its Thai plant.
Thus, with more Chinese manufacturers moving to Vietnam, it further increases competition for the company and reduces its market share or volume orders.
Latitude Tree is a 100% export company with 90% of its orders coming from the US, and the rest from Europe, Asia and the Middle East.
While the ongoing US-China trade war has resulted in more orders for the company in the short term, Lin said the negative side of this is the increasing competition and a shortage of workers.
"We have to strike a balance between the margins and orders. If you are willing to lower prices or margins, then you will then get a lot of orders," he said.
The company posted a net profit margin of 1.6% and 2.7% for the last two years, compared with 8.8% to 11% for FY15 to FY17.
Lin said the company has been looking to increase its upholstery line, adding that the expansion is set to be ready by March next year, and it will take another one to two years to "fully take off".
With better demand, Lin noted that the company is expecting its upholstery business to see a 15% to 25% gross margin, depending on the volume order size.
Additionally, Latitude Tree is hoping to see 20% of its total revenue contribution from the upholstery business by FY23. "We take it that these two years will be a learning curve for us," said Lin.
Despite reporting weaker earnings for the first quarter ended Sept 30, 2019 (1QFY20), Lin is hoping for a better performance from the company in the current year. He explained that new products and better margins will be driving the improvement in results. Nevertheless, the shortage of workers will still weigh on the company's performance, as productivity and output capacity will be affected.
"We will need some time ... we would say that these two years are a consolidation period as it's still a challenging time. We are very cautious now," said Lin, adding that there has been a lot of uncertainty in the market because of the trade war, coupled with the current environment that is very difficult not just for the furniture industry but any businesses out there.
In this light, Lin is anticipating better margins, especially with the upholstery line on board, from FY22 onwards.
For 1QFY20, the company saw a 50% decline in net profit to RM6.57 million, from RM13.13 million a year earlier, while revenue fell 9.1% to RM194.7 million from RM214.19 million. The lower earnings were mainly due to a lower revenue from Vietnam.
Latitude Tree's share price rose five sen or 1.71% to RM2.97 last Friday, raising its market capitalisation to RM288.71 million. Despite the better full-year performance in FY19, the counter did not manage to sustain above the RM3.50 level. Year-to-date, it has fallen by some 23%.