WHILE the Covid-19 pandemic has dampened the prospects of certain sectors such as aviation, tourism and retail, it has provided an opportunity for manufacturers to diversify their capabilities.
Although previously not involved in healthcare-related sectors, many companies have leveraged their technological know-how and core competencies to manufacture products that are currently in high demand — gloves, face masks, personal protective equipment, hospital beds and respirators, among others.
The surge in demand for these products has been rewarding, as a look at the capital appreciation of these stocks reveal. Of the more than 900 companies listed on the Main and ACE Markets of Bursa Malaysia, 24 have seen their share price cross the RM1 mark and move out of the "penny stock" category (as at Aug 4).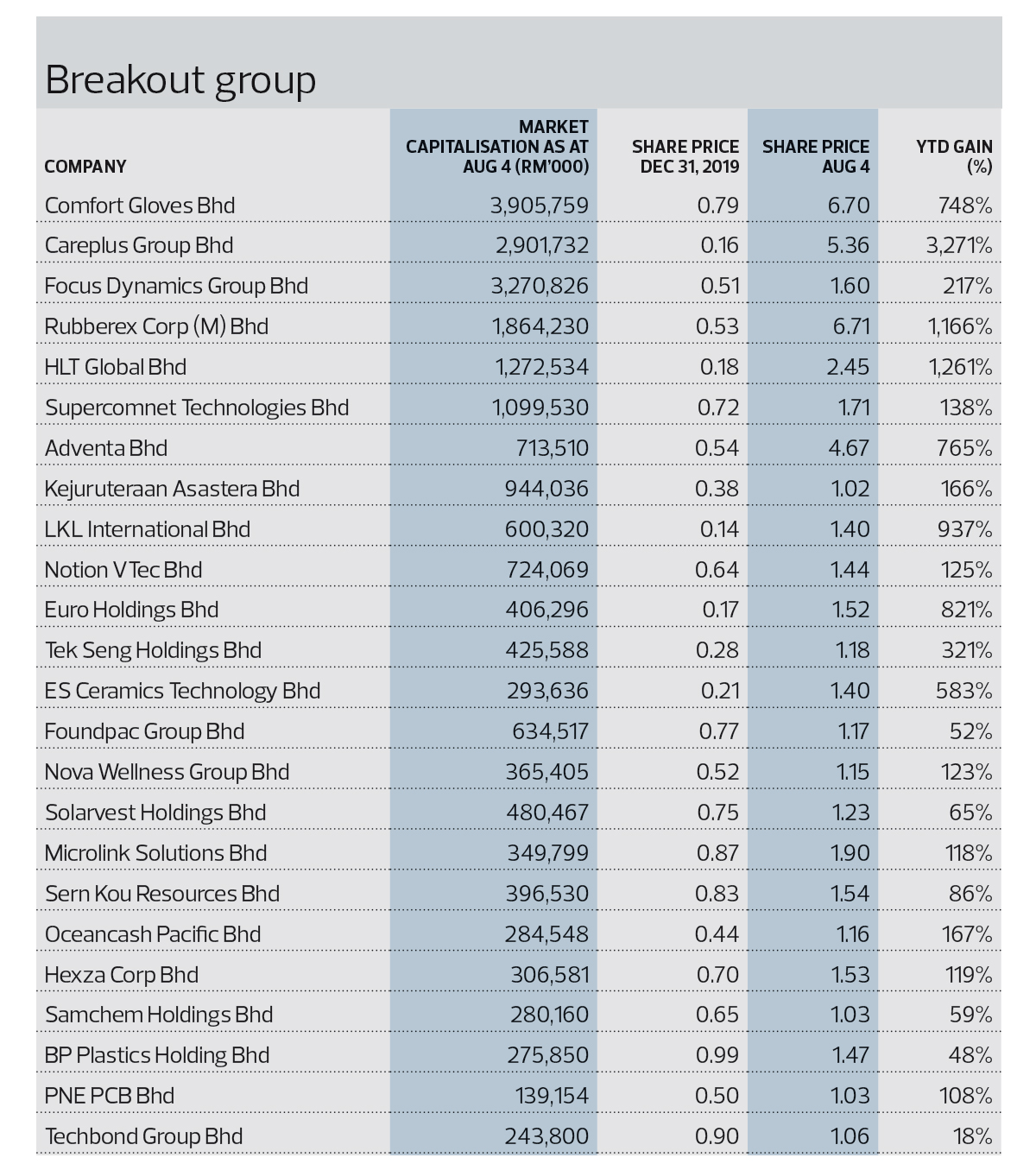 These stocks, which were small to mid caps at the end of last year, include Comfort Gloves Bhd, Careplus Group Bhd, Rubberex Corp (M) Bhd, HLT Global Bhd and Supercomnet Technologies Bhd. Following the pandemic, they have catapulted into the billion ringgit club. The market capitalisation of the rest of the companies may not have reached the RM1 billion mark yet, but they have also recorded sizeable gains.
Our focus is on six entrepreneurial-driven companies that are not only making waves in the stock market but also form an integral part of the healthcare ecosystem in the fight against Covid-19.
Comfort Gloves Bhd
The market capitalisation of Comfort Gloves, which is involved in the manufacturing and trading of natural and synthetic speciality examination gloves, has surged RM3.44 billion year to date, valuing the company at RM3.91 billion last Tuesday. The Taiping-based company went from a penny stock trading at 79 sen at end-December to close at RM6.70 on Aug 4.
Comfort Gloves' plants have the capacity to produce five billion pieces of gloves per annum. According to a July 14 note by RHB Research, the company plans to add another six production lines in FY2021. Upon completion of these lines, RHB expects its production capacity to increase to 5.9 billion pieces per annum.
For its financial quarter ended April 30, Comfort Gloves reported a 94% increase in net profit to RM16.34 million while revenue grew 27% to RM152.9 million.
On Aug 4, businessman Datuk Ong Choo Meng emerged as a substantial shareholder of Comfort Gloves with 29.25 million shares or a 5% stake. Ong holds 50.1% of another glove maker, Rubberex Corp. As at April 30, Comfort Gloves' largest shareholder was managing director Cheang Phoy Ken, who holds 18.3% equity interest.
Careplus Group Bhd
Senawang-based glove maker Careplus Group Bhd, which was trading at a mere 16 sen at the end of last year, closed at RM5.36 last Tuesday. Having added RM2.8 billion in market capitalisation year to date, the company is currently valued at RM2.9 billion.
The surge in glove demand has propelled Careplus back into the black as it made a net profit of RM37.35 million in the first half of its financial year ended June 30, against a net loss of RM1.6 million a year ago.
The company is also adding production lines — 10 will be installed and commissioned by the end of the year while another 13 will be installed and commissioned next year. This will more than double its total production capacity from 4.1 billion pieces to about 8.8 billion pieces by end-2021, barring any interruption. The group will have a total of 50 production lines by the end of next year.
Rubberex Corp (M) Bhd
Like all glove makers that saw heightened demand because of Covid-19, Ipoh-based glove manufacturer Rubberex Corp enjoyed stretched profits. For its financial quarter ended March 31, its net profit surged more than fourfold to RM9.26 million from RM1.96 million a year ago.
The company's market capitalisation had increased by RM1.7 billion year to date to RM1.86 billion last Tuesday, with its share price skyrocketing from 53 sen at the end of last year to RM6.71 last Tuesday.
Rubberex says it remains focused on its nitrile disposable glove division, which is currently operating at full capacity. Its order book for its existing nitrile disposable glove lines have been filled until 1Q2021.
Notion VTec Bhd
Notion VTec — a supplier of high quality and precision machined components for the automotive, hard disk drive (HDD) and electronics manufacturing services (EMS) segments — ventured into face mask manufacturing this year. Its share price had appreciated 125% year to date to RM1.44 (as at Aug 4), adding RM404 million in market capitalisation to value the company at RM724 million.
On July 30, the group announced that its subsidiary Notion Venture Sdn Bhd is now registered with the US Food and Drug Administration to sell three- and four-ply surgical face masks for the use of the general public or health personnel. Executive chairman Thoo Chow Fah tells The Edge that the group is now applying for CE certification for the European markets as well.
"Malaysia has made it mandatory for face masks to be worn in public, especially in crowded areas, so our supply to the local market is doing well. When all our production lines are operating fully, which is likely by September, we will [start to] export. We already have many enquiries from Singapore, Vietnam and Hong Kong," he says.
The group will be holding an extraordinary general meeting soon, where shareholders are expected to give their approval for the healthcare segment to be made a core business apart from its precision machined components business.
As Notion's healthcare segment will include the manufacturing of three- and four-ply surgical face masks, kids' masks, N95 respirators, Propylene PP meltblown filter fabric, Propylene PP spunbond and Propylene resin and masterbatch, the group will become an integrated and one-stop centre for face masks.
LKL International Bhd
This year has been a busy one for hospital bed manufacturer LKL International Bhd, whose share price accretion reflects the heightened demand for its products.
Year to date, its market value has been bumped up by RM542 million to RM600.3 million (as at Aug 4). Over the same period, its share price has grown tenfold from 14 sen to RM1.40.
CEO Lim Ming Chang tells The Edge that the demand in both domestic and international markets had been on an upward trend even before the pandemic. "This is being driven by increasing medical and healthcare investments to support the needs of not only growing, but also ageing, populations worldwide. We received orders for 1,500 units of new medical beds from the local market in the first half of the year, with 733 beds successfully delivered to date. During the same period, we received orders for 425 units of beds from export markets, of which 240 have been delivered. The remainder will be delivered by the fourth quarter of 2020."
The growth in demand for beds was mainly in Malaysia as most of the orders were from local hospitals. "The demand for exports has picked up as well, but we have prioritised addressing the local market's needs during this period. Going forward, we expect the local market to remain our largest revenue contributor, but we will endeavour to grow our exports as well," says Lim.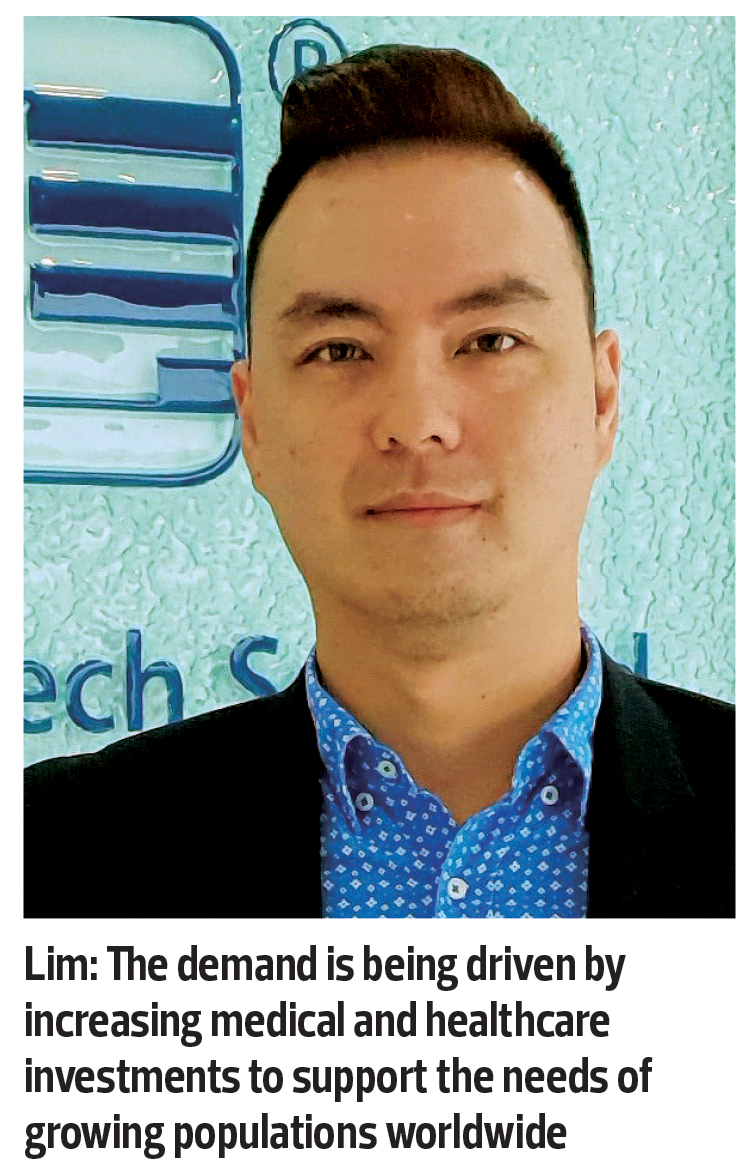 An increase in demand has been seen from the African continent and Bangladesh. "We also believe that strong demand will persist throughout Southeast Asia as we target more sales to countries such as Vietnam, Indonesia and Thailand. We also supply our medical beds to European countries like Germany and the Netherlands and will continue our efforts to increase sales to this region," he adds.
LKL returned to the black in its financial year ended April 30, with a net profit of RM4.35 million against a net loss of RM2.5 million a year ago, on the back of a 48% increase in revenue to RM54.95 million.
The group recently announced a private placement exercise to raise RM26.5 million, which is aimed at expanding its manufacturing capacity and efficiency to successfully address the growing number of enquiries.
Supercomnet Technologies Bhd
An original equipment manufacturer in the automotive cables and medical devices industry, Sungai Petani-based Supercomnet Technologies has registered a share price gain of 138% year to date (as at Aug 4). At last Tuesday's close of RM1.71, the company's market capitalisation was RM1.1 billion, having added RM633 million over the period.
Several key products of the company's subsidiary Supercomal Medical Products Sdn Bhd are utilised in critical medical devices that are needed in the treatment of Covid-19 patients, such as disposable bronchoscopes and the critical care monitoring cable that is presently being used for Covid-19 patients in the intensive care unit.
For its first financial quarter ended March 31, the group reported a 9.3% increase in net profit to RM4.1 million while its revenue grew 12.7% to RM28.15 million.
On July 10, the group announced that its latest catheter for cardiovascular use had been approved and is now listed on the US Food & Drug Administration's (FDA) website. The FDA approval means that the company can now start manufacturing the catheter for its client — a Denmark-based company that is the exclusive distributor for several world-leading producers of medical devices.
http://www.theedgemarkets.com/article/penny-stocks-no-more