Special Report: Almost 100 companies on Bursa offering higher dividends than FD

A RM50,000 placement in a 12-month fixed deposit (FD) these days would provide the depositor with a maximum interest of only RM1,100, or 2.2%, which is below the headline inflation figure.

Simply put, a depositor would not earn enough interest on his capital to counter the rising prices of goods and that would eventually lead to an erosion of capital. Having said that, FDs have their place and purpose as a "risk-free" option for investors.

Nonetheless, for those who can stomach more risk and are willing to invest in equities that provide a regular stream of income, there are 96 companies listed on Bursa Malaysia with a market capitalisation of at least RM500 million that are offering a gross indicated dividend of 3% or more, according to data available on Bloomberg.

What is worth noting is that some stocks have suffered downward pressure on their price so far this year, making the dividend look more attractive than it usually is. Investors should take into account that when the price of these shares rebound, yields are likely to trend downward.

Nonetheless, for stocks that have been beaten down but possess good fundamentals, it could be timely for investors to accumulate them.

As such, fund managers say, it is important to consider the business prospects of the company because that would determine the sustainability of the dividend. "Investors should pay attention to whether the higher dividend issued is just a one-off event, perhaps due to a sale of an asset, or whether it is because of an improvement in earnings," says a fund manager.

Historically, dividend yields have been a factor in helping investors make decisions on which stocks to buy. But it should be noted that it serves only as a guide, because for companies that have built up debt over the years or are experiencing a continuous downtrend in earnings, there is no guarantee that they will be able to continue paying out the same amount of dividends in the future.

Of the 96 stocks that have a gross indicative dividend yield of more than 3%, financial institutions — comprising banks, insurers and consumer credit providers — make up the highest number of stocks on the list.

Malayan Banking Bhd (Maybank), the largest company on the stock exchange in terms of market capitalisation, has an indicative dividend yield of 8.36% — the highest among the other financial institutions listed on Bursa. Its share price has gained marginally this year, increasing 2.33% year to date (YTD) to close at RM7.98 on Nov 30.

Maybank, like the others in its industry, has been negatively affected by the various measures undertaken to help borrowers with loan repayments. The bank saw its net profit slip 14% for the third quarter ended Sept 30 (3QFY2021) to RM1.68 billion from RM1.95 billion a year ago.

Some believe that the banking group should benefit from stronger loan growth next year. For 2022, CGS-CIMB Research is projecting an industry loan growth of 5% to 6% in Singapore and in the low teens in Indonesia. Both projections come in higher than the 4% to 5% expected in Malaysia.

Among the top five stocks with the highest dividend yield, four are those of glove manufacturers. Kossan Rubber Industries Bhd takes pole position with its indicative dividend yield of 23.38%, followed by Supermax Corp Bhd's 18.71%.

Kossan's share price has shed 44.73% YTD, whereas Supermax's share price is 66% lower than it was at the start of the year. On Nov 30, Kossan closed at RM2.15 while Supermax sat at RM1.88.

The other glove manufacturers suffered the same fate, with Hartalega Holdings Bhd and Top Glove Corp Bhd shedding 40% and 47% YTD respectively to close at RM6.49 and RM2.93 on Nov 30.

Selling pressure on the stocks of glove manufacturers came as vaccination efforts progressed this year, raising optimism that the coronavirus would be better contained.

Kossan's financial performance for 3QFY2021 ended Sept 30 saw an improvement of 51.46% to RM528.2 million from RM348.74 million a year earlier. The company attributed the higher profit to the higher average selling prices (ASPs) in the glove manufacturing division. It proposed a dividend of 12 sen per share for 3QFY2021, four times more than the 3 sen dividend declared in the previous year.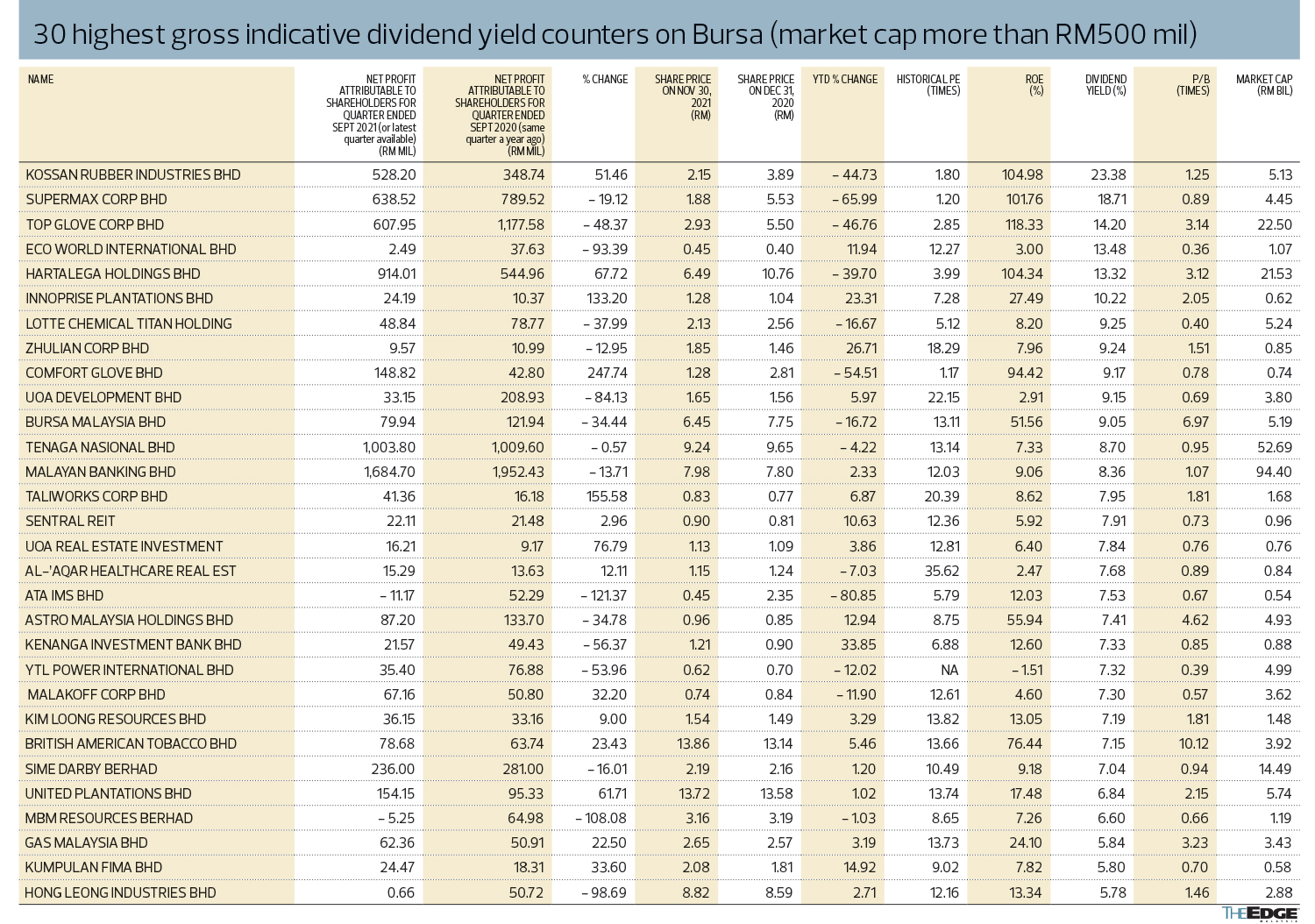 Like Kossan, Hartalega's financial performance for the second quarter ended Sept 30 also improved, with its net profit up 68% to RM914.01 million from RM544.96 million a year earlier. The company benefitted from higher sales revenue on the back of an increase in ASPs.

Hartalega, which has a dividend policy of distributing at least 60% of the group's annual net profit, proposed a generous first interim dividend of 35.2 sen per share compared with 3.85 sen a year earlier. The proposed dividend exceeds the total dividend payout of 33.3 sen in FY2021 ended March 31 and 7.55 sen in FY2020.

Both Supermax and Top Glove saw a decline in their recent quarterly financial performance.

Supermax's net profit shed 19.12% to RM638.52 million for 1QFY2022 ended Sept 30, owing to a fall in ASPs as competition intensified, following a period of substantial capacity expansion across the industry, according to the company.

Top Glove's fourth quarter ended Aug 31 showed a decline in net profit to RM607.95 million from RM1.18 billion a year ago. Nonetheless, the full-year net profit of RM7.87 billion was more than four times the net profit of RM1.75 billion in the previous year. The company declared a total dividend of 65.10 sen per share for FY2021, 5½ times more than the 11.83 sen in FY2020.

With the Omicron variant of Covid-19 hitting the headlines recently, glove counters that had undergone selling pressure this year may be able to regain some lost ground as investors assess develop­ments in the light of the recent variant.

Sandwiched between the glove counters is Eco World International Bhd, with its indicative dividend yield of 13.48%. Its share price had increased about 12% YTD to close at 45 sen on Nov 30.

EcoWorld's earnings were significantly lower in the third quarter ended July 31, down 93% to RM2.49 million from RM37.63 million a year earlier. This was the result of a lower share of profits in a joint venture and higher financing cost, following the cessation of the capitalisation of financing cost on general borrowings.

For the cumulative nine months ended July 31, EcoWorld proposed a dividend of six sen per share. This was the first time the property company declared a dividend since its listing.

Interestingly, Innoprise Plantations Bhd has the highest indicative dividend yield among the plantation companies listed on Bursa at 10.2%. Like many of its peers, its net profit has been stellar this year on the back of robust commodity prices.

For the third quarter ended Sept 30, Innoprise's net profit more than doubled to RM24.19 million from RM10.37 million in the previous corresponding period, supported by higher ASPs of crude palm oil and palm kernel. So far for this financial year, the planter has announced dividends amounting to 16 sen per share.

Unsurprisingly, its share price has been climbing this year. The stock had gained 23% YTD to close at RM1.28 on Nov 30.

In FY2020, Innoprise revised its dividend policy to pay out at least 80% of profit after tax and declared a total dividend of 6.5 sen per share.

The companies on the list with an indicative dividend yield of at least 9% include Lotte Chemicals Titan Bhd, Zhulian Corp Bhd, Comfort Glove Bhd, UOA Development Bhd and Bursa Malaysia Bhd. Notably, these five companies are in a net cash position.

Bursa Malaysia, at RM2.86 billion, has the highest net cash position and its indicative dividend yield stands at 9.05%. Its share price had fallen 16.72% this year to close at RM6.45 on Nov 30.

http://www.theedgemarkets.com/article/special-report-almost-100-companies-bursa-offering-higher-dividends-fd