Hi guys
Tomorrow NAIM will be holding its EGM in proposal to sell two pieces of Industrial lands
Read this
https://www.bursamalaysia.com/market_information/announcements/company_announcement/announcement_details?ann_id=3089313
This will unlock Rm340 MILLIONS CASH
Of the Rm340 Millions (equal to 68 sen a share) Naim will give out a nice 18 sen (Rm180) per share
At 83 sen today that means 21.6% per share or if you take Bank FD rate at 1.75% it means more than 12 years of FD rate paid in One year.
Of course people said after dividend ex Naim share price will readjust to 83 - 18 = 65 sen per share
But there is a Big Game Changer Now
Because Naim still got 50 sen left for development
The lands Naim sold to Sarawak Economic Development Board will go to developing downstream methanol in Bintulu
With over Rm2.5 Billions Cash just received from Petronas Bintulu Sarawak Govt will now go into Massive Development
Great for Naim as it still has lots of Real Estate Lands here
Naim planned to build 2,500 affordable single storey houses selling from Rm300,000 each
See this example below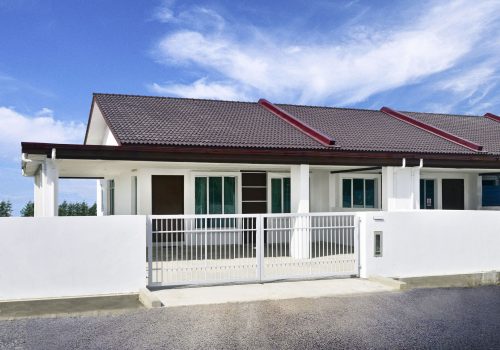 I spoke to Mr Lee Meng Sing of Sitiawan. A housing developer friend. He estimated that cost of constructing a single storey house to be Rm70,000 to Rm80,000 (Inclusive of other charges like drainage & landscape the total cost should be Rm100,000)
Since Naim already owned the lands with low holding cost of only Rm4 psf) See this https://klse.i3investor.com/blogs/www.eaglevisioninvest.com/2019-02-08-story192653-NAIM_is_Firing_Up_on_All_Four_Engines_just_like_the_747_Jumbo_Plane_Calvin_Tan_Research.jsp
The projected profit will be Rm200,000 per unit
Multiply that with 2,500 = Rm500 Millions
That means Naim will get Rm1.00 Pure Cash Profit in 5 years (not counting further land sales, shares of Dayang & Perdana plus its construction arm)
So there will be another 20 sen extra for the next 5 years for dividend payment
So in times where USA and others are reducing Interest to zero or near zero....Naim being a good dividend payer will surely attract Dividend Funds
And no wonder
Among Top 30 Holders of Naim are both Foreign & Local Funds
Please refer to Naim Annual Report
Top 30 Holders
Pacific Pearl Fund
CITIGROUP NOMINEES UBS AG
HONG LEONG REGULAR INCOME FUND
PLASMA CAPITAL
HONG LEONG STRATEGIC FUND
GREAT EASTERN LIFE ASSURANCE
AND ONE INTERESTING NAME
12. LEE SEE JIN........... 2,417,100
At Top 12 is LEE SEE JIN (Gold) with 2.4 Million Naim shares
They have witnessed Naim's excellent dividend records of the past. Now Naim should revive its dividend payout again
See
From STOCK PERFORMANCE GUIDE By Dynaquest (End 2014 edition)
CRITICAL STOCK MARKET INFORMATION
Year Price range. DPS....... EPS
2004...2.98...4.50......6.8 sen......27.8 sen
2005...2.58...3.50......10.1 sen....31.7 sen
2006...2.89...3.66......14.4 sen....26.5 sen
2007...3.10...6.40......11 sen.......33.1 sen
2008...1.42...4.72......11.8 sen....26.7 sen
2009...1.08...3.25 ..... 8 sen........34 sen
2010...2.64...3.83......10 sen.......38.8 sen
2011...1.54....3.90.....10 sen.......18.7 sen
2012...1.64....2.39.....6 sen..........35.8 sen
2013...1.77....4.66....5 sen...........14.8 sen
2014...3.13....4.42....8 (e)............35 (e)
For years 2016 to 2019 Naim did not give out dividend & share price languished.
Now this 18 sen dividend at 83 sen will be the very best for a long long time
As of now only in i3 forum people are aware
Not for long. Tomorrow Naim after Egm will announce officially the Actual Dividend Payout
Once News Out Dividend Paying Income Funds might be drawn back to Naim again
Note:
Calvin promoted Prolexus at only 57.5 sen with a target price of only Rm1.00
See
https://klse.i3investor.com/blogs/www.eaglevisioninvest.com/2020-05-06-story-h1506912284-PROLEXUS_8966_ProXmask_The_ProActive_High_Quality_FACE_MASK_product_of_.jsp
On friday Prolexus went Limit Up. Today it crossed Rm1.40 & settled at Rm1.29 (Don't chase Prolexus now as Bosses are sellling!!)
WILL NAIM CROSS RM1.00 & ALSO REACH RM1.40 LIKE PROLEXUS ONE DAY?
Yet to be seen
Best Regards
Calvin Tan Research
Singapore
Disclaimer
All information provided here should be treated for informational purposes only. It is solely reflecting author's personal views and the author should not be held liable for any actions taken in reliance on information contained herein.

https://klse.i3investor.com/blogs/www.eaglevisioninvest.com/2020-10-05-story-h1514475327-NAIM_5073_A_LOOK_AT_NAIM_AS_A_ROCK_SOLID_DIVIDEND_STOCK_RETURNING_BACK_.jsp