TOPGLOV (7113): TOP GLOVE CORP BHD emerged as top short selling counter on Sept 20, investors shorted RM15.89 mil worth of shares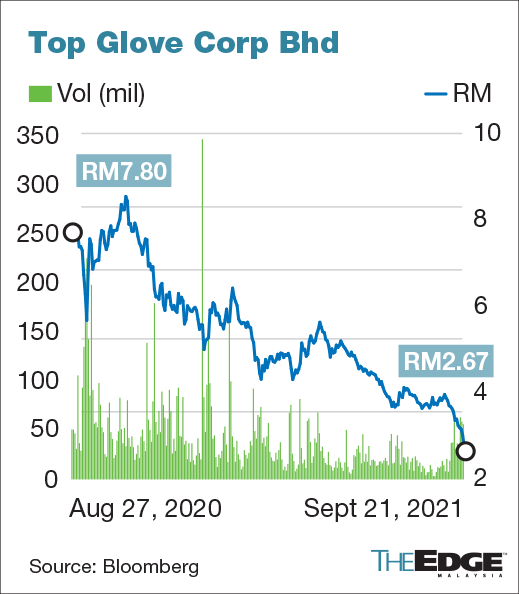 KUALA LUMPUR (Sept 22): Following the steep decline in its share price in recent days, Top Glove has emerged as the top short selling counter on Monday (Sept 20) in terms of volume and value, with 5.53 million shares worth RM15.89 million shorted by investors.
Cumulatively, based on Bursa Malaysia's Regulated Short Selling (RSS) data, investors have shorted a total of 17.48 million shares in the local bourse worth RM41.24 million on Monday.
This means the amount of short selling in Top Glove in terms of value accounted for 38.5% from the total short selling yesterday (Tuesday, Sept 21).
Other glove makers including Hartalega Holdings Bhd and Supermax Holdings also emerged as one of the top short selling counters in the local bourse on Monday.

Hartalega saw 357,500 shares worth RM2.20 million shares shorted, while Supermax saw 1.08 million shares worth RM2.64 million shorted.
On Monday, shares in Top Glove lost their footing and slipped below RM3 for the first time since May 2020, following target price (TP) cuts and rating downgrades by analysts against a backdrop of earnings that missed expectations.
Analysts covering the counter have downgraded their earnings forecasts for Top Glove, as they expect glove average selling prices (ASPs) to drop further, affected by factors such as normalised demand due to increasing vaccination roll-outs around the globe and rising Chinese competition, which will weigh on the group's ASPs.
"There has been talk on the rise of production in capacity globally, particularly from the Chinese players, and certainly this will affect local glove manufacturers. Hence, short sellers might be on the lookout for the glove manufacturer's battered share price," said a Head of Research in a foreign research house.
Short selling — an investment or trading strategy that speculates on the decline in a stock or other security's price — is regulated in Malaysia, where only selected securities are eligible for RSS activities.
On Friday (Sept 17), Top Glove said its net profit slumped 70.14% to RM607.95 million for 4QFY21, compared with RM2.04 billion for the immediate preceding quarter. Revenue almost halved to RM2.12 billion, from RM4.16 billion for 3QFY21.
Both earnings and its top line also dropped on a year-on-year (y-o-y) basis.
Net profit fell 48.37% from RM1.18 billion for 4QFY20, while revenue declined 31.95% from RM3.11 billion.
Full-year net profit for FY21 surged 349.1% to RM7.87 billion, from RM1.75 billion for FY20. Revenue more than doubled to RM16.41 billion, compared with RM7.24 billion previously.
Shares in Top Glove ended 14 sen or 4.98% lower to RM2.67 on Tuesday, valuing the glove manufacturer at RM2.115 billion.
For the past five days, the stock has fallen by 16.5% from RM3.20 reported on Sept 15.
Other glove manufacturers such as Hartalega finished 22 sen or 3.61% lower to RM5.88, while Supermax settled seven sen or 2.87% lower to RM2.37.
http://www.theedgemarkets.com/article/top-glove-emerged-top-short-selling-counter-sept-20-investors-shorted-rm1589-mil-worth