A record RM8.1 bil raised via private placements in 2021

BASED on data compiled by The Edge, 175 companies — or 19% of the 923 companies listed on Bursa Malaysia's Main Market and ACE Market — have successfully raised a total of RM8.1 billion from their private placements this year, the largest in Malaysia's history.

The private placements alone exceeded the total secondary fundraising of RM8 billion in 2020.

The relaxation of fundraising rules, alongside ample market liquidity, has certainly been the key catalyst for active share placements. Private placements are expected to continue being the preferred fundraising option in the coming year as Bursa announced last Thursday that the relief measures would be extended by another 12 months, until Dec 31, 2022.

In April 2020, at the onset of the pandemic, Bursa increased the general mandate for private placements to 20% of a company's issued share capital, from 10% previously, to address the need of listed issuers to resume operations and raise funds quickly and efficiently.

Companies are also allowed to issue up to 30% of their existing share capital in a placement if their shareholders approve the exercise at an extraordinary general meeting.

From the minority shareholders' standpoint, private placements may not be good for them due to the impact of earnings dilution. Hence, it is important for companies to fulfil their obligation to create value from the funds spent on their business operations.

Of the top 20 listed companies that raised the most via private placements, almost half were technology-related, as they tapped their rising share prices for business expansion.

Inari Amertron Bhd's RM1.03 billion fundraising was the largest in 2021. Five months after it announced the private placement, the group announced in October that it had entered into a memorandum of understanding with China Fortune-Tech Capital Co Ltd with the intention of setting up a joint-venture firm in China. It aims to carry out outsourced semiconductor assembly and test manufacturing and related businesses for the Chinese market.

Inari's share price had risen 36% year to date (YTD) to close at RM3.80 on Dec 21, compared with its private placement price of RM3.10 a share.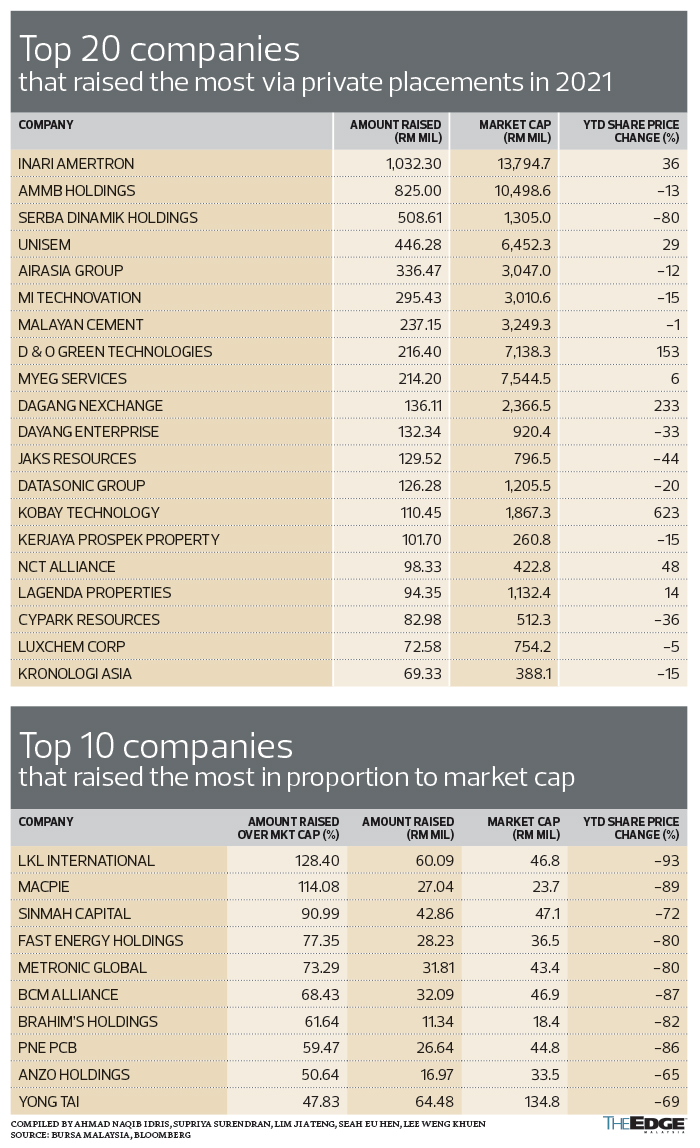 D&O Green Technologies Bhd's RM216.4 million private placement — involving 38.5 million shares — was taken up within three weeks at RM5.62 per share. The funds raised will be used to partly finance the construction of an eight-storey manufacturing plant with an overall floor space of about 60,000 sq m in Batu Berendam Free Trade Zone, Melaka. The plant is expected to commence production progressively from the first quarter of 2025.

Meanwhile, Unisem (M) Bhd raised RM446.28 million from its private placement exercise to fund its expansion plans in China and Malaysia.

In contrast, AMMB Holdings Bhd's cash call was a negative surprise to analysts, owing to its dilutive effects. The RM825 million private placement came after its RM2.83 billion settlement with the government in relation to the 1Malaysia Development Bhd (1MDB) scandal.

The banking group's closing share price of RM3.13 on Dec 21 was still 13.8% higher than its private placement price of RM2.75 per share. The funds raised will be used to strengthen its core capital ratios, including the common equity tier-1 and total capital ratio.

Reeling from the adverse impact of border closures, AirAsia Group Bhd raised RM336.47 million via placements of new shares during the year — RM86.82 million in March and RM249.65 million in February, at 86.5 sen and 67.5 sen per share respectively.

This led to the emergence of Hong Kong's well-known poker player Stanley Choi Chiu Fai as its substantial shareholder, with an 8.96% stake. However, the group has yet to issue the remaining 198.18 million shares. An extension to the end of the year was granted by the regulator in July.

AirAsia's share price surged to a 20-month high of RM1.33 in October before paring its gains to close at 76.5 sen on Dec 21.
Between RM1 bil and RM5 bil market cap

Among the large-cap stocks, Serba Dinamik Holdings Bhd raised the most from its share placement at RM508.61 million. Investors who subscribed for the placement shares early this year would have suffered a loss if they had not disposed of their stake before the share price slumped in response to alleged financial irregularities at the oil and gas services firm.

Trading in Serba Dinamik's shares has been suspended since the afternoon session on Oct 22 as the company did not comply with Bursa's directive to make an announcement on the findings of a special independent review. Some 80% of its market value had been wiped off prior to the suspension.

Other notable share placement exercises included those at Mi Technovation Bhd, Dagang NeXchange Bhd (DNeX), Datasonic Group Bhd and Kobay Technology Bhd — all of which are in the technology space.

In August, Mi Technovation announced that it had subscribed for a RMB45 million (RM29.36 million) increase in the capital of Talentek Microelectronics (Hefei) Ltd, in a bid to have a foothold in the semiconductor final test segment in China. The automated test equipment manufacturer aims to become a diversified semiconductor solutions provider.

DNeX — which saw the emergence of Hon Hai Precision Industry Co Ltd, or globally known as Foxconn Technology Group, as shareholder in June — raised RM136.11 million in 2021. During the year, it bought 60% equity interest in loss-making SilTerra Malaysia Sdn Bhd from Khazanah Nasional Bhd. It also acquired an additional 60% stake in North Sea oil and gas production outfit Ping Petroleum Bhd for US$78 million (RM314.3 million).

Datasonic Group's private placement was completed soon after new managing director Wan Zalizan Wan Jusoh took the helm of the group in February, with plans to transform it into an "institutionalised" entity by roping in institutional investors. The security and surveillance technology service provider raised RM126.28 million from the issuance of 262 million shares at 48.2 sen apiece.

Having seen a 623% YTD gain in its share price, Kobay Technology, which manufactures precision machined components, raised RM109.45 million from the first tranche of its private placement last month, to fund its new aluminium product manufacturing plant.
Between RM500 mil and RM1 bil market cap

In the market cap range of RM500 million to RM1 billion, Dayang Enterprise Bhd and Jaks Resources Bhd recorded the highest amount raised from their share placement exercises, at RM132.34 million and RM129.52 million respectively.

First proposed in May 2019, Dayang's private placement of 96.48 million shares was only completed in March 2021, following several requests for an extension of time to implement the fundraising exercise. The proceeds will be utilised for the building up of a sinking fund for its sukuk programme, capital expenditure and working capital.

With RM129.52 million raised in July, Jaks Resources will use the funds to partly finance the engineering, procurement, construction and commissioning (EPCC) cost and working capital for its large scale solar photovoltaic plant of 50mw in Seberang Perai Selatan, Penang. It also intends to acquire existing operating power generation assets, including solar farms, hydroelectric dams and liquefied natural gas facilities in Malaysia, Vietnam and Indonesia.

Leveraging a short-lived rebound in its share price, Careplus Group Bhd was quick to place out two tranches of shares in July to raise a total of RM18 million, based on a placement price of RM2 each. The glove maker's share price, however, headed south to a low of 83 sen in November.

Careplus had proposed a private placement exercise in June 2020 to finance the purchase of machinery for the setting up of 11 new production lines and a surgical packaging machine. Note that its earlier tranches were fixed at RM1.27 and RM3.60 per share in June and October 2020 respectively.

Dataprep Holdings Bhd's private placement this year caught market attention as it was proposed barely two months after the completion of a similar fundraising exercise in December 2020. The ICT solutions provider completed the first tranche of its private placement in May by raising RM63.34 million — based on a placement price of RM1.31 per share — for working capital and future investments.

Having been on a roller-coaster ride, its share price shot up as much as 25 times to more than RM4 in mid-March, before eventually paring gains to a mere 85 sen on Dec 21.
Between RM100 mil and RM500 mil market cap

Among the 69 companies with market caps of between RM100 million and RM500 million, Kerjaya Prospek Property Bhd raised the most funds from private placements (RM101.7 million), followed by NCT Alliance Bhd (RM98.33 million) and Kronologi Asia Bhd (RM69.33 million).

Companies in this category raised a total of RM13.8 billion, the second largest amount after the RM45.43 billion raised by companies with market caps of more than RM5 billion.

Kerjaya Prospek Property (formerly GSB Group Bhd) issued 90 million shares at RM1.13 apiece. The first tranche of its private placement was announced in August 2019.

The placement was part of a larger corporate exercise that saw an injection of RM714 million worth of real estate assets into GSB by the Tee family, which had bought into the group in 2018. Under the exercise, GSB would place out 125 million shares as per the share sale agreement with Kerjaya Prospek Group Bhd chairman Datuk Tee Eng Ho and his brother Tee Eng Seng, to fund the proposed acquisition of the entire equity interest in Aeon Frontier Sdn Bhd for RM33.47 million and in Kerjaya Prospek Property Sdn Bhd for RM367.59 million.

In May, the group announced its decision to not place out the remaining placement shares after the tranche of 90 million shares was placed out two months earlier, having taken into consideration the prevailing market conditions.

Kerjaya Prospek Property has seen a gradual downward trend in its share price. On Dec 17, the stock was down 15% YTD, having closed at 66 sen. This gave the company a market cap of RM260.8 million.

Meanwhile, property developer NCT Alliance (formerly known as Grand-Flo Bhd) issued a total of 223.2 million placement shares in three tranches to raise RM98.33 million. The funds were earmarked for current and future property developments as well as working capital purposes.

Enterprise data management (EDM) solutions provider Kronologi Asia raised RM69.33 million in a private placement exercise that sought to generate capital for the expansion of its EDM managed services segment, future business expansion as well as the construction of EDM proof-of-concept and solution centres.
Below RM100 mil market cap

Private placements were very popular among small-cap companies, with 149 listing placement shares during the year, having raised a total of RM945.1 million.

LKL International Bhd topped the list of companies with market caps of less than RM100 million. The hospital furniture manufacturer raised a total of RM128.4 million from two exercises, one announced on July 17, 2020, and the other on May 10, 2021.

The funds raised from the first private placement would be used for the expansion of its operations, including the purchase of new factory buildings, the expansion of existing factories and the purchase of machinery. The proceeds were also earmarked for the repayment of bank borrowings and working capital purposes.

Meanwhile, the funds raised from the second private placement would be for the group's rubber glove venture, as it sought to diversify its operations to include the trading of rubber gloves and personal protective equipment, which would require the group to set up new storage facilities.

The group announced another private placement in November to raise funds for the purchase of raw materials and ancillary goods for its hospital furniture business, although it has yet to place out shares under this exercise.

If the amount raised by LKL were to be compared against its market cap, the RM60.1 million in private placement proceeds raised by the company in 2021 would be the largest, as it made up 128% of the company's RM46.8 million market value.

The second largest fundraiser among the small caps is Sinmah Capital Bhd, which raised RM42.86 million via a share placement during the year (91% of its market cap), from an exercise it announced in August 2020. The rationale for the exercise, however, was somewhat vague as the group only said the proceeds would go towards "future viable investments".

BCM Alliance Bhd raised RM32.09 million (68% of its market cap) via a private placement, making it the third largest fundraiser among the small caps after Sinmah Capital. The medical device supplier announced the exercise in January 2021, which would fund its venture into the trading of Covid-19 test kits.

Having raised funds in proportions larger than their respective market caps, the share prices of some of these companies plunged recently, translating into lower market valuations. LKL, for example, had fallen 93% for the year to Dec 17, while Sinmah Capital and BCM Alliance declined 72% and 87% respectively.

http://www.theedgemarkets.com/article/record-rm81-bil-raised-private-placements-2021