LTKM 7085 LTKM BERHAD's lengthy reverse takeover deal with little-known firm takes spotlight


LTKM Bhd's proposal to exit from its existing poultry and egg business and venture into electronic manufacturing services (EMS) has raised eyebrows among investors, given the layers of regulatory and shareholder approvals involved, which means lengthy processes.

On April 8, loss-making LTKM proposed to divest its existing business to Ladang Ternakan Kelang Sdn Bhd (LTKSB) for RM158.83 million cash. The latter, which holds 71.6% equity interest in LTKM, is the holding company of LTKM. This will be followed by a RM336 million reverse takeover (RTO) deal with Local Assembly Sdn Bhd, a little-known EMS firm based in Gelang Patah, Johor.

The move involves a total of seven proposals — published on a 55-page PDF document — including a major disposal of all assets and liabilities, special dividend and capital repayment, share consolidation, an injection of new business in a cash-plus-share deal, restricted issuance of new shares and a waiver to undertake a mandatory general offer (MGO). LTKM is also proposing a change of name to LA Technology Bhd to mark its entry into the EMS industry.

While the RTO and change in LTKM's business direction are perceived as a straightforward plan, a market watcher points to the numerous corporate exercises in store.

LTKM, which operates a 450-acre poultry farm in Melaka, currently produces over one million eggs per day from two million chickens. It is said to be the pioneer in producing Omega-3 enriched eggs.

The company has cash and bank balances of RM55.6 million, while its total borrowings stood at RM81.68 million at end-December 2021. This indicates a net debt position of RM26.52 million or a net gearing of 0.12 times.

LTKM slipped into the red in the financial year ended March 31, 2021 (FY2021) with a net loss of RM27.4 million. It continued to be loss-making for the nine months ended Dec 31, 2021 (9MFY2022), posting a net loss of RM6.8 million.

The company's weak financial performance was attributed to rising commodity prices, particularly corn, soybean and crude palm oil, which are the main ingredients used in making chicken feed.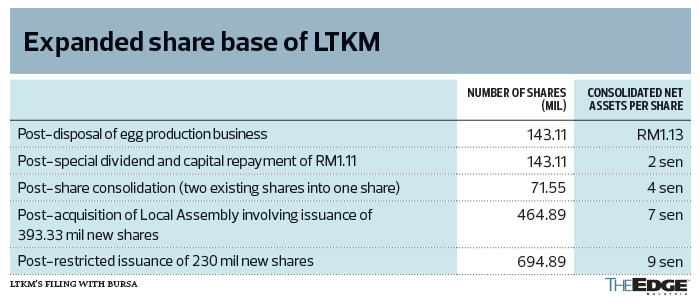 Some market observers believe this may have given rise to its existing major shareholders — namely, executive chairman Datuk Tan Kok and his wife and non-executive director Datin Lim Hooi Tin, who together hold a 77.2% stake in LTKM — wanting to take the poultry and egg business private so they can manage it with greater flexibility.

RTO entails a profit guarantee for two years

LTKM will be the subject of an RTO with Local Assembly, which commenced business in 2000 and is principally a manufacturer of electronic, electrical and plastic injection moulded components and a sub-contract assembler of electrical appliances and equipment.

Local Assembly was co-founded by Chai Voon Sun, Gurmakh Ajmer Singh and Wee Thian Song. The trio, who collectively own a 75% stake in the company, are providing a profit guarantee of RM28 million a year for FY2022 and FY2023, or a combined profit after tax (PAT) of RM50 million for the two financial years.

It is worth noting that Datuk Seri Chiau Beng Teik — founder of Main Market-listed building material specialist Chin Hin Group Bhd — has a 20% stake in Local Assembly, while Proven Venture Capital PLT — jointly owned by 34 limited partners consisting of high-net-worth entities and individuals — owns the remaining 5%.

Can Local Assembly deliver on its profit guarantee? An analyst who covers EMS stocks believes that LTKM is acquiring the company at an expensive valuation.

The RM336 million RTO deal essentially values Local Assembly at a historical price-earnings ratio (PER) of 16.8 times, based on an audited net profit of RM20 million for FY2021. For comparison, VS Industry Bhd and SKP Resources Bhd are currently trading at a PER of 19.1 times and 14.6 times respectively.

"Of course, the forward PER of Local Assembly could be lower than the historical ones. But that's assuming the company can deliver on its profit guarantee. Given the current market sentiments, I think even a PER of 12 times is considered expensive for a non-listed EMS company," says the analyst.

At RM336 million, the forward PER of Local Assembly is 12 times, based on a PAT of RM28 million for FY2022, and 13.4 times, based on an average PAT of RM25 million in FY2022 and FY2023.

According to a source in the EMS industry, Local Assembly is currently serving two major clients. One is a Japanese multinational manufacturer of bicycle components and the other is a US manufacturer of electronic and electrical connectors. It is understood that the US firm is notable for pioneering a connector that has seen universal adoption in personal computing, supporting industries such as automation, healthcare, consumer and data communications.

"Essentially, Local Assembly is a contract manufacturer for this American customer. If you look at its profit track record, the company has been growing rather rapidly over the past three years [see table] as it has benefited from the US-China trade war diversion," he tells The Edge.

Local Assembly also makes mechanical parts, as well as provides plastic injection moulding, for its Japanese client.

"I believe these two clients collectively contribute about 70% to 80% to Local Assembly's annual revenue. From what I gathered, the company is currently running at full capacity," he adds.
Special dividend payout from RM159 mil sale

LTKM's share price climbed from RM1.32 on March 30 to RM1.60 on April 6 before trading in its securities was suspended for two days.

Following the announcement of the multiple proposals on April 8, its share price fell 15% to RM1.36 when the stock resumed trading last Monday. The counter closed at RM1.41 last Wednesday, giving the company a market capitalisation of RM201.79 million.

Under the proposals, LTKM will sell its existing chicken egg production business and other assets for RM158.83 million. The proceeds will be distributed to the existing shareholders of the company by way of a special dividend and capital repayment of RM1.11 per share.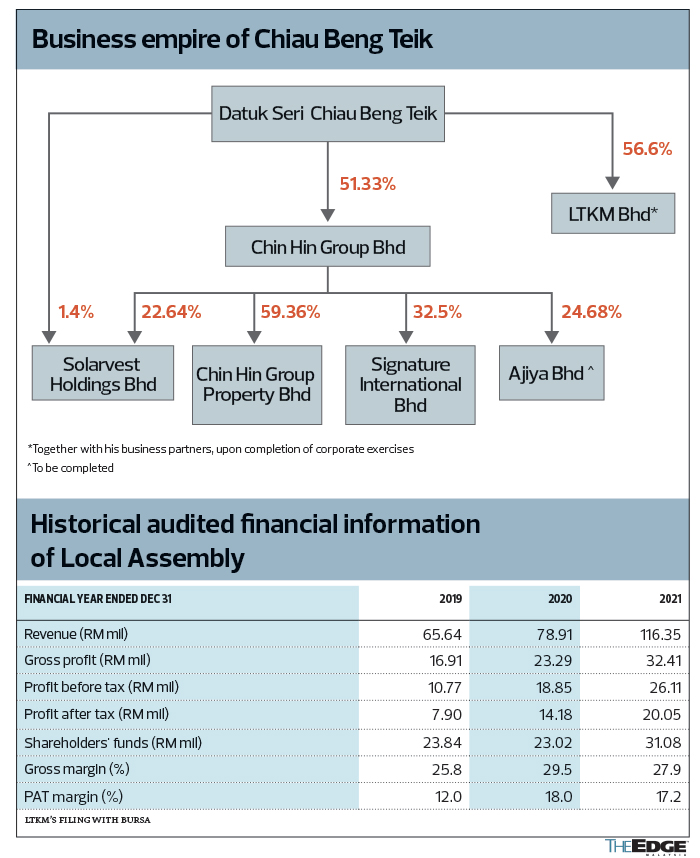 Theoretically, at the current price of RM1.41, LTKM's shares will be adjusted to about 30 sen apiece. Subsequently, the company will undertake a 2-to-1 share consolidation, which means its share price will be further adjusted to 60 sen.

The corporate exercise will involve LTKM acquiring Local Assembly for RM336 million in a cash-plus-share deal, which will see the current shareholders of Local Assembly emerge as controlling shareholders of LTKM. The share portion worth RM236 million will be satisfied via an issuance of 393.33 million shares at 60 sen apiece, while the cash portion of RM100 million is payable to the existing shareholders of Local Assembly.

LTKM plans to raise fresh capital of RM138 million from a restricted issuance of 230 million new shares at 60 sen apiece to some independent investors to be identified later. Of the gross proceeds, RM100 million has been earmarked for the payment of the cash portion for the acquisition of Local Assembly, RM30.5 million has been allocated for working capital and the remaining RM7.5 million for estimated expenses.

The market watcher notes that the top concern for minority shareholders is the massive stock dilution. "If you think about it, they will be getting a smaller slice of a bigger pie," he says.

For perspective, the current share base of LTKM is 143.11 million. Following the share consolidation, the acquisition of Local Assembly and restricted issuance of new shares, the enlarged share base of LTKM will be 694.89 million (see table).

It is worth noting that the five vendors and persons acting in concert do not intend to undertake an MGO and will submit an application to seek exemption from the obligation to do so.

"On the MGO waiver, I think it is quite common for new major shareholders to seek exemption. But whether or not the Securities Commission Malaysia (SC) will approve it is another matter," says the analyst.

"From the perspective of Local Assembly shareholders, I don't think they are willing to fork out money to undertake the MGO. Otherwise, why would they want to get the RM100 million cash up front in the first place?

"If you asked me, I think I understand why they are seeking a waiver, but it is hard to say whether it is fair or not. The SC has to make a decision."

It should be noted that there is a clause in the proposals stating that if the SC and non-interested shareholders do not grant an exemption, the whole exercise will collapse. "All in all, it is not a controversial deal, but more of a complicated deal. Investors just need to be mindful of the heavy share dilution and the high PER of Local Assembly," says the analyst.

It is estimated that the five vendors of Local Assembly, namely Chai, Gurmakh, Wee, Chiau and Proven Venture, will collectively hold 56.6% of the enlarged share capital of LTKM, while those who take up the restricted issue of shares will collectively have a 33.1% stake.

A source familiar with the deal points out that Chiau invested in Local Assembly in the first quarter of this year. However, the Chin Hin Group founder declined to comment when contacted by The Edge.

"He knew what he was doing from day one. Chiau, through his broker, knew that the founders of Local Assembly wished to gain a listing on Bursa Malaysia. At the same time, he noticed that the major shareholders of LTKM wanted to take their business private. So, it is really a perfect match for the two parties, which have different objectives but share the same purpose," the source explains.

"LTKM owners can take their egg business private, Local Assembly owners can get their company listed and pocket RM100 million cash, and the minority shareholders can get a special dividend and capital repayment while staying invested in an EMS company. Talk about having your cake and eating it too."

M&A Securities Sdn Bhd has been appointed the principal adviser for the seven proposals and MainStreet Advisers Sdn Bhd will advise the non-interested directors and minority shareholders of LTKM on the deal. The whole corporate revamp is expected to be completed by the first half of next year.
Chiau Beng Teik continues his buying spree

It would not be an exaggeration to say that Datuk Seri Chiau Beng Teik, founder of home-grown building materials specialist Chin Hin Group Bhd, is currently one of the most active individuals in terms of corporate manoeuvres on the local scene. The low-profile businessman and savvy investor, who has been on a "shopping spree" over the last few years, continues to expand his business empire.

On March 18, Chin Hin announced its intention to acquire a 24.68% stake in metal roll forming products and safety glass maker Ajiya Bhd for RM104.4 million. Less than a month later, it was announced on April 8 that Chiau, in his personal capacity, would be involved in a RM336 million reverse takeover (RTO) deal involving LTKM Bhd.

Under the RTO, the loss-making chicken egg producer will be transformed into an electronic manufacturing services (EMS) firm. Upon completion of the business revamp by the first half of next year, Chiau and his business partners are expected to control a combined 56.6% of LTKM's enlarged share capital.

In a manner of speaking, if one were to count Chiau's chickens before they hatch, that would give him a major shareholding in at least six public-listed companies, assuming that he will not add more companies to his shopping cart.

Apart from Chiau's recent involvement in Ajiya and LTKM, his 51.33%-owned flagship company Chin Hin also has a 59.36% stake in Chin Hin Group Property Bhd (CHGP), 32.5% in Signature International Bhd and 22.64% in Solarvest Holdings Bhd (see shareholding chart).

So, just who is Chiau?

The 61-year-old is executive chairman of Chin Hin. He also sits on the boards of CHGP and Signature International as non-executive chairman.

Quite remarkably, Chiau only completed his primary education, at SJK (C) Pei Min in Padang Setar in Alor Setar, Kedah, in 1974. A year later, at the age of 13, he was put to work at his father's modest hardware shop.

After years of working with his father, Chiau took over the business and subsequently grew it to include building materials trading and cement transport, registered under the name of Chop Chin Hin in 1994.

The following year, Chiau started a cement trading and distribution company and played an instrumental role in the growth of Chin Hin and its subsidiaries, expanding the business from a single office in Alor Setar to a group of companies with an expansive network of branch offices and factories across Peninsular Malaysia.

Even then, Chiau was unknown to Malaysia's corporate scene and investing fraternity until Chin Hin made its debut on Bursa Malaysia in 2016. He has not looked back since.

Today, Chin Hin is an integrated builder conglomerate with a market capitalisation of RM2.83 billion. The group has been buying into non-listed companies, including Atlantic Blue Sdn Bhd (ABSB), a solar firm that was eventually listed under the name of Solarvest in 2019.

It is worth noting that Chin Hin bought a 45% stake in ABSB in 2017 for a mere RM24.75 million — an acquisition that corporate observers described as one of the best decisions ever made by Chin Hin, or rather Chiau, given that the group's 22.64% stake in Solarvest is worth about RM136.81 million today.

Taking into account the massive unrealised gain, as well as the disposal gain from share divestment over the years, Solarvest is akin to the goose that lays the golden eggs for Chin Hin.

Perhaps just as significant was the takeover of Boon Koon, a Penang-based, loss-making rebuilt commercial vehicle manufacturer, by Chiau and his eldest son, Haw Choon, in 2017. Boon Koon was renamed CHGP a year later to better reflect its corporate identity after the group diversified into property development.

Having reversed the losses at Boon Koon, Haw Choon reportedly said his intention was to make CHGP a property, construction and infrastructure group. In fact, CHGP has been actively beefing up its land bank and keeping an eye out for acquisition opportunities as it aims to be one of the major property developers in town.

Last year, Chin Hin acquired 31.2% equity interest in well-known kitchen cabinet maker Signature International from Tenyin Holding Sdn Bhd and Datuk Michael Chooi Yoey Sun for RM93.6 million cash.

On a personal level, Chiau emerged as a substantial shareholder of Green Ocean Corp Bhd and Saudee Group Bhd, both penny stocks, before eventually exiting the companies.

Amid the glove mania brought about by the Covid-19 outbreak in 2020, Chiau and another prominent corporate personality, Datuk Eddie Ong Choo Meng, quietly made a killing at Rubberex Corp (M) Bhd even though both had little to no experience in glove manufacturing.

Chiau emerged as a substantial shareholder of the Ipoh-based glove maker with 13.63% equity interest on May 15, 2020. His entry cost was said to be RM1.23 per share.

Slightly more than a month later, Ong, who has also been active on the corporate scene, triggered an unconditional mandatory general offer (MGO) at Rubberex after acquiring an additional stake of 20.63% from Seng Sheng Enterprise Sdn Bhd, Chiau and Peh Lian Hwa via direct business transactions. The shares were sold at RM1.80 each, representing a significant discount of 38.4% to Rubberex's closing price of RM2.92 on June 22, 2020.

At the time, the disposal of shares by the three vendors puzzled market watchers, as the transactions were at such a steep discount. As a result of their generosity, Ong was only obliged to acquire the remaining Rubberex shares at RM1.80 each instead of the prevailing market price.

http://www.theedgemarkets.com/article/ltkms-lengthy-reverse-takeover-deal-littleknown-firm-takes-spotlight