DNEX 4456 S DAGANG NEXCHANGE BERHAD 4 Reasons to consider investing in DNeX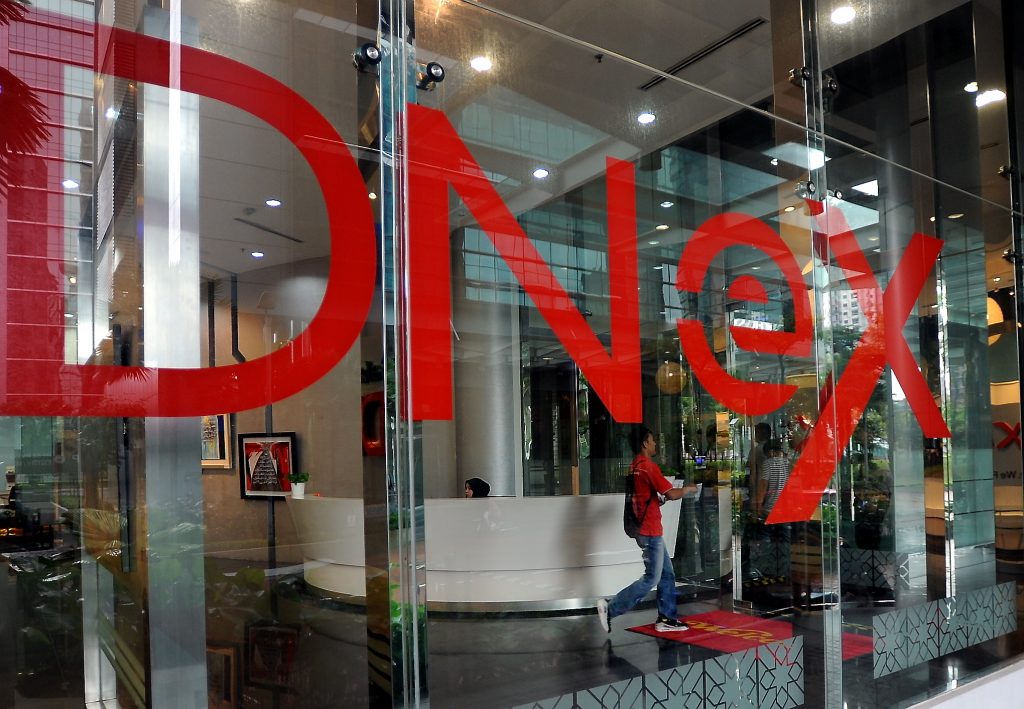 Dagang Nexchange Bhd (DNeX) is seeing some positive movements in share price on May 16.
The counter rose some 11% to close at 47 sen on active trade on Bursa Malaysia on May 16.
This will certainly bring some cheer to investors as the company has been hovering at its 52-week low of 43 sen.
Those holding the shares last year would have seen their share price deteriorating by 55%.
For most investors, it would be quite challenging to hit its year high of RM1.09 soon but we can expect this to happen over the medium term.
There are 3 possibilities for the sudden interest on DNeX.
1. Upcycle in the oil & gas sector
While most O&G counters will benefit in an upcycle, DNeX is favoured by analysts as

almost a third of its revenue are derived frome the energy segment. However, any decline in oil prices will be cushioned by its income from IT and semiconductor segments.

For every USD10/bbl decline in oil price, DNeX would lose only c.3% or RM45 mil in annual revenue and c.9% or RM25 mil in annual profits.

Nevertheless, oil prices are expected to remain robust given the pick up in air travel demand,

OPEC+ effective role in managing oil supply and stabilisation role in the market, demand recovery on the back of an expected weakening of USD against major currencies and prolonged disruption from Russia-Ukraine war particularly during the cold season in Northern Hemisphere.
2. DNeX closer to selling Ping Petroleum Ltd
Two months after rumours of a management buyout of its 90% stake in Ping Petroleum could be coming closer to fruition.

In March, there were reports of its former executive director Zainal 'Abidin Abd Jalil interested in taking over DNeX's 90% stake in upstream oil and gas. However, Zainal resigned from the post on March 2.

The O&G outfit has been mulling an exit from the O&G business to become a pure play semiconductor outfit.

Divesting its O&G business would help ease DNeX capex requirements as the energy business division takes up the most capital expenditure among its businesses.

In FY2022, the energy business division took up 58.4%, or RM158.05 million of its total capex.

In 2021, DNeX completed the acquisition of a 60% stake in SilTerra Malaysia Sdn Bhd, the country's sole semiconductor fabrication company. It would need more money to expand SilTerra's capabilities and capacity in order to compete.
3. Positive development from Middle East
On March 24, DNeX entered into an agreement with Saudi-based Ajlan & Bros Holding Group to establish a JV company in Saudi Arabia to undertake the business of system integration in smart cities and large enterprise projects in the Middle East and North Africa, as well as projects of Ajlan and its subsidiaries.
4. Better results in coming quarters
DNeX is expected to post better earnings in the coming quarters based on gradual improvement in Silterra's business, the sustainable high production efficiency of Ping Petroleum and the resilient results of its IT segment.
With the above factors driving DNeX forward, this may serve as a good opportunity to gain some exposure at its current low valuation before it climbs further
#DNEX


https://xifu.my/OpinionsComment.aspx?BID=B01190508P0AA0C1