THE proposed acquisition of a 10% stake in S5 Holdings Inc by My EG Services Bhd (MyEG) will strengthen the group's chance to win the RM1.8 billion National Integrated Immigration System (NIIS) contract, say industry observers.
This is because S5's expertise in the provision of technological systems and services for national security has been well proven. The company has rolled out national security systems in countries such as Malaysia, Myanmar, India, Bangladesh and Nepal.
"It is obvious now who is going to win the NIIS contract," says an official whose company is also one of the bidders of the contract to develop an integrated immigration control system to be deployed at the country's entry points such as airports and land crossings.
Contacted by The Edge for comment on the synergies of the partnership, a MyEG spokesperson says S5 is a specialist in border security control, specifically in the provision of systems for the processing and verification of travellers arriving in and leaving the country.
"As this is a service segment in which MyEG is not involved, the partnership is complementary and mutually beneficial for both companies, bringing together each other's unique expertise," the spokesperson says.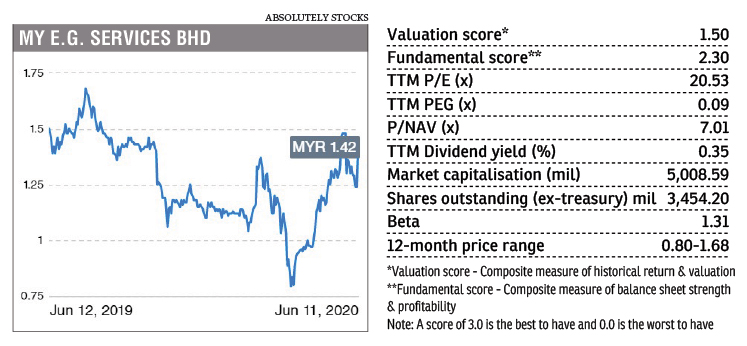 The announcement had also excited the market. A day after the deal was announced by MyEG, its share price jumped 3.65% to close at RM1.42 on June 11. The counter continued its ascent on June 12, closing at RM1.45.
Meanwhile, the share price of MYEG's competitor and another bidder for the NIIS contract, HeiTech Padu Bhd, fell 5.4% to RM1.06 on June 11. The stock continued to slide on Friday, settling at RM1.04.
To recap, on June 10, MyEG announced that its wholly-owned subsidiary My EG Capi­tal Sdn Bhd had entered into a share sale agreement (SSA) and a put and call options agreement (PCOA) with Merrington Assets Ltd (MAL) for the purchase of 118 million ordinary shares in S5, representing 10% of its issued and paid-up share capital for a total purchase consideration of RM90 million.
RM75 million of the purchase consideration will be paid in cash, and the rest, in the issuance and allotment of MyEG's shares to MAL at the issue price of RM1.20 per share.
According to the announcement, MAL owns 20% of the issued and paid-up shares of S5, while NSA Technology Sdn Bhd owns a 76.4% stake in the company. The rest is owned by Avocat Sdn Bhd.
The directors of S5 are Tuan Syed Mohammad Hafiz Syed Razlan, Aaron Loke Khy-Min, Kurian Thomas Jacob Thomas, Chan See Siang and Effendi Ramli. It has two subsidiaries — S5 Systems Sdn Bhd and S5 Code Solutions Kazakhstan LLP.
S5 Systems' business activity is in the provision of national security solutions involving the provision of security technology intellectual property as well as the development and customisation of solutions and systems, consultancy and support.
The announcement states that the net assets of S5 as at June 30, 2019 stood at RM21.7 million, while its net profits for the financial year ended June 30, 2019 (FY2019) was RM63.2 million.
According to data from the Companies Commission of Malaysia (SSM) in FY2019, S5 Systems reported revenue of RM116.86 million, 17.7% lower than the preceding year's revenue of RM147.75 million. At the same time, its profit after tax (PAT) fell 41% to RM63.4 million.
S5 Systems has been profitable over the last five financial years to June 30, 2019 (FY2014 to FY2019, with no record for FY2017). Over the last five years, the company's PAT ranged between RM7.23 million recorded in FY2015 and RM152.84 million in FY2014.
Over the last three years, the company has also been consistently paying dividends to its shareholder S5, contributing RM60 million in FY2016, followed by RM114.1 million in FY2018 and RM102 million in FY2019.
S5 Systems has been in the news in the past few years. In July 2016, Goodway Integrated Industries Bhd proposed to acquire the company for RM900 million from its then 100% parent company NSA Technology, to be satisfied via share issuance.
The proposal was withdrawn in February 2017. NSA Technology was then controlled by Datuk Seri Johann Young through his company Tenang Masyhur Sdn Bhd.
SSM data shows that NSA Technology is no longer owned by Tenang Masyhur but by a Labuan-incorporated company called NSA Technology (L) Ltd. It is not known who owns NSA Labuan.
While the deal is seen as positive for MyEG, questions arise as to who is the ultimate shareholder of the S5 stake that is being sold.
This is because checks on SSM show that the shareholders of MAL — Vent Millions Sdn Bhd, Barolagun Sdn Bhd and Venstrait Sdn Bhd — and others are ultimately owned by companies based on the island of Tortola, in the British Virgin Islands.
"Since S5 is involved in the bidding for NIIS, its ultimate shareholder should be revealed. This is because NIIS is a major public procurement contract, and the public has the right to know who will eventually be awarded the contract," says an observer.
Asked about the identity of the shareholders from whom MyEG is buying the stake in S5, the spokesperson that The Edge contacted referred to the information in the announcement.
Besides MyEG, S5 and HeiTech Padu, other companies rumoured to have been invited to bid for the contract include Scicom (MSC) Bhd, Iris Corp Bhd and Datasonic Group Bhd.
NIIS is the new iteration of the scrapped Sistem Kawalan Imigresen Nasional (SKIN), which was awarded to Prestariang Bhd in 2017 for a 15-year concession worth RM3.5 billion. In mid-2018, the contract was scrapped by the Home Ministry, then under current Prime Minister Tan Sri Muhyiddin Yassin, as it was deemed too expensive.
Prestariang has taken the government to court to recover RM732.86 million in compensation.
Under the SKIN concession contract, Prestariang was required to design, deliver, continuously maintain and provide scheduled upgrades for a new immigration and border control system that was supposed to replace the existing Malaysian Immigration System (MyIMMS).
MyIMMS is maintained by HeiTech Padu, which is controlled by Permodalan Nasional Bhd, but the contract will expire in August.
http://www.theedgemarkets.com/article/myeg-partners-s5-strengthen-bid-niis-contract