SEMPERIT AG Holding's next move will be closely watched by investors, given that it has decided to delay the selling of its medical business Sempermed, which includes Kamunting-based glovemaker Latexx Partners Bhd.
Sempermed is one of the world's leading manufacturers of examination and surgical gloves as well as protective gloves for the industrial sector. In its industrial sector are Semperflex, Sempertrans and Semperform, which make hydraulic and industrial hoses, conveyor belts and moulded as well as extrusion products made of rubber and plastic.
When contacted by The Edge, a Semperit spokesperson explained that the group, which is listed on Vienna's stock exchange, had in January decided "to separate" Sempermed — which manufactures examination and protective gloves in Malaysia under Latexx Partners, and surgical gloves in Austria — from its industrial business.
However, the Covid-19 crisis has set new priorities for the group, the spokesperson says. "In the current phase, the focus is on supply security for Austria. Semperit is fulfilling its responsibility to Austria and supporting the republic with its medical gloves in order to make the greatest possible contribution to combating the coronavirus crisis. For these reasons, the implementation of the strategic landmark decision to separate from the medical business will be delayed in any case."
The group added that it took the decision because of intensifying competition in the gloves sector. "This includes considerable overcapacity, an increasing gap with the market leaders in terms of unit numbers and production automation, and the fact that the continuation of the medical business requires particularly high investments against this background.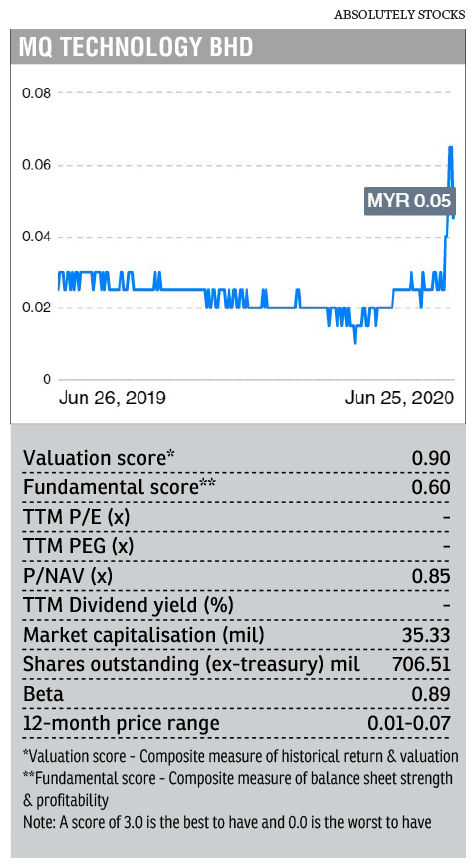 "Short-term demand cycles do not change the basis for this fundamental strategic decision. But if the strategic landmark decision changes, we will inform the public accordingly," the spokesperson says.
However, she declined to comment on whether the group has sourced a buyer yet or on the disposal price for Latexx Partners.
The Edge, quoting a source, reported in February that Top Glove Corp Bhd was in talks to take over Latexx Partners.
On June 18, New Straits Times also, quoting a source, reported that Top Glove was a frontrunner to take over Latexx Partners. It named Penang-based MQ Technology Bhd (MQ Tech) as another buyer.
The report also stated that Latexx Partners could be sold for about RM300 million. This came as a surprise to some analysts, given that Semperit had paid close to RM600 million to secure a 98.56% stake in 2012 from then largest shareholder and CEO, businessman Low Bok Tek. Latexx Partners was delisted from Bursa Malaysia in 2013 following its privatisation by Semperit.
"I would think that RM300 million is too low, compared with what Semperit paid before, and especially now when glove companies are commanding high valuations," an analyst tells The Edge. "It would also seem odd for them to exit now, when lucrative returns are being made in the gloves market."
While it is unclear whether Latexx Partners is indeed in the "lucrative returns" category, a company search shows that the company was in the red in 2017 and 2018. In its financial year ended Dec 31, 2018, it suffered an after-tax loss of RM233.56 million on sales of RM691.17 million. In FY2017, it recorded an after-tax loss of RM206.21 million on sales of RM691.96 million.
In its five financial years from FY2014, Latexx Partners managed only two years of profitability — profits after tax of RM8.15 million in FY2015 and a little over RM4 million in FY2016. As at Dec 31, 2018, Latexx had accumulated losses of RM320.75 million, total assets of RM399.56 million and total liabilities of RM462.37 million.
While Top Glove has not made any official comment on news reports linking it to the Latexx Partners buy, MQ Tech informed Bursa Malaysia on June 19 of its intention to buy the company and would be in negotiations with Semperit Group.
It is understandable that Top Glove would be interested in acquiring Latexx Partners given that they are in the same business, but glove making is completely uncharted waters for MQ Tech.
According to its latest available annual report, MQ Tech MQTECH (0070) is involved in the manufacturing of moulds, dies, jigs and fixtures for use in the manufacture of hard disk drives, and also has a theme park division that is currently dormant. In May last year, MQ Tech announced that it had paid RM8.55 million for a 19% stake in Monvest Group Pte Ltd, which operates a gaming business in Mongolia.
It is not known whether MQ Tech is planning to replace its theme park business with glove manufacturing, given the poor outlook for tourism, due to the Covid-19 pandemic.
However, the news has certainly piqued the interest of investors, with MQ Tech's share price doubling from 2.5 sen on June 16 to 5 sen last Thursday, giving it a market capitalisation of RM35.8 million. This is an RM18 million gain in less than two weeks.
Last Friday, the group saw the emergence of a new substantial shareholder, Jacqueline Lee Fei Fei, who acquired 41.12 million shares, or a 5.8% stake, via a direct deal and a private placement. Lee is also a substantial shareholder of two Bursa Malaysia-listed companies — Inix Technologies Holdings Bhd (5.5%) and SMTrack Bhd (11.01%).
MQ Tech has been loss-making for the past nine years, with accumulated losses of RM25.39 million as at Dec 31, 2019. Its cash balance stood at RM340,378, with borrowings at RM13,334.
M&As in the glove sector
The Covid-19 pandemic has drawn many companies into healthcare-related businesses, such as making face masks, ventilators and gloves.
Elsewhere, AT Systemisation Bhd, an integrated designer and manufacturer of industrial automation systems, announced on June 26 that it had signed a share sale agreement to acquire Pearl Glove Sdn Bhd, which manufactures industrial and safety gloves, for RM22 million.
Meanwhile, chemical firm Hextar Global Bhd executive director Datuk Ong Choo Meng and his 90%-held Hextar Rubber Sdn Bhd have acquired a 20.63% stake in Rubberex Corp, raising their collective interest to 50.18%. This triggered a mandatory general offer for the shares that they do not own.
Is it an opportune time to enter the glove-making sector? Denis Low Jau Foo, president of the Malaysian Rubber Glove Manufacturers Association, says any new entrant will have its work cut out, as the business is not just about scale, but also true entrepreneurship. "The capital outlay for a sizeable glove factory, with a capacity of two billion to three billion pieces per annum, is RM150 million to RM200 million."
"Another question is whether it has the know-how and capability, which involves experience. It took the big four glovemakers — Top Glove Corp Bhd, Supermax Corp Bhd, Hartalega Holdings Bhd and Kossan Rubber Industries Bhd — 30 years to reach their current levels. So, really, it takes patience and hard work.
"So, while there are opportunities in the glove sector, at the same time, there will also be opportunists," he adds.
http://www.theedgemarkets.com/article/all-eyes-semperit-it-delays-sale-latexx-partners