WHEN the late founder of the Genting group Tan Sri Lim Goh Tong, passed the baton to his second son, Tan Sri Lim Kok Thay, many probably felt the younger Lim was inheriting a gold mine.
They believed that if he did not make any major misstep, the wealth created by the gaming business empire would last for generations to come. Genting Malaysia Bhd (GENTM), which owns the hilltop Genting Highlands casino, was then sitting on an enviable growing cash pile with minimum debts.
After being at the helm for more than a decade, Kok Thay is facing a tough time now. There was nearly zero revenue for at least two months as the group's casinos and cruise lines suspended operations globally owing to the Covid-19 pandemic — a severe situation his father never faced.
The recession-proof gaming business has never been this vulnerable while the cruise business has sailed into rough waters again.
China's growing affluence had prompted Kok Thay to expand Genting's cruise business, investing aggressively into luxury cruise lines in 2015 with borrowings. He even bought shipyards in Germany to venture into building cruise ships.
In an unexpected turn of events, Genting Hong Kong Ltd (GENT HK), which houses the cruise business, has had to temporarily suspend payments to its creditors to preserve cash and sustain itself as a going concern. The news sent GENT HK's share price down 37% in a single day to an all-time low of HK$0.30 last Thursday. The company has been loss-making since the financial year ended Dec 31, 2016, after posting record earnings the year before.
Although GENTM and its parent company Genting Bhd, which are listed on Bursa Malaysia, do not have cross-shareholdings in GENT HK, they encountered selling pressure after the news. GENTM fell 3.5%, or eight sen, to RM2.22 while Genting slid 23 sen or 6.05% to end the week at RM3.57.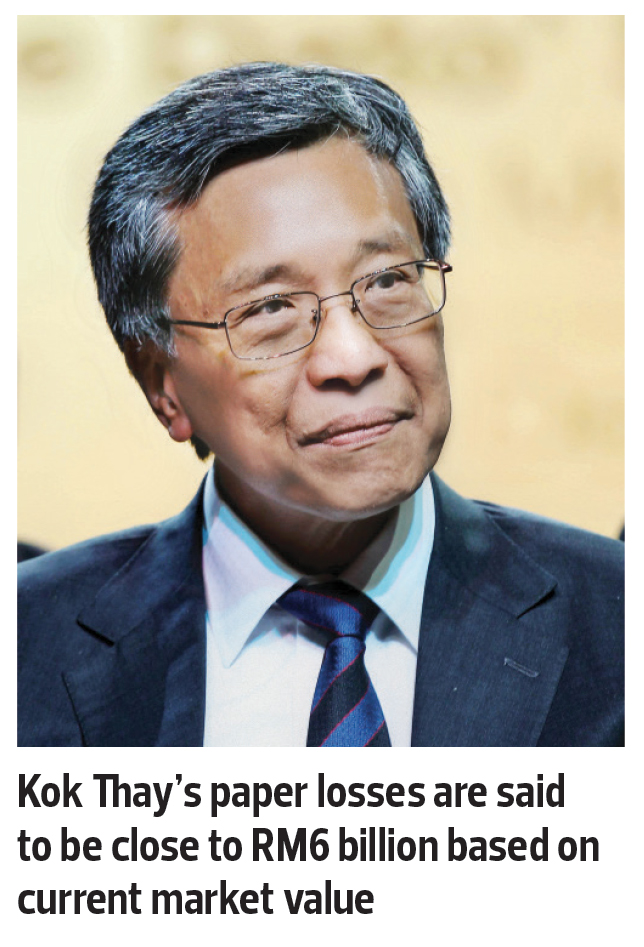 To salvage GENT HK, Kok Thay has hired advisers to engage with creditors to restructure the company's debts. Nonetheless, the cruise operator's deteriorating financial health has already dealt a big blow to his wealth.
He holds a 75.55% stake in GENT HK, and a 44.8% stake in the flagship Genting Bhd, which controls 49.45% of GENTM, 52.66% of Genting Singapore Ltd (GENTS) and 55.15% of Genting Plantations Bhd.
Kok Thay is the chairman and CEO of Genting Bhd, GENM and GEN HK. He is also executive chairman of GENTS.
The market value of his 75.5% equity stake in GENT HK has shrunk to HK$2.018 billion, only a third of the HK$6.278 billion a year ago. Some HK$4.26 billion (RM2.3 billion) of his wealth has evaporated.
His equity stake in Genting Bhd has not been spared too. The value of his 44.77% stake in the company, which holds majority stakes in two casino operators and a plantation company, has dropped to RM6.151 billion based on last Friday's closing, down 37.3%, or RM3.66 billion, from RM9.818 billion a year ago.
In short, the paper loss is close to RM6 billion.
However, Kok Thay may not only suffer paper losses as the tycoon has pledged his shares. Bloomberg reported that he had to top up his position by pledging more of his holdings when GENT HK's share price tumbled.
Almost his entire 75.5% stake in GENT HK has been committed, according to Bloomberg, citing a filing to the stock exchange.
Furthermore, given its financial woes, GENT HK shares might not be able to be pledged for their full value. Should this be the case, Kok Thay would have to top up the position with shares in Genting Bhd, which are considered to be of better value.
As at March, he had pledged 550 million Genting Bhd shares, or 32% of his holdings, up from 70 million a year earlier, according to the company's annual reports.
Lim's fortune is now valued at about US$700 million (RM2.93 billion) excluding pledged shares, down from US$1.5 billion at the beginning of the year, according to the Bloomberg Billionaires Index.
"Certainly, the family vehicle, Kian Huat, would be able to find the means to top up the margin position if there is any margin call as the media reported … Bear in mind, the Genting group has been around for more than 50 years," says a businessman who knows Kok Thay. He points out, however, that there is little knowledge of how the tycoon's private investments have fared.
Kok Thay has invested in a ski resort, called Genting Secret Garden, located about 250km from Beijing, China. The ski resort is also affected by the coronavirus outbreak.
Shu Wen, senior vice-president of Genting Secret Garden, was quoted by China Global Television Network (CGTN) as saying the preliminary estimated losses were between RMB160 million (RM96.6 million) and RMB180 million for the past winter season.
Ripple effects
Those who have kept track of the Genting group long enough would remember the massive cash call made by GENTM, which was then known as Resorts World Bhd, to raise fresh capital to buy a stake in GENT HK, then known as Star Cruises, and to recapitalise it.
Although GENTM has sold its stake in GENT HK, the news of its sister company struggling to cope with its debt commitments has raised concern that GENTM would lend a helping hand again.
Indeed, this is the second company known to be linked to Kok Thay that has become cash-strapped within one year.
In August last year, Empire Resorts Inc was facing a liquidity problem so severe that it prompted the New York-based casino operator to consider filing for a voluntary Chapter 11 bankruptcy. GENTM emerged as a white knight, buying a 46% stake from Lim and injecting fresh capital into it. The equity stake was sold to GENTM for US$128 million cash.
This did not go down well with the shareholders, and GENM plunged 21% to the RM2.80 level. The stock has yet to recover to that level.
As a fund manager puts it, minority shareholders would not be concerned when a company's controlling shareholder is financially stressed. "The minorities will [however] be concerned about the next step that the major shareholder could take to get out of the financial woes," he comments.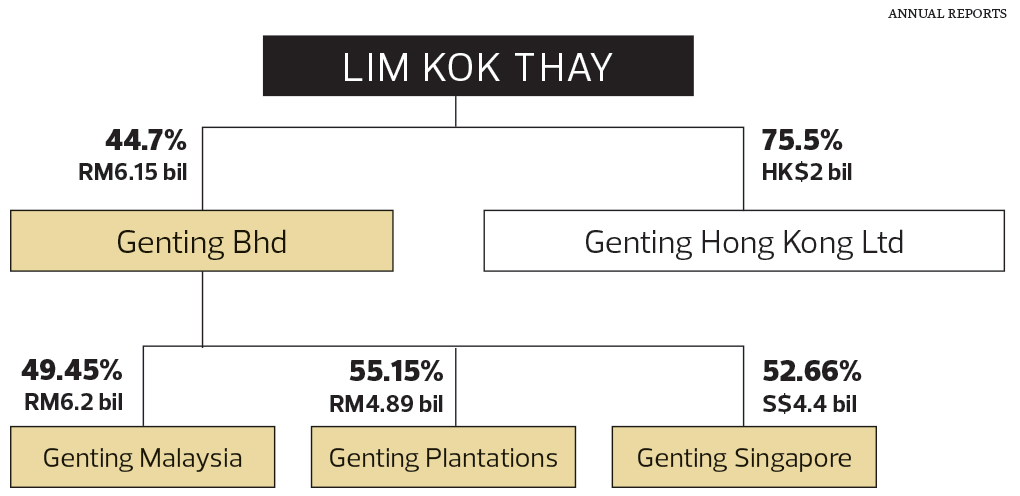 Nonetheless, Citi told clients in a note that there is a low risk of the Genting group's companies bailing out GENT HK after the latter halted debt payments. But the bank says there is "some reputational damage" to the group, given that Kok Thay is the chairman of several companies in the group.
Citi also does not see direct implications or cross-defaults for Genting Overseas Holdings or Resorts World Las Vegas bonds.
Picking up the pieces
GENT HK's 2019 annual report showed that the cruise operator's long-term borrowings amounted to US$2.523 billion while its cash balance was US$595.12 million as at Dec 31, 2019.
The announcement on suspension of payments to creditors came about two weeks after GEN HK flagged a profit warning on Aug 3, saying that its losses for the six months ended June 30 would be "significantly higher" than the corresponding period in 2019.
"The operating loss and unaudited consolidated net loss of the group for the six months ended June 30, 2020, are expected to be not less than US$300 million and US$600 million respectively, as compared to an operating loss of US$38.3 million and an unaudited consolidated net loss of US$56.5 million for the corresponding period in 2019," said the cruise operator in the filing to HKEx.
However, it is worth noting that GENT HK has sold a 35% stake in Dream Cruises, one of its cruise brands. The stake was priced at US$489 million, valuing Dream Cruises's total equity at US$1.397 billion.
According to filings, the cruise operator would have received the sales proceeds in the first half of this year. In other words, its cash flow might be better than many expect.
Furthermore, one day after the suspension of payment, Bloomberg reported that GENT HK had resumed its operations in Taiwan. The cruise is only offered to Taiwanese.
Dream Cruises was quoted by Bloomberg as saying that about 900 passengers are booked on each of its trips in July and August, hitting the 50% maximum capacity allowed because of social distancing.
This month, it announced its ship, Explorer Dream, is reopening its casino, which may help bring in much-needed revenue, the report says.
Will the tycoon manage to overcome his unprecedented struggles?
http://www.theedgemarkets.com/article/kok-thays-wealth-evaporates-gent-hk-cruises-troubled-waters