Join our Telegram Channel : https://t.me/TriumphinBursa
Witness our GLORY in HLT DPHARMA ANCOMLB DNONCE FINTEC MACPIE & more.
18 Sept 2020

SOURCE LINK : https://www.janes.com/defence-news/news-detail/malaysia-evaluates-options-for-second-batch-of-littoral-mission-ships

SOURCE : Jane's Defence Weekly is a weekly magazine reporting on military and corporate affairs, edited by Peter Felstead. It is one of a number of military-related publications named after John F. T. Jane, an Englishman who first published Jane's All the World's Fighting Ships in 1898.


NEWS

The Royal Malaysian Navy (RMN) has begun an initial process to evaluate possible vessel types for its second Littoral Mission Ship (LMS) project.
Multiple industry sources close to the process have confirmed with Janes that the service is currently evaluating proposals from four stand-alone shipbuilders, and a joint venture between Malaysian company Destini, and Netherlands-based shipbuilder, Damen.
The four proposals are namely a 70.7 m patrol boat concept from US shipbuilder Swiftships, a 68 m offshore patrol vessel (OPV) concept from Damen known as the Stan Patrol 6811, a 70.2 m patrol vessel from German shipbuilder Fassmer, and a 70 m patrol boat from Malaysian company Preston.
Meanwhile, the proposal that has been forwarded by the joint venture between Damen and Destini is an 83 m vessel that is very similar to the OPV ordered for the Malaysian Maritime Enforcement Agency (MMEA), a contract for which was announced in January 2017.
The proposal from Swiftships has an overall beam of 11.3 m, and is powered by four MTU engines. It can be equipped with a 40 mm cannon in the primary position.
The design that has been submitted by Damen is a 68 m variant of the Stan Patrol 6211 concept. The OPV can similarly by equipped with a 40 mm naval gun in the 'A' position, and 12.7 mm machine guns for point defence.

DESTINI 2017 Contract :https://http://www.thestar.com.my/business/business-news/2017/01/20/thhedestini-jv-wins-rm739mil-contract/
Awarded by BN Government, worth up to RM 739MIL !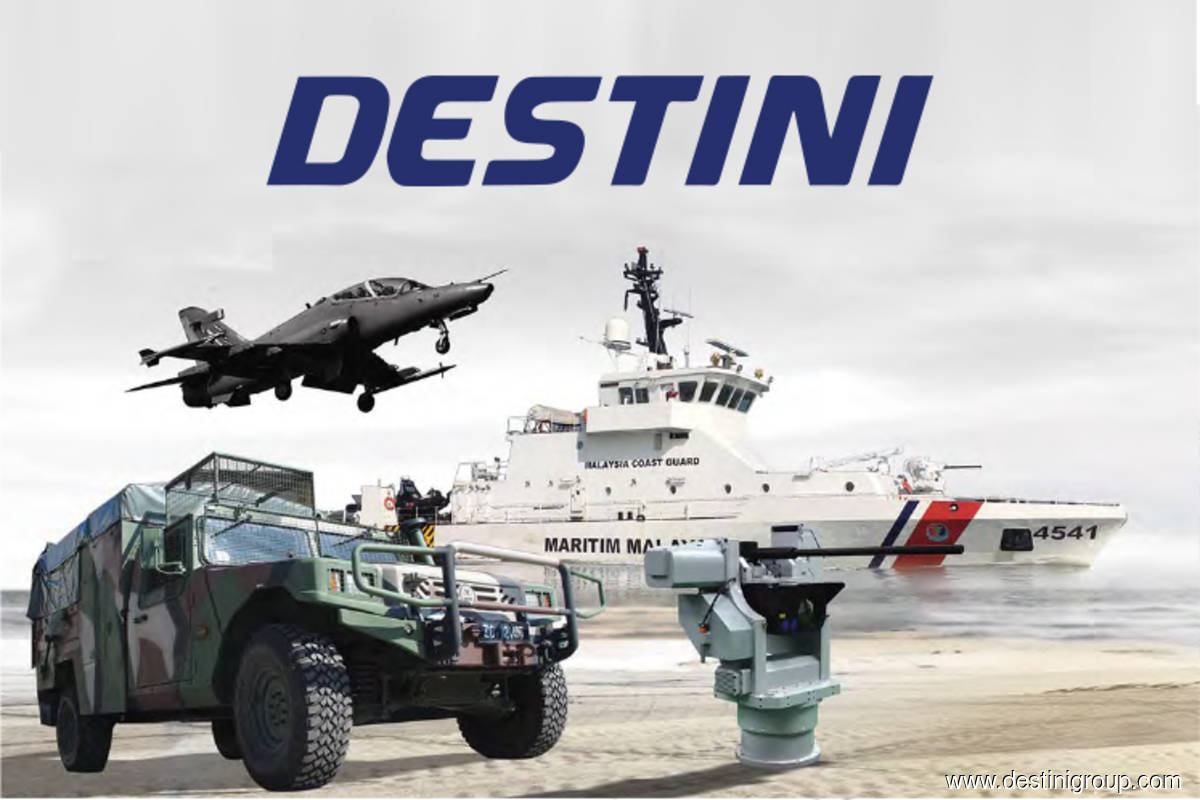 Besides this VESSEL NEWS reported by foreign professional defence Media,Another Potential Contract is from KTMB's KVDT2.

https://www.freemalaysiatoday.com/category/nation/2020/09/18/kvdt2-project-contractor-sues-govt-minister-over-contract-termination/

On Aug 28, Wee had said the Cabinet had agreed to convert the KVDT2 rehabilitation project to an open tender and to cancel the directly negotiated contract after it found that the project cost a lot less than the amount previously cited.

KVDT2 Contract worth as much as RM4.475 bilion !!!!
(Initially RM5.58 bilion)
https://www.hmetro.com.my/mutakhir/2020/09/621933/permohonan-halang-kerajaan-batal-projek-kvdt2-ditolak


Maybe DESTINI will be one of the OPEN TENDER Company to bid on this mega billions project. Destini has good contract with KTMB while BN Government too.
Here : https://www.destinigroup.com/destini-4q-profit-up-26-as-demand-grows-for-mro-marine-manufacturing-services/
(From May onwards, Destini said it will start to deliver the 35 units of motor trolley to Keretapi Tanah Melayu Bhd (KTMB). It also plans to secure more jobs in relation to wagon supply and is currently exploring the potential of MRO works for KTMB too.)


Let's see any news cover DESTINI by our local media for the next few weeks.

Current Closing Day Price : RM 0.29 (18 Sept 2020)




Before Election 2018,
Destini price well above RM0.40 point and up to RM 0.90.

Will DESTINI BACK TO THEIR GLORY DAYS????

LET US CHECK BACK JAN 2021.




DISCLAIMER:
The contents we shared is merely for sharing thought purposes and NOT an ACTION CALL for BUY or SELL stock. Please consult your REMISIER DEALER BROKER for making decisions. Trade At Your Own Risk.
JOIN our PUBLIC GROUP & SEE how we CATCH

HLT DPHARMA DNONCE FINTEC MACPIE before they fly rocket high.
If you like our sharing,
Join our Telegram Channel:
https://t.me/TriumphinBursa

https://klse.i3investor.com/blogs/triumphinbursa/2020-09-18-story-h1513558559-You_are_my_DESTINI_An_oversea_news_cover_Malaysia_company_but_not_repor.jsp