We are back with an article that would probably be helpful for you to add value to your investment knowledge but seek professional and licensed advice before making any investment decision!
Like usual, we will keep it simple. Market is very uncertain for the past 3 months with it sliding more towards bearishness. This is evident by us looking at our index movement.
With such movement, it is definitely difficult to make a solid decision as to which sector to look for and how aggresive should an investor be.
However, 1 sector seems to be resilient in these 3 months despite a sideways market condition. We are referring to the STEEL Sector.
First of all it is very important to understand why we came to this conclusion. Lets analyse the global STEEL price chart.
Steel price has been on an uptrend since DEC 2020 despite bad market times throughout the 5 months period and the price is becoming even steeper now.
Why is this happening?
1) The demand in some segments of the steel market, in particular the automotive industry, recovered since the summer faster than many had expected. In addition, many companies were replenishing previously reduced material stocks. By contrast, blast furnace-based steel production, which is relevant for flat steel, was only very slowly getting back on track.
2) Driven by the strong Chinese market, steel prices in Asia were significantly higher than in Europe for much of the year. Together with the import restrictive measures imposed by the EU, this led to a significant drop in the volume of imports from third countries this year.
Due to the tight supply situation and the significant increase in spot market prices in recent months, a risk of a noticeable rise in contract prices for flat steel products in 2021 appeared to be emerging.
Source : http://www.tomatonews.com/en/exceptional-increase-in-steel-prices_2_1282.html
Before going into specifics we must know what is STEEL made of?
NEXT WE NEED TO KNOW WHAT ARE FLAT STEELS?
Flat steel products consist of sheets and plates. They are rolled from slabs, which are a semifinished steel product. These products are used in a wide range of industries such as automobile, domestic appliances, shipbuilding, and construction.
Source : https://finance.yahoo.com/news/why-flat-steel-products-important-170054529.html#:~:text=Flat%20steel%20products%20consist%20of,appliances%2C%20shipbuilding%2C%20and%20construction.
Since the price of STEEL has been rising up continuously due to the increased demand and tightened supply, STEEL players in Malaysia most likely would have benefited in terms of profit margin.
Some FLAT STEEL players in Malaysia includes Mycron Steel Berhad, CSC Steel Berhad, Leon Fuat Berhad, Astino Berhad and Prestar Resources Berhad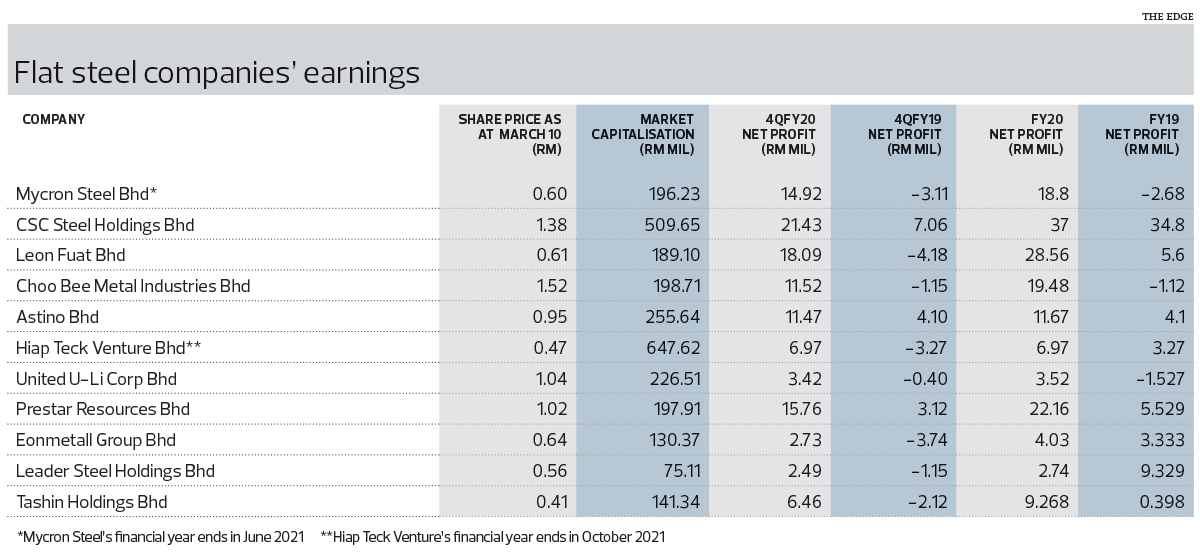 Source : https://www.theedgemarkets.com/article/flat-steel-companies-spotlight
Apart from these players there are also multi diversed steel companies that will benefit from the rise of STEEL Prices such as ANNJOO Resources Berhad and LION Industries Berhad.

We hope this information can be an added knowledge for everyone to upgrade your knowledge on the SUPPLY and DEMAND of COMMODITIES and how it can affect the profitability of companies related to it. Lets see if this could be an opportunity for us to take in this current market situation!

We have more for you! Follow us in our Telegram Channel @StockAdvisor FBMKLCI for more updates in Bursa Malaysia on a daily basis!
Disclaimer : All notes expressed here are solely individual point of views and we are not responsible for any buy or sell decisions made by others. Kindly use this as a reference reading material to add value to your current research and pleas verify any information stated here with a licensed individual in the capital markets industry before making any decisions.

https://klse.i3investor.com/blogs/StockAdvisor/2021-04-25-story-h1564136892-THIS_SECTOR_IS_GETTING_A_STRONG_SUPPORT_DESPITE_A_SIDEWAYS_MARKET_LOOK_.jsp