After Avillion stake sale, interest in PLENITU (5075) PLENITUDE BHD raises eyebrows
IN recent weeks, through Mazmur Capital Sdn Bhd, Avillion Bhd managing director and largest shareholder See Ah Sing has substantially pared his stake in the company to a mere 0.58% from 28.91% previously. See is said to be a close associate of former finance minister Tun Daim Zainuddin.
Formerly known as Reliance Pacific Bhd, Avillion is involved in the property, hotel and travel segments. As Avillion has yet to make a filing with the stock exchange, the buyer of the 28.33% stake is unclear at this juncture.
Meanwhile, a spike in the trading volume of Plenitude Bhd shares last week has added to the speculation that Daim or his family is selling their equity interest and cashing out, given that his family members own a large stake in the property developer.
Ikatanbina Sdn Bhd is the largest shareholder of Plenitude with 32.19% equity interest, followed by Fields Equity Management Ltd (21.33%) and En Primeurs Sdn Bhd (5.48%).
A CTOS search shows that Ikatanbina is 44.44%-owned by Welberton Private Equity, while the other two shareholders are Khadijah Abdul Khalid (33.33%) and Siti Kulthum Abdul Khalid (22.22%). Both Khadijah and Siti Kulthum are Daim's sisters-in-law.
Yayasan Haji Zainuddin, which was set up by Daim, has a smaller holding of 1.05% in Plenitude. Daim and his wife Naimah ­Abdul Khalid are directors of Yayasan.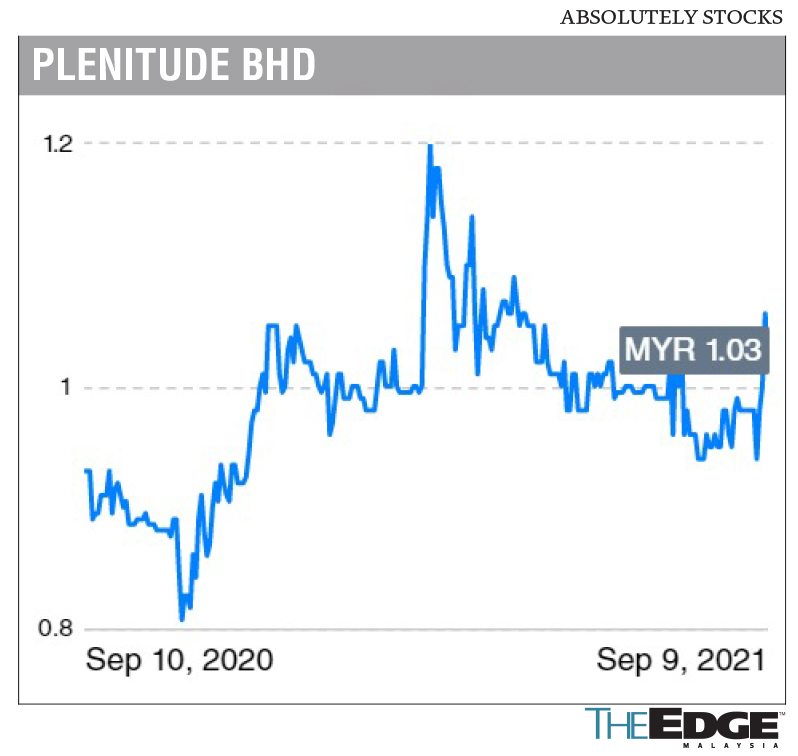 Last Wednesday, Plenitude's share price surged as much as 26% to an 18-month high of RM1.26 as trading volume swelled to a high of 3.51 million shares. By last Friday, however, the stock had declined to RM1.02, which translates into a market capitalisation of RM389.16 million.
The counter's average daily trading volume had been mostly thin prior to last week's spike to 830,000 shares, which was 115 times higher than the 7,200 shares traded in the previous week.
While the identity of the individuals behind the transaction of the huge block of shares could not be immediately ascertained, a potential corporate exercise cannot be ruled out.
"Many property stocks are trading at low price-to-net tangible asset ratios, but we are not sure what triggered that [high trading volume]," a property analyst who declines to be named tells The Edge.
Plenitude, which is involved in property development, property investment and hospitality, has been hit hard by the Covid-19 pandemic and had to close three of its hotels last year — Mercure Penang Beach and The Gurney Resort Hotel and Residences in Penang as well as Travelodge Ipoh.
Other prominent hotels in its stable include Novotel Kuala Lumpur City Centre, Oakwood Hotel & Residence in Kuala Lumpur, Travelodge Georgetown in Penang and Travelodge Myeongdong Euljiro in Seoul, South Korea.
The company also has equity interest in two residences, namely The Nomad Residences Bangsar in Kuala Lumpur and Tanjung Point Residences in Penang.
It remained in a net cash position of RM109.9 million at end-June, nearly double the RM54 million a year ago. Based on its closing price of RM1.02 last Friday, the stock is trading at a 75.4% discount to its net tangible assets per share of RM4.14 as at end-June.
Undervalued property counters are not uncommon on Bursa Malaysia and dominate the "undervalued list", especially since property sales have slumped in the last few years. Even bigger players such as Eco World Development Group Bhd, Sime Darby Property Bhd and IOI Properties Bhd are trading at a steep discount to their book value.
Despite the pandemic, Plenitude had managed to post stronger financial results in the just concluded financial year ended June 30 (FY2021), as net profit soared 45.9% to RM11.92 million from RM8.17 million in FY2020, attributable to a higher contribution from its property development division. For the quarter, it returned to the black with a net profit of RM8.15 million from a net loss of RM2.57 million in the same quarter last year.
Earnings have slipped over the years, from more than RM50 million in FY2016 and FY2017 to RM46.39 million and RM42.25 million in FY2018 and FY2019 respectively.
Since its incorporation two decades ago, Plenitude has made a name for itself as a township developer with projects in Puchong, Selangor; Sungai Petani, Kedah and Johor Baru. However, market volatility has prompted the property developer to adopt a more cautious approach to new launches.
Staying afloat has been tougher for Avillion, which has bled red ink in the past six years, although its net loss narrowed to RM13.41 million for the financial year ended March 31, from RM22 million a year ago.
On Aug 30, its external auditors Messrs Baker Tilly Monteiro Heng PLT expressed a qualified opinion in respect of the company's audited financial statements for the financial year ended March 31. With current liabilities exceeding current assets by RM2.52 million and RM53.91 million at the group and company levels respectively, the auditors warned that this may cast doubt on the company's ability to continue as a going concern.
http://www.theedgemarkets.com/article/after-avillion-stake-sale-interest-plenitude-raises-eyebrows