Upcoming Listing of an IT Solutions Provider: CLOUDPT 0277 CLOUDPOINT TECHNOLOGY BERHAD
Cloudpoint Technology Berhad (CLOUDPT, 0277) which was founded in 2003, is a company that offers Information Technology (IT) solutions and specializes in providing professional IT services such as data center and network security cloud services. The company's clientele includes industries such as finance, insurance, telecommunications and etc, with the finance sector representing the largest share, accounting for approximately 88.65% of the total revenue in the fiscal year 2022. While the company serves clients from various industries, its market presence is solely in Malaysia.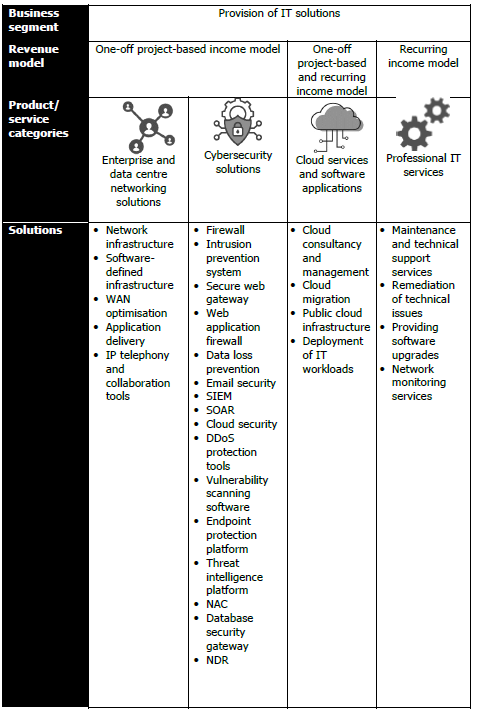 According to the prospectus, the company's primary source of revenue comes from providing enterprise and data center networking solutions, contributing approximately RM 36.52 million or 40.31% of the revenue in the fiscal year 2022. This involves designing network infrastructure for clients and overseeing the installation and configuration of necessary hardware and software to establish complete enterprise and data center architectures. Notably, the company procures hardware and software from reputable suppliers and distributors such as Cisco Systems, Inc., F5, Inc., and VSTECS (5162).
Another significant aspect of the company's business is cybersecurity solutions, which involve implementing necessary network security measures for clients, including firewalls, data loss prevention, email security systems, and DDoS protection tools. This business segment accounts for approximately 40.09% of the revenue in the fiscal year 2022.
The remaining revenue is generated from providing professional IT services, including maintenance, technical support, software upgrades, and network monitoring.
For your information, the professional IT service business can bring continuous income or recurring income to the company, while the enterprise and data center network solution business and the cybersecurity solution business are one-time project income.
It is worth mentioning that in April 2022, CLOUDPT also launched cloud services and software applications. This entails transferring and storing clients' enterprise data in the cloud using platforms such as Alibaba Cloud, AWS, Huawei Cloud, Microsoft Azure, among others. This business segment creates two revenue models: one-time project income from initial consulting and setup services and recurring income from client subscriptions.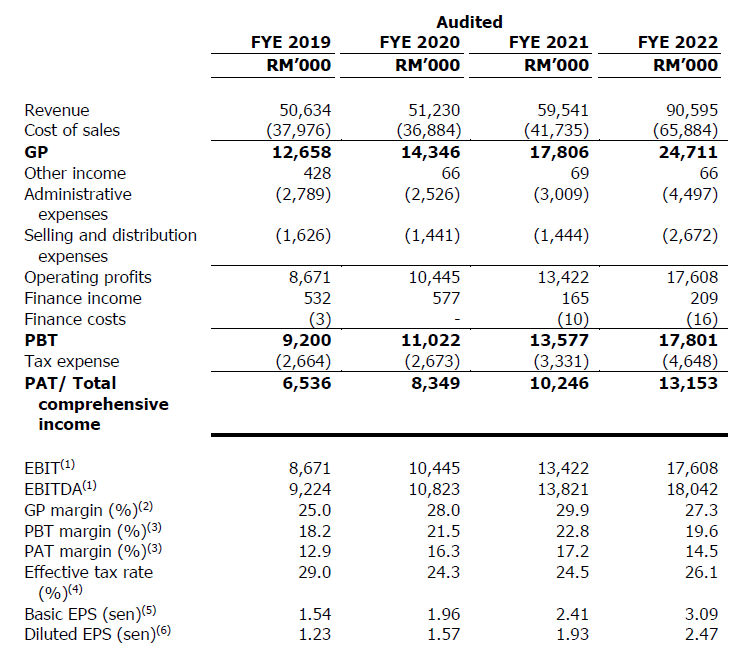 Financially, the company has demonstrated impressive performance in recent years. According to the disclosed data, Cloudpoint Technology Berhad achieved approximately RM 50.63 million, RM 51.23 million, RM 59.54 million, and RM 90.59 million in revenue for the fiscal years 2019, 2020, 2021, and 2022, respectively, showing a compound annual growth rate of around 21.60%.
Furthermore, the company's net profit has increased year by year, reaching RM 6.53 million, RM 8.34 million, RM 10.24 million, and RM 13.15 million in 2019, 2020, 2021, and 2022, respectively. This indicates Cloudpoint Technology Berhad's steady growth and remarkable profitability.
However, like any other business, CLOUDPT also faces certain commercial risks. Firstly, due to intense competition and the evolving nature of the cloud services and network security market, CLOUDPT needs to continually innovate and upgrade its technology to maintain competitiveness. Additionally, reliance on finance institutions as primary clients poses risks since any reduction in network security expenditure or a shift to other vendors by these institutions could impact CLOUDPT's business.
For reference, CLOUDPT has an IPO issue price of RM 0.38, with a price-to-earnings ratio (PE) of approximately 15.40. Compared to comparable peers in the industry, such as INFOTEC (0253) with a current PE ratio of approximately 23.68, CLOUDPT's valuation is considered favorable.
Looking ahead, Cloudpoint Technology Berhad will continue expanding its business and providing additional value to clients. To this end, the company plans to utilize RM 13.30 million or 32.90% of the funds raised from the IPO to establish a new Security Operations Centre (SOC) and strengthen its existing Network Operations Centre (NOC) to monitor and manage potential network attacks. Additionally, the company intends to develop its own public cloud infrastructure to offer cloud-based services to clients.
Furthermore, RM 7.80 million or 19.30% of the funds raised will be allocated towards relocation and establishing new office premises since the current office space is leased.
Moreover, RM 15.80 million or 39.1% of the funds raised will be used as working capital for the company, with the remaining RM 3.50 million or 8.70% allocated for IPO expenses.
(Note: CLOUDPT has publicly issued approximately 159.48 million ordinary shares, aiming to raise approximately RM 40.40 million)

It is worth noting that the initial public offering (IPO) of CLOUDPT was oversubscribed by approximately 112.94 times. With this in mind, will Cloudpoint Technology Berhad, set to be listed on the stock exchange on May 29th, ignite a new wave of investment enthusiasm?
#CLOUDPT



https://xifu.my/OpinionsComment.aspx?BID=B06474636PDAA0D2