Kronologi Asia wants bigger slice of China's EDM and cloud services pie
ACE Market-listed data storage and cloud specialist Kronologi Asia Bhd has positioned itself to capitalise on the robust demand in China for enterprise data management (EDM) and cloud infrastructure services, which are experiencing exceedingly high rates of growth.
In November 2018, Kronologi invested in a 16.67% stake in China-based digital infrastructure outfit Quantum China Ltd (QCL) for US$3 million (RM12.3 million). Last month, the group proposed to acquire the remaining 83.33% stake for RM150 million via a 50:50 cash-plus-share deal, in a move to expand its sales, marketing and customer coverage footprint in the China market.
Given the strong Chinese demand for EDM and cloud infrastructure services, Kronologi CEO and executive director Edmond Tay Nam Hiong says it is timely for the Malaysian outfit to increase its exposure to China, where the large total addressable market offers the group plenty of opportunities.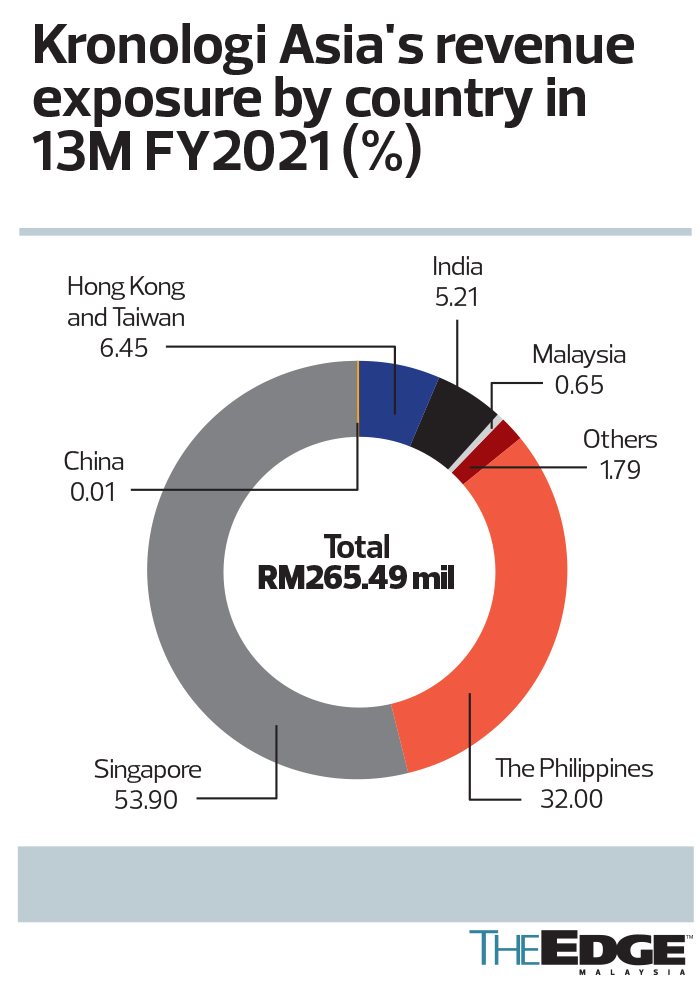 "After more than 2½ years of 'food tasting' in China, we have increasing confidence in the potential business pipeline of QCL and now feel that taking the 'whole pie' — the proposed acquisition of the remaining stake — is the right proposition," Tay tells The Edge in a virtual interview.
The RM150 million acquisition of QCL will be satisfied via RM75 million cash and issuance of 110.294 million new shares in Kronologi at 68 sen apiece. As a result, the vendor of QCL — Lavender Blooms Investments Ltd — will emerge as a major shareholder of Kronologi with a stake of about 15%.
In May, Kronologi raised about RM70 million from a private placement, of which RM50 million had been earmarked for this acquisition. The remaining cash portion of RM25 million will be funded from internal cash reserves, which stood at RM70 million as at Jan 31, 2021.
Tay points out that the main objective of making QCL a wholly-owned subsidiary of Kronologi is all about expanding the latter's footprint and addressable market size in Asia, particularly China, which is the region's largest economy.
"Our company's vision is to become a leader in hybrid and cloud EDM within the Pan-Asia region. To achieve these goals, China is certainly a market that we cannot afford not to be in. It is by far the fastest-growing market in Asia and is on a definite path to becoming not just the largest economy in the world, but also the most digitalised economy," he observes.
Kronologi is an on-site and off-site EDM and data storage solutions provider that offers As-a-Service (AaS) and customisable solutions on-premise, cloud-based and hybrid. It has a diversified customer base, consisting of government sectors, large enterprises, food and beverage companies, banks, financial institutions, stock exchanges, data centres and telecommunications, and media and broadcasting companies.
QCL is set to provide an additional boost to Kronologi, whose business segments have been growing steadily over the years, nudging its earnings up from RM7.16 million in FY2016 to RM12.06 million in FY2017, and RM16.26 million in FY2018.
Tay, a 50-year-old Singaporean, was appointed to the board in April 2019. He founded Quantum Storage (India) Pte Ltd (QSI) in 2012 after spending about eight years building Quantum's businesses in South Asia. In 2016, Tay became part of the management team following the merger of QSI and Kronologi.
Interestingly, Fortress Capital Asset Management (M) Sdn Bhd investment adviser and director Geoffrey Ng Ching Fung also sits on the board of Kronologi as its independent and non-executive chairman.
Over the past 12 months, the share price of Kronologi has risen from 53 sen on June 3 last year to a 52-week peak of 90 sen on Feb 15, before gradually declining to 68 sen last Thursday, which values the company at RM423.93 million. With the proposed acquisition and the ability to consolidate its China associate company, Tay is confident that Kronologi will grow bigger.
"About two years ago, we had set a target to reach a market capitalisation of at least RM500 million. Today, our market capitalisation is about RM400 million. Going forward, we want to ensure we remain relevant to the market and our customers. The type of services and solutions that we are providing, which focus on AaS and pay-per-use, are increasingly being well-received in China," he says.
According to its Annual Report 2021, as at April 30, Kronologi had three substantial shareholders, namely Desert Streams Investments Ltd (22.08%), Tan Jeck Min (10.53%) and icapital.biz Bhd (5.94%).
Tan, a 51-year-old Singaporean, is an executive director and chief operating officer of Kronologi. He had been instrumental in the growth and development of Quantum Storage (South Asia) Pte Ltd between 2003 and 2013. Following the completion of the private placement exercise on May 7, his shareholding in Kronologi was diluted to 8.78%.
It is worth noting that icapital.biz — a Main Market-listed closed-end fund founded by fund manager Tan Teng Boo — had surfaced as a substantial shareholder of Kronologi last December. However, the fund ceased to be a substantial shareholder last month, after its shareholding was diluted following the increase in the company's share base.
Good years ahead
Last year, QCL managed to secure a cloud infrastructure contract to provide exabyte-size cloud hyper-scale supply and managed services for a leading Beijing-based cloud computing technology company.
The project has been completed and, according to Tay, QCL's service for the project was well-received. Now, with full control over QCL's operations, Kronologi will be more committed to the China market, which he expects to be among the largest contributors by country to group revenue and profitability.
"The vendors of QCL remain committed to Kronologi's unique proposition and see value in our company. The core management team in China will continue to run QCL, but we will also be getting more involved moving forward. With this proposed acquisition, Kronologi as a group now represents the Quantum brand and range of solutions in the Asian region, including key markets like Hong Kong, Taiwan, India and now China," he elaborates.
Kronologi recorded an all-time high net profit of RM18.6 million in the financial year ended Dec 31, 2019 (FY2019). The group, however, took a one-off impairment in the first quarter of last year and, consequently, registered a weaker financial performance, although the various pandemic-related lockdowns across its markets was an additional factor.
In May last year, Kronologi changed its financial year end from Dec 31 to Jan 31. The group reported a minor profit of RM1.42 million for its 13 months ended Jan 31, 2021 (13M FY2021).
"Since the final quarter of 2020, we have seen business recovering well, which leads us to believe the worst is over for our financial performance. As business confidence and technology-related investments pick up, coupled with the consolidation of QCL into the group's operations, we are optimistic that FY2022 (ending Jan 31, 2022) and FY2023 will be particularly good years for us," Tay comments.
Currently, QCL is just an associate company of Kronologi, which means its operating results are not consolidated with that of the group. Upon consolidation, the group will be able to account for QCL's full operating performance, which includes — from the proposed acquisition — a profit warranty of US$2 million for FY2022, followed by another US$2.5 million for FY2023.
"Conservatively, that is a profit addition of at least RM8 million a year over the next two fiscal periods. Overall, we expect QCL to contribute between 30% and 40% of group earnings. In other words, China will be our single-largest market by profit contribution in years to come," says Tay.
"We strongly believe this acquisition will bring Kronologi to the next level. With additional resources and product portfolio from the group, QCL has the potential to achieve annual profitability beyond the current profit warranties. We are not complacent with where we are," he stresses.
http://www.theedgemarkets.com/article/kronologi-asia-wants-bigger-slice-chinas-edm-and-cloud-services-pie