Semiconductor industry bears the brunt of renewed trade tensions

KUALA LUMPUR (Aug 4): Geopolitical tension between China and the US is escalating after US House of Representatives Speaker Nancy Pelosi's visit to Taiwan. This is expected to trigger another round of trade sanctions between the two nations, which are likely to worsen current supply chain disruptions, in addition to renewed trade tensions, said fund managers and equity strategists.

The semiconductor-related industry appears to be one that will bear the brunt of the rising geopolitical tension in Asia, as it chokes the global semiconductor supply chain.

When contacted, Areca Capital Sdn Bhd Chief Executive Officer Danny Wong said should tensions over Pelosi's trip to Taiwan escalate, this may further disrupt the fragile global chip supply chain. He is referring to the impact of the shipment and orders of the chip supply from Taiwan to the world.

Notably, Taiwan is a dominant force when it comes to the world's semiconductor supply, thanks to Taiwan Semiconductor Manufacturing Co Ltd (TSMC), which is the world's largest semiconductor foundry.

In response to Pelosi's visit to Taiwan, China is said to conduct military drills from Aug 4 to 7 around the Taiwan straits — which separates Taiwan from mainland China and straddles vital shipping lanes — a move that could result in disruptions to shipments and the island's energy supply, and potentially halt manufacturing.

"With Taiwan accounting for more than half of the world's chip production, the global chip supply will be severely disrupted as other countries except for South Korea do not have the technological capability and production capacity to manufacture the advanced chips to meet global demand. Malaysia's consumer and industrial electronics, as well as the automotive industries that depend on imported chips, will suffer another round of global supply shortages," Sunway University Business School Professor Dr Yeah Kim Leng stressed.

It should be noted that Pelosi's presence in Taiwan also made her the highest-ranking American official to visit Taiwan in 25 years, and this threatens further the destabilised Sino-US ties.

"If the retaliation by China against Pelosi's visit results in an armed conflict, the consequences for both economies and the repercussions throughout the region will be very severe. The destabilising effects and supply chain and trade disruptions will likely trigger a recession in the region, with long-term consequences as the cross-strait confrontation inevitably will involve the US," said Yeah.

According to Yeah, Taiwan and the South China Sea are seen as flash points of the US-China rivalry, which is expected to intensify in the coming years as the US seeks to contain the rise of China.

"Any escalation in the superpower competition will therefore be highly destabilising and disruptive for the region's growth and development. As the world's two largest economies are Malaysia's top trading partners and source of foreign direct investment, the rising geopolitical tension and possible decoupling will have strong negative effects on Malaysia's growth prospects," Yeah stated.

Notably, both China and the US are the major export destinations for Malaysia. China is the country's second-largest export market after Singapore (14.4%), accounting for 13.7% of Malaysia's overall exports over the past six months this year (January to June), while the US accounted for 10.7% of Malaysia's overall exports during the same period.

In a recent interview with CNN, Mark Liu, chairman of TSMC, which supplies chips to giant global companies including Apple Inc, Intel Corp, Qualcomm Inc and Tesla Inc, said that the Chinese invasion of Taiwan would halt chip production and such invasion would create great economic turmoil for both China and Taiwan.

Despite the escalating US-China tensions, experts are not expecting Beijing to launch a war over Taiwan.

MIDF Research's Head of Research Imran Yassin Md Yusof opined that it is very difficult to say for certain if it will result in military action, and added that one response from China could be to pressure rather than undertaking an outright invasion.

"I think it is very hard to judge right now on the impact to our economy should this tension escalate further, given China is well integrated into our and [the] global economy. Hence, it will be difficult to assess the risk for investors at the moment. We need to observe China's reaction to this visit because the different reactions would require different assessments and consideration," Imran added.

Areca's Wong is optimistic and expects Malaysia to continue to benefit from the accelerated trade diversion due to US-China trade tension, as more multinational companies shift their supply chain activities out of China into Southeast Asia.

Nonetheless, fears of an escalation in US-China trade tension have soured the sentiment over the local equity market, according to Malacca Securities Sdn Bhd Head of Research Loui Low Ley Yee, adding that the sentiment would remain negative until there is more clarity from China in response to this highly controversial trip.

"No one knows what China is going to do. Once China puts in [it's] measure (either good or bad), it will affect market conditions….perhaps it might be affecting selected counters such as Frontken Corp Bhd, as they are linked closely with TSMC. Also, some counters are having exposure in China, which might be impacted if the US wants to impose sanctions [there]," he stated.

Taiwan was the biggest revenue contributor to Frontken, with a revenue of RM172.15 million for the cumulative six months ended June 30, 2022 (6MFY22), which accounts for almost 70% of its total revenue of RM247.34 million.

On Wednesday, the FBM KLCI closed down 0.3% or 4.48 points to 1,490.57, mirroring the weakness in the US equities overnight.

Meanwhile, the KL Technology Index rebounded from Tuesday's loss to end higher, advancing 1.03% at 65.45 points.

To receive CEO Morning Brief please click here.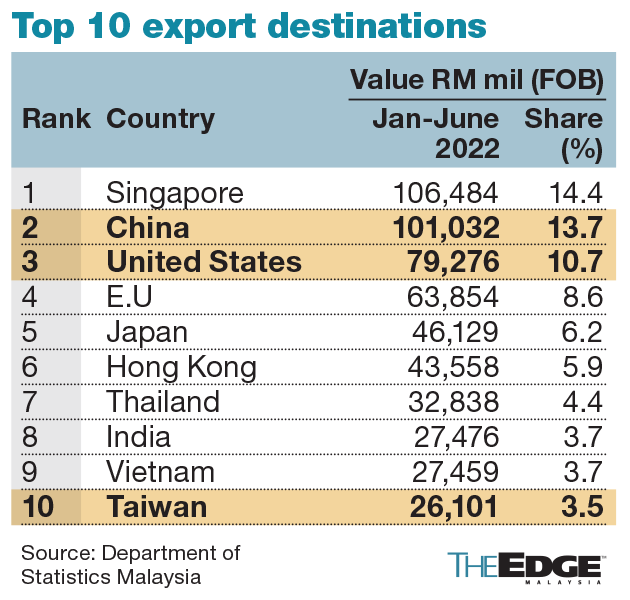 http://www.theedgemarkets.com/article/semiconductor-industry-bears-brunt-renewed-trade-tensions