Are we looking at a possible revival of IWCity-CREC in Bandar Malaysia, now with Wanda facing much troubles?
Wanda Deals in Jeopardy as China Scrutiny Mounts
Bloomberg News
July 17, 2017, 2:11 PM GMT+8 July 17, 2017, 10:45 PM GMT+8
Chinese government is scrutinizing six Wanda deals, people say
Move is unprecedented setback for one of China's richest men
China plans to cut off some funding for billionaire Wang Jianlin's Dalian Wanda Group Co. after concluding the conglomerate breached restrictions for overseas investments, said people familiar with the decision.
The scrutiny could rein in Wang's ambitious attempt to create a global entertainment empire, including Hollywood production companies and a giant cinema chain he's built up through acquisitions from the U.S. to the U.K. Six investments, such as the purchases of Nordic Cinema Group Holding AB and Carmike Cinemas Inc., were found to have violations, said the people, who asked not to be identified discussing a private matter. The retaliatory measures will include banning banks from providing Wanda with financial support linked to these projects and barring the company from selling those assets to any local companies, the people said.
Wang Jianlin
Photographer: Jason Alden/Bloomberg
The move is an unprecedented setback for the country's second-richest man, who has announced more than $20 billion of deals since the beginning of 2016. By targeting one of the nation's top businessmen, the government is escalating its broader crackdown on capital outflows and further chilling the prospects of overseas acquisitions during a politically sensitive year in China.
"To investors, political risk is now the biggest concern when investing in Chinese companies," said Castor Pang, head of research at Core-Pacific Yamaichi HK. "Not only Wanda, every Chinese company won't find it easy anymore to acquire assets overseas. Stabilizing the yuan is the top priority for Beijing now."
A Wanda representative declined to comment. China's banking regulator didn't respond to requests for comment and it wasn't immediately clear which investment rules Wanda breached.
To read a Gadfly column on the Wanda news, click here
Wanda Properties International Co.'s 2024 notes declined as much as 6.3 cents on the dollar to 98.7 cents in Hong Kong trading on Monday, according to Bloomberg-compiled data. Wanda Hotel Development Co. shares fell as much as 7.3 percent.
AMC Entertainment Inc., the Wang-controlled U.S. cinema chain that acquired Nordic, Carmike and Odeon & UCI Cinemas Holdings Ltd. over the past year, fell as much as 8.7 percent to $20 in New York trading.
Four of the six deals under scrutiny have been completed, according to the people. Besides the bank-financing ban, Wanda will be prohibited from selling those acquired assets to any listed entity in China, infusing capital into those assets from within China or involving them in any restructuring with any of Wanda's domestic units, the people said.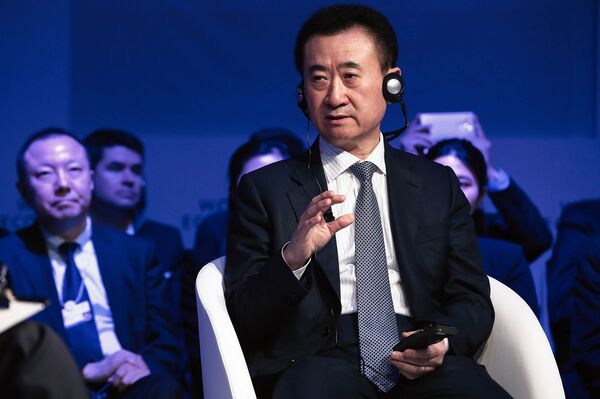 On the two pending deals, related authorities won't provide support with financing or foreign-exchange-related approvals needed to move money out of China, according to the people.
Wanda is among conglomerates including Fosun International Ltd., HNA Group Co. and Anbang Insurance Group Co. whose loans are under government scrutiny after China's banking regulator asked some lenders to provide information on overseas loans to the companies, people familiar with the matter said in June.
To read a QuickTake explainer on China's probes, click here
Though cutting off funding may pressure Wanda, the group is poised to get some relief after it agreed to sell hotels, land and projects to Chinese developer Sunac China Holdings Ltd. in a 63.2 billion yuan ($9.3 billion) deal announced last week. For Wang, the sale of the bulk of his "Wanda City" projects -- massive multi-billion-dollar complexes with theme parks and lodgings -- represented a departure from the billionaire's past predictions that he would build a tourism empire bigger than that of Walt Disney Co.
The increased scrutiny on overseas deals led Wanda to scrap its $1 billion offer to buy Dick Clark Productions Inc., the Hollywood producer behind the Golden Globe Awards.
The setback also comes ahead of one of Wanda's biggest planned deals: the relisting of Dalian Wanda Commercial Properties Co. in China. Wang privatized the company in a record $4.4 billion privatization deal to relocate the developer's listing to the mainland at higher valuations. Wanda had promised its partners would get back more than $5 billion -- the money they put in plus returns of as much as 12 percent a year -- if the listing didn't occur by 2018. Wang is also planning inject film-related assets into Shenzhen-listed Wanda Film Holding Co.
It's also happening ahead of a party congress that analysts say will set the tone for Xi Jinping's second five-year term as president.
Wanda has been among China's most active acquirers of foreign assets in recent years, gobbling up companies such as "Kong: Skull Island" producer Legendary Entertainment, AMC Entertainment and Sunseeker International Ltd. The group, which traces its roots to property, has been expanding in entertainment as its key area for growth.
Besides being the world's biggest operator of movie theaters, Wanda has branched out to sports by buying marketer Infront Sports & Media AG and Ironman organizer World Triathlon Corp. It also owns a stake in Club Atletico de Madrid and the group is a top FIFA sponsor.
Behind Wang's purchases are ambitions to make Wanda one of the world's biggest companies. The group, which had operating revenue of under $40 billion last year, has forecast its sales will climb to $100 billion by the end of the decade, generate profits of $10 billion and have a market value of $200 billion.
The Wall Street Journal earlier reported that China is restricting the completion of six overseas deals by Wanda Group following the government's broader crackdown on offshore investments, citing documents.
— With assistance by Steven Yang, and Prudence Ho
http://klse.i3investor.com/blogs/changwt/128043.jsp