Dear Investors/Traders of i3 Forum
(PLEASE READ TO THE END AS I TYPE NOW)
My 1St Buy Call on O&G Stock was Carimin (On Jan 26 2018)
TOP 10 REASONS FOR BUYING CARIMIN PETROLEUM
1) AT 39 SEN CARIMIN HAS FALLEN BY 65% FROM ITS RM1.10 IPO PRICE.
BUYING CARIMIN NOW IS BUYING AT HUGE DISCOUNT TO IPO PRICE.
2) MARGIN OF SAFETY
At 39 sen with NTA of 67 Sen Carimin is selling at a nice Discount of 42%. This meets Ben Graham criteria of 30% Discount To NTA as a Margin of Safety.
3) CARIMIN ASSETS ARE VALUABLE REAL ESTATES UNDERSTATED WITH DEEP VALUE
A look at Property/Plants/Equipments (PPE) of CARIMIN reveals the Happy Discovery of Highly Undervalue Solid Assets
Take for example (Refer to Annual Report of Carimin under Property)
(viii) No.7, Jalan SS15/2A, Subang Jaya, 47500 Selangor Darul Ehsan....................Book Value...Rm224,911
Double storey intermediate terrace shophouse (Gross built up 2,646 sq ft)
WHOA! A 2 Storey Shophouse in SS15 SUBANG JAYA (HOT AREA) has a Book Value of only Rm224,911?
What is the Current Market Value?
For that let us go to iproperty.com website
RM 3,800,000
SS15/4D- 2 storey shop, Subang Jaya
Selangor
Built-up : 2,147 sq. ft.
Land area : 20x65
Whoa! A Crazy Rm3.8 MILLIONS ASKING PRICE?
This is the address of Carimin office in SS15 Subang Jaya. All can go SEE & VERIFY YOURSELF
((( No.7, Jalan SS15/2A, Subang Jaya, 47500 Selangor Darul Ehsan)))


4) AFTER THE CARNAGE OF OIL COLLAPSE MANY O&G COMPANIES HAVE GONE BANKRUPT ONE BY ONE: SO CARIMIN LEADERS BEING HANDS ON "SEE" GREAT OPPORTUNIES IN THE BUSINESS OF DECOMISSIONING, WELL PLUG & DISMANTALATION & STRIPPING OF ASSETS

The Board of Directors of Carimin wishes to announce that Carimin Engineering, a wholly-owned subsidiary of the Company, had on 5 April 2017 entered into a collaboration agreement with EMAS ("COA"). Carimin Engineering has experience and expertise on hook-up and commissioning (HUC), topside maintenance of offshore facilities, supply of marine vessels, onshore fabrication and the provision of manpower services in the oil and gas platforms in Malaysia, whereas EMAS is principally involved in provision of engineering and technical innovative solutions for pre-commissioning, commissioning, decommissioning, well plug and abandonment services.

So CARIMIN FORMED A JV WITH EMAS WHOSE PARENT COMPANY IS EZRA WHICH IS GOING INTO LIQUIDATION

EMAS is a 99.99% owned subsidiary of Emas Energy Services Pte. Ltd., a company incorporated in Singapore. The parent company of the group is Ezra Holdings Ltd ("Ezra"). Additional information on EMAS may be obtained from Ezra website at http://www.ezraholdings.com/

This shows that CARIMIN BOSSES are on the look out for opportunities & not afraid of dirty work hands on.

This was what happened to Muda who recycled waste paper & rubbish.

In these bad times many O& G are going kaput & turned belly up! So there is opportunity to make money in cannibalising & salvaging leftover for sale.

This kind of Value Add Management is rare.

Example is TMakmur willing to rear animals for sale in its plantations (TMakmur later taken private!)

Another one is Scientex. Scientex not only build houses. They also do the dirty manual work of making their own cement bricks to save cost. By cutting cost Scientex is able to compete against all other Housing Developers in Johor!

SO KUDOS TO CARIMIN MANAGERS!!!

CALVIN GIVES THUMBS UP!!!

5) MAJOR SHAREHOLDERS WITH MYOPIC VISION SOLD DOWN CARIMIN SHARES ON THIS NEW JV

RIGHT AFTER THIS ANNOUNCEMENT ONE SHAREHOLDERS DUMPED CARIMIN SHARES BELOW 30 SEN

Particulars of substantial Securities Holder

Name
DYNAC SDN. BHD.
Address
No. 16, Jalan Skudai, Straits View
Johor Bahru
80200 Johor
Malaysia.
Company No.
85602-M
Nationality/Country of incorporation
Malaysia
Descriptions (Class & nominal value)
Ordinary Shares
Name & address of registered holder
AmSec Nominees (Tempatan) Sdn. Bhd. (Pledged securities account for Dynac Sdn. Bhd.) 22nd Floor, Bangunan AmBank Group 55, Jalan Raja Chulan 50200 Kuala Lumpur

Details of changes

Currency: Malaysian Ringgit (MYR)

| | | | | |
| --- | --- | --- | --- | --- |
| Type of transaction | Description of Others | Date of change | No of securities | Price Transacted ($$) |
| Disposed | | 05 Apr 2017 | 3,536,500 | |

| | |
| --- | --- |
| Circumstances by reason of which change has occurred | Disposal of shares through open market |
| Nature of interest | Direct |
| Direct (units) | 1,410,000 |
| Direct (%) | 6.029 |
| Indirect/deemed interest (units) | 0 |
| Indirect/deemed interest (%) | 0 |
| Total no of securities after change | 14,100,000 |
| Date of notice | 08 Apr 2017 |

Remarks :

This notice was received on 10 April 2017.

---

Announcement Info

| | |
| --- | --- |
| Company Name | CARIMIN PETROLEUM BERHAD |
| Stock Name | CARIMIN |
| Date Announced | 10 Apr 2017 |
| Category | Change in Substantial Shareholders Interest Pursuant to Form 29B |
| Reference Number | CS2-10042017-00080 |

SO STUPID INDEED!!

It was the dirty work of Muda in paper recycling that caused Muda to go up from 32 sen to Rm2.40 & split (Up 700%)

And OKA who deals with Longkang also up 600% from 35 sen to over Rm2.00

Don't look down on Longkang & sampah business! So is Carimin decommisioning job!! If it pays well, so what?

6) CARIMIN HAS MANAGABLE DEBT WITH HIGH NTA & HIGH CASH RESERVE

Being a Man Power Company there is little Mark Down of Assets depreciation unlike others whose Equipments are already aged. In fact we already see the Valuable Examples of Carimin understating Its Real Estate Value.

So going forward CARIMIN has survived while others face insolvency due to horrendous debt

7) JOBS ARE WELL SECURED IN RAPID (Pengerang RAPID), WEST COASTAL HIGHWAY (WCE) & KL WATER WORKS

Fear of payment default is little as Paymasters of Petronas, Malaysia Govt & other Entities of Repute.

8) RM60 MILLIONS JOB AWARD & OTHER SERVICES BY PETRONAS ENSURE GOOD COMING QUARTERS

The Board of Directors of Carimin is pleased to announce that Carimin Bina Sdn. Bhd. ("CBSB"), a subsidiary of Carimin, had on 23 June 2017 received a Letter of Award dated 22 June 2017 ("LOA") as the exclusive Sub-Contractor from Urban Masterpiece Sdn. Bhd. for the construction of all civil and engineering works in respect of the rainwater storage tank, consisting of 2 numbers of tube wells, 1 basement tank, 1 level of service/maintenance floor and external works (excluding mechanical and electrical works) for a project in relation to the management, control and store water for flood mitigation purposes in the area of Jalan Termeloh, Taman Tasik Titiwangsa, Kuala Lumpur, subject to the terms and conditions as stipulated in the LOA ("Sub-Contract").

2. THE SUB-CONTRACT SUM

The Sub-Contract is estimated to be approximately RM60,000,000.00 (Ringgit Malaysia: Sixty Million Only).

3. DURATION OF THE SUB-CONTRACT

The anticipated period for the completion of the Sub-Contract shall be twenty-four (24) months from the date of site possession. Tentatively, the dates on which CBSB shall commence and complete the Sub-Contract are as follows:-

a) The Date of Site Possession: 16 October 2017

b) The Date of Completion: 15 October 2019

Estimating Rm30 Millions for One Year with 12% profit CARIMIN already show a future profit of Rm3.6 Millions just from this one job award.

And latest is

The Board of Directors of Carimin is pleased to announce that the Company's wholly-owned subsidiary, Carimin Engineering Services Sdn Bhd ("CES"), had on 20 September 2017 accepted a Letter of Award dated 20 September 2017 ("LOA") from

PETRONAS Carigali Sdn Bhd

("PETRONAS Carigali") for

Provision of Maintenance, Construction and Modification (MCM) Services (Package C (Offshore) Peninsular Malaysia Oil)

("the Contract").

2. INFORMATION OF THE CONTRACT

The contract duration will be for a primary period of five (5) years with one (1) year extension option effective from 20 September 2017 and will expires on 19 September 2022, at an agreed fixed schedule of rates.

The details of the scope of works in relation to the Contract will be addressed in a work order which will be issued by

PETRONAS Carigali

and shall include any or all other work and services which is generally related to Topside Structural Maintenance, Workover Preparation and Facilities Improvement Project.

SO FOR THE NEXT 5 YEARS CARIMIN'S FUTURE IS GUARANTEED BY THE JOB AWARD FROM PETRONAS. A MAMMOTH RM170 BILLIONS TOTAL CAPEX FOR PENGERANG RAPID - THERE WILL BE LOTS MORE JOBS COMING CARIMIN WAY

9) THE ARRIVAL OF SAUDI ARAMCO INTO RAPID FOR DOWNSTREAM O&G PROJECTS

ARAMCO BEING WORLD LARGEST OIL COMPANY IS INVESTING USD7 BILLIONS (RM28 BILLIONS) INTO RAPID.

OTHERS WILL COME LATER.

AND CARIMIN HAS AN EVEN BRIGHTER FUTURE!!

Saudi Aramco's US$7b investment in Rapid tops Asean's M&A list

.
10) WITH SO GOOD FUTURE AHEAD CARIMIN BOSSES & INSIDERS ARE LOADING UP CARIMIN SHARES IN UNISON
| | | | | | |
| --- | --- | --- | --- | --- | --- |
| SRI DATO' KAMARUZZAMAN BIN SHARIFF | 29-Sep-2017 | Acquired | 950,000 | 0.470 | |
| MR LIM YEW HOE | 14-Aug-2017 | Acquired | 1,000,000 | 0.295 | |
| MR LIM YEW HOE | 14-Aug-2017 | Disposed | 1,000,000 | 0.295 | |
| MR LIM YEW HOE | 19-Jul-2017 | Acquired | 4,300,000 | 0.295 | |
| MR LIM YEW HOE | 19-Jul-2017 | Acquired | 281,900 | 0.295 | |
| MR LIM YEW HOE | 03-Jul-2017 | Acquired | 5,000,000 | 0.320 | |
| MR LIM YEW HOE | 07-Jun-2017 | Acquired | 550,000 | 0.320 | |
| MR LIM YEW HOE | 30-May-2017 | Acquired | 50,200 | 0.300 | |
| MR LIM YEW HOE | 19-Apr-2017 | Acquired | 1,700,000 | 0.380 | |
| MR LIM YEW HOE | 14-Apr-2017 | Acquired | 50,000 | 0.310 | |
| MR LIM YEW HOE | 14-Apr-2017 | Acquired | 1,800,000 | 0.380 | |
| MR LIM YEW HOE | 15-Mar-2017 | Acquired | 24,000 | 0.315 | |
| MR LIM YEW HOE | 14-Mar-2017 | Acquired | 6,000 | 0.310 | |
| MR LIM YEW HOE | 13-Mar-2017 | Acquired | 20,000 | 0.314 | |
| ENCIK SHATAR BIN ABDUL HAMID | 29-Aug-2016 | Acquired | 246,500 | 0.350 | |
| MR LIM YEW HOE | 20-Jul-2016 | Acquired | 34,900 | 0.375 | |
| MR LIM YEW HOE | 20-Jul-2016 | Acquired | 30,000 | 0.380 | |
| MR LIM YEW HOE | 20-Jul-2016 | Acquired | 1,000 | 0.385 | |
| MR LIM YEW HOE | 12-Jul-2016 | Acquired | 23,000 | 0.375 | |
| MR LIM YEW HOE | 30-May-2016 | Acquired | 25,000 | 0.400 | |
CALVIN HAS A MODEST TARGET PRICE FOR CARIMIN AT 80 SEN
REGARDS, Calvin Tan Research, Singapore
After posting that in a very bleak time Carimin even dropped to a low of 21.5 sen
AS OF TODAY SEPTEMBER 22ND 2019 CARIMIN HAS BROKEN THE TARGET PRICE OF 80 SEN CHUN CHUN TO CROSS RM1.00!!
So from its lows Carimin has gone up a Whopping 400%
AMAZING INDEED!!
To be continued by Writeup on SCOMIES (7045)
Don't go away!
OK THIS 1ST REASON
1) JUST LIKE CARIMIN = SCOMIES UNDERVALUE ITS ASSETS AT ROCK BOTTOM PRICES
Refer to Annual Report of Scomies & scroll down to Properties owned by SCOMIES
See One 5 Storey Shophouse in Selangor with FREEHOLD TITLE With a Book Value of Only Rm170K
Scomi Master Oiltools:
Geran 46494, Lot 42410 Pekan Cempaka, Daerah Petaling, Negeri Selangor, Malaysia
Land
Five storey
Freehold Built-up area: Land & 21 years
held under shop office
31.10.1999
Buiilt Up: 11,755 sq ft
Book Value: Rm170,000
WHERE TO GET 5 STOREY SHOPHOUSE IN SELANGOR WITH FREEHOLD TITLE AND BUILT UP OF 11,775 SQ FT FOR ONLY RM170K TODAY?
What is the advertised Value of 5 Storey Shophouse in Selangor today?
See
OK. From the above advert you can see the asking price for 3 Adjoining Units of 3 Five Storey Shophouse for Rm18 Millions
So each unit is Rm6 Millions
YESSS!
So that is the REAL TIME PRICE TODAY (Not Rm170K as listed in Book Value of Scomies)
So from Rm170,000 to Rm6,000,000 is 35X more or up 3,500%
Let's take a look at another property of Scomies
2 P.T. Rig Tenders Land Freehold building as 01.01.1997
Indonesia, No.129, Jl. Dr Saharjo Built-up area: 490 sq metersTbk Jakarta
Book Value: Rm1,479.930
We see SCOMIES own a Freehold Shophouse in Jln Dr Saharjo in Indonesia with 490 sq meter built up valued at Rm1.479 Millions
Land size is 490 sq meter
To convert to Sq Ft multiply by 10.764
So 490x10.764 = 5274 sq ft built up
Now see what is the advertised Price for sale in Singapore
This Shophouse was advertised for sale in Singapore at SGD819,883
Now convert to Ringgit X 3.06
So SGD819,883 x 3.06 = Rm2.5 MILLIONS
So if revalued it should go up by 66%
See further
3 P.T. Rig Tenders Freehold
Jl Belitung Darat building as 09.01.2003
Land area: 190 sq metres Indonesia, : Tbk Banjarmasin
Book Value Rm10,800
Now the land bought in year 2003 for Only Rm10,800 Book Value
How big is 190 sq meter?
So 190x10.764 sq ft = 2045 sq ft in size
Now look at item 4
3 P.T. Rig Tenders Freehold
Jl Belitung Darat building as 06.05.1997
Office building: 972 sq metres Indonesia, : Tbk Banjarmasin
Book Value = "Blank"???
WAHAHA!
THIS EMPTY LAND VALUED AT
RM10,800
AFTER BUIDING UP WITH 972 SQ METER BUILT UP
HAS A BOOK VALUE OF
"ZERO"?
TO CONVERT 972 SQ METER TO SQ FT X 10.764 =
10,462 SQ FT
WOWEEE!
A SHOPHOUSE (FREEHOLD) WITH BUILT UP AREA OF
10,462 SQ FT
IS
"FREE"?
AMAZING ACCOUNTING INDEED!!
LET'S GO ON AND DISCOVER GEM AFTER GEM (Some "Free" Hor!)
OKOK JUST 3 MORE
3 PIECES OF FREE HOLD LANDS IN SEPANG BOUGHT UPTEEN YEARS AGO
1. Scomi Land held under Land Freehold Sosma Geran 250133, 7.4.2011 0.7412 Sdn Bhd Lot 7627,\
0.7412 hectares Mukim of Sepang,
Selangor Darul Ehsan
Book Value: RM176K
This freehold land in Sepang of 0/7412 hectares has a book value of Rm176K
Let's see how many acres
To convert hectares to acres
multiply by 2.471
So 0.7412x2.471 =
So it's 1.83 Acres!!!
To convert to Sq ft X 43560
So 1.83X43,560 =
79,714 sq ft
OK NOW WE KNOW
THE LAND SIZE 79,714 SQ FT HAS A BOOK VALUE OF RM176K
NOW TO GET COST PER SQ FEET
MATHS IS SO INTERESTING. NO GUESS WORK OR BLUFFING AT ALL)
176,000 divides by 79,714 sq ft = Rm2.20 psf
WAHAHA!
ONLY
RM2.20 Per Sq Ft?
Got 2 More pieces. Go and calculate yourselves
WHAT IS THE CURRENT MARKET VALUE OF SEPANG FREEHOLD LAND TODAY?
See
https://www.propertyguru.com.my/property-for-sale?region_code=MY10&district_code=SL061&market=residential&property_type_code%5B%5D=RLAND&property_type=L&newProject=all
ANYWHERE FROM RM50 PSF TO RM250 PSF (Depending on which part of Sepang)
If we take Rm50 psf Then from Rm2.20 to Rm50.00 is Up 22.7X or up
2,270%
SO FROM HERE WE KNOW FOR SURE (VERY VERY SURE) SCOMIES ASSETS ARE VERY VERY VERY UNDERVALUE
NO WONDER
CEO
OF SCOMIES SAPUUUUUU
1.8 MILLION SCOMIES SHARES AT 10.5 SEN!!
IS THE NTA OF SCOMIES ONLY
16 SEN?
NO NO NO!!
IT SHOULD RANGE FROM
50 SEN TO OVER RM1.00 (NOT 16 SEN LAH!)
HOW COME?
LET'S GO DEEPER IN OUR RESEARCH.
TIRED ALREADY
SEE YOU LATER.(DON"T GO AWAY OR YOU WILL MISS THIS HIDDEN GEM!)
COME BACK FOR MORE LATER
Sign off and come back shortly
Calvin Tan
In my Condo, Jurong,
Singapore
THE WORLD BEATING DRILLING FLUID BUSINESS OF SCOMIES!!
SCOMIES BOUGHT OVER DRILLING FLUID BUSINESS FOR OVER RM1 BILLIONS
ASSETS AND LIABILITIES
AS AT 30 JUNE 2019 ASSETS
Drilling Asset RM500.11 MILLIONS
ASSETS AND LIABILITIES AS AT 30 JUNE 2019 ASSETS Assets employed in the segment Rm500,110,000
WE SEE HOW SCOMIES DEPRECIATED ITS DRILLING OILS ASSETS FROM RM1 BILLIONS TO ONLY RM500 MILLIONS
THIS IS OVERDONE!
THESE ARE LANDBASED ASSETS (NOT UNDER THE SEA LIKE ALAM MARITIN WHICH CAN RUST AND ROT UNDER SEA WATER)
SEE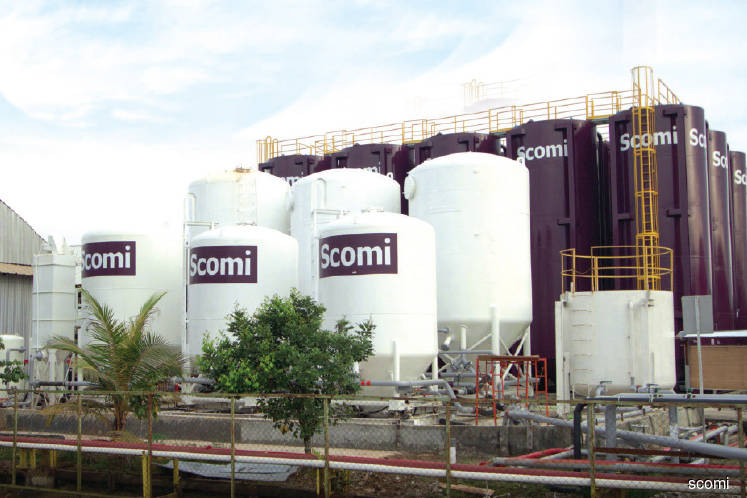 SCOMIES WON RM610 MILLIONS DRILLING FLUID SUPPLY IN KUWAIT (SCOMIES IS WORLD PLAYER)
SCOMIES DRILLING MUD MADE FROM PALM KERNEL OIL IS BIODEGRADABLE. JV WITH GERMAN TECH
SCOMIES IN INDONESIA
SCOMIES IN KEMAMAN SUPPLY BASE
PETRONAS HAS INCREASED DRILLING RIGS FROM 18 RIGS WITH ANOTHER ADDITIONAL 10 RIGS TO 28 OIL RIGS THIS YEAR AND MORE TO COME AS UPSTREAM JOB AWARDS WILL INTENSIFY FOR 2ND HALF OF 2019
PETRONAS STILL HAS RM35 BILLION FOR JOB AWARDS IN THESE 4 SHORT MONTHS TILL DEC 31ST 2019
PALM KERNEL BASED DRILLING FLUID
Sep 22, 2019 10:07 AM
| Report Abuse
Why scomies drilling oil was chosen by the Kuwait oil company?
These are the reasons:
1. Scomies special drilling oil is
made from palm kernel oil
.
A technology developed by Scomi jv with German company.
2. Palm based
scomi drilling oil is 100% biodegradable
unlike other chemical oil. So it is an environmental friendly green tech bio-oil that can be discharged into oceans or seas safely
3. As
Malaysia is the 2nd largest producer of palm oil..
.. The availability of cheap ingredients for Scomi drilling oil manufacture is cheap and in abundance
4. Scomi succeeded in this discovery because of 2 factors:
i)
Malaysia already into Oil & Gas industry due to Petronas. So the development of drilling oil is an outgrowth in finding alternate type of drilling oil
And with German help Scomies created the only palm based biodegradable specialty drilling oil or drilling "mud" as they called it. See
https://www.thestar.com.my/business/business-news/2003/06/06/scomi-bul...
" rel="nofollow" target="_blank">
https://www.thestar.com.my/business/business-news/2003/06/06/scomi-bul...
> 2. Countries like Japan or USA or even Saudi don't have palm based drilling oil because
they don't have too many palm oil trees there
Just like
they don't have rubber gloves because only Malaysia got rubber trees and fresh latex
. Fresh latex was what made Malaysia into a World Top Number One Champion of Rubber Gloves
Now Scomi has already captured more than 10% of the world's drilling oil business and is still growing.
With the focus on green tech more and more countries will switch to the superior lower cost of palm kernel oil based drilling oil of Scomies.
Scomies bought over the Drilling oil business from Scomi for over RM1 Billions. That was the best buy Scomies made.
AFTER PETRONAS REALISED THE HUGE POTENTIAL OF SCOMIES DRILLING FLUID WHICH KUWAIT OIL CORP MADE A HUGE CONTRACT PURCHASE
PETRONAS THROUGH PETCHEM MADE 2 JV WITH SCOMIES
EVEN PETRONAS THROUGH PET CHEMICAL HAS GONE INTO JV WITH SCOMIES
See
https://www.thestar.com.my/business/business-news/2019/06/26/petchem-s...
" style="text-decoration-line: none; color: rgb(0, 102, 170);" target="_blank" rel="nofollow">
https://www.thestar.com.my/business/business-news/2019/06/26/petchem-s...
>
Pet Chem signed 2 Deals with Scomies
Scomi Energy Services Bhd CEO Hilmy Zaini Zainal (second from left) exchanging the agreements with Petronas Chemicals Marketing (Labuan) Ltd CEO Shamsairi Ibrahim after the signing ceremony. Looking on are Scomi Energy business unit manager Shyawalludien Mahmad and Petronas Chemicals Marketing head of isononanol & specialty products Wong Koh Choo.
PETALING JAYA: PETRONAS CHEMICALS GROUP BHD has partnered with SCOMI ENERGY SERVICES BHD to jointly develop and market chemical solutions.
In a statement issued yesterday, Petronas Chemicals announced that its wholly-owned subsidiary, Petronas Chemicals Marketing (Labuan) Ltd (PCML) has
inked two agreements with Scomi Energy's wholly-owned subsidiary, Scomi Oiltools Sdn Bhd.
The first agreement was to formalise the ongoing
research and development of chemical solutions mainly targeted for the oil and gas industry, which has commenced since 2016.
Meanwhile, the second agreement was for
the commercialisation of a high performance water-based mud additive – the first product developed under the collaboration.
The additive is designed to improve shale inhibition in offshore and on-shore drilling activities.
According to Petronas Chemicals managing director and chief executive officer (CEO) Datuk Sazali Hamzah, the partnership is advantageous for both companies as it enables the creation of innovative and sustainable solutions for their customers.
"At Petronas Chemicals, the desired outcome of our product innovation is to create products for the marketplace that address the needs of our customers. This approach ensures our relevance in the industry and our role as a market leader," stated Sazali.
Scomi Energy CEO Hilmy Zaini Zainal said that more newly efficient and commercially viable products could be developed to enhance drilling and exploration processes, via the firm's collaboration with Petronas Chemicals.
"Our focus now is to promote the high performance water-based mud additive in both domestic and global markets," he said.
WITH THE RISE OF RAPID REFINERY IN PENGERANG THERE IS AMPLE RAW MATERIAL LEFT CHEAPLY FOR SCOMIES' GERMAN BASED TECHNOLOGY
CALVIN STILL GOT LOTS MORE TO WRITE ABOUT SCOMIES
NOW LET'S SUM IT UP
SCOMIES INSIDERS ARE BUYING SCOMIES AT 10.5 SEN JUST LIKE CARIMIN INSIDERS ARE BUYING CARIMIN AT BELOW 40 SEN
AND NOW THAT CARIMIN HAS OVERSHOT ITS VALUE AND FUNDAMENTAL ALL HOLDING CARIMIN SHOULD BE CAREFUL NOT TO CHASE
IN FACT BETTER FOLLOW INSIDER SELL CARIMIN

SEE
MR SHATAR BIN ABDUL HAMID
17-Sep-2019

Disposed

297,000

1.050
TAN SRI DATO' KAMARUZZAMAN BIN SHARIFF
13-Sep-2019

Disposed

1,000,000

1.038
MR LIM YEW HOE
10-May-2019

Acquired

850,000

0.840
MR LIM YEW HOE
10-May-2019

Disposed

850,000

0.840
MR LIM YEW HOE
22-Apr-2019

Disposed

110,000

0.930
MR LIM YEW HOE
08-Apr-2019

Disposed

110,000

0.935
MR LIM YEW HOE
04-Mar-2019

Disposed

800,000

0.850
MR LIM YEW HOE
04-Mar-2019

Disposed

625,000

0.869
MR LIM YEW HOE
01-Mar-2019

Disposed

500,000

0.812
MR LIM YEW HOE
01-Mar-2019

Disposed

175,000

0.845
BEST TO TAKE PROFIT IN OVERVALUED CARIMIN AND REINVEST PROCEEDS INTO UNDERVALUE SCOMI ENERGY NOW!!
HOW SCOMIES CAN UNLOCK VALUE?
1) BY REVENUE FROM DRILLING FLUID SUPPLY TO KUWAIT OIL CORP FOR
RM610 MILLIONS
2)
MARINE SERVICES
(IT MADE
RM38.8 MILLIONS
LAST QUARTER (RESULT ONLY NEGATED BY RM72 MILLIONS IN IMPAIRMENT WHICH IS A ONE OFF
3) NEW JV FOR 2 JOBS WITH PETCHEMICAL
4) WITH THE ATTACKS OF SAUDI OIL REFINERY THERE WILL BE A STAMPEDE WORLD WIDE FOR NEW DRILLING AS AN INSURANCE AGAINST UNCERTAIN OIL CLUSTERS WHICH CAN CAUSE DISRUPTIONS TO OIL SUPPLY FLOW
THIS AUGURS WELL FOR SCOMIES AS IT HAS CAPTURED MORE THAN 10% OF WORLD DRILLING FLUID MARKET
5)
OR GO THE WAY OF ASSET VALUE UNLOCKING
SCOMIES COULD REVALUE ALL ITS LANDS AND BUILDINGS AND SELL THEM FOR CASH. SCOMIES COULD ALSO SELL OFF ITS DRILLING FLUID OIL BUSINESS IF PRICE OFFERED IS ATTRACTIVE ENOUGH
IF IT CAN COMMAND A PRICE OF RM1.5 BILLIONS TO RM2 BILLIONS IT WILL GET EXTRA RM1.00 TO RM1.50 TO ITS BOOK VALUE
THEN SCOMIES CAN DISTRIBUTE ANOTHER CASH DIVIDEND WINDFALL OF 18.5 SEN LIKE IT DID IN YEAR 2012 AFTER ASSET DISPOSAL SEE
http://www.bursamalaysia.com/market/listed-companies/company-announcements/3621021
SO FROM ALL ANGLES YOU LOOK AT SCOMI ENERGY
FROM FUTURE EARNINGS PER SHARE
FROM DEEPLY HIDDEN ASSETS VALUE
FROM SECRET WEAPON OF BIODEGRADABLE DRILLING FLUID
FROM DIRECTOR/INSIDER BUYING
FROM FUTURE CASH DISTRIBUTION
FROM ITS ROCK BOTTOM PRICE OF 11.5 SEN
YES OTHERS ARE ALL HOLDING SCOMIES SHARES AT MUCH MUCH HIGHER PRICES
SCOMI ACCEPTED SCOMIES SHARES VALUED AT 47 SEN AS PART PAYMENTS WHEN IT SOLD SCOMI DRILLING FLUID TO SCOMIES
QUEK LENG CHAN THROUGH GUOCO LAND HOLDING SCOMIES ABOVE 60 SEN AS WELL AS CAPRICE FUND
SO SCOMIES AT 11.5 SEN IS STILL VERY VERY DIRT CHEAP AND HAS A LONG WAY TO GO BACK UP!!
NOW IS THE TIME TO BUY AND HOLD TIGHTLY AS SCOMI ENEGRY EXPECTED TO GO UP LIKE CARIMIN, NAIM, DAYANG, PENERGY & UZMA
DON'T SELL FOR PEA NUT CONTRA GAINS
HOLD FOR MAXIMUM UPSIDE
CALVIN HAS A FIRST TARGET PRICE OF ONLY 30 SEN FOR SCOMIES
BEST REGARDS
Calvin Tan Research
Jurong West, Singapore
Please buy or sell after doing your own due diligence
SEE SCOMIES 5 YEAR CHART
---
AT
30 SEN
SCOMIES WILL GO BACK TO
DECEMBER 2015 YEAR END PRICE
BUT LONGER TERM SCOMIES SHOULD GO BACK UP TO ITS
CYCLICAL: PEAK AT RM1.00 IN EARLY YEAR 2014
SO BUY OR INVEST AND HOLD TIGHT FOR SCOMIES TO GO BACK UP IN ITS CYCLICAL PEAK AGAIN
MAYBE IT MIGHT EVEN SURPASS ITS 5 YEAR CYCLICAL PEAK
WHO KNOWS
AFTER ALL SCOMIES HAS A SECRET WEAPON OF PALM KERNEL BASED BIODEGRADABLE DRILLING MUD WHICH WILL BE A WORLD BEATER JUST LIKE MALAYSIA RUBBER GLOVES COMPANIES WERE WORLD CHAMPIONS
https://klse.i3investor.com/blogs/www.eaglevisioninvest.com/226097.jsp