SGX beat our earnings estimates by 11.9% for 4Q20 on sustained business momentum.
Stellar performance from 3Q20 was sustained in 4Q20, with cash equities growing 11% YoY on heightened market trading activity and DCI growing 39.5% YoY as a result of revenue contribution of Scientific Beta post-acquisition since 3Q20.
Business expansion expected with acquisition of BidFX into the OTC FX market and partnering with FTSE to replace expiring MSCI Index Futures contracts well ahead of expiry.
Proposed final dividend of 8.0 cents from 7.5 cents per share in 4Q20 represents an annualised increment of 7%. Moving forward, SGX expects to pay 32 cents in dividends on sustained earnings growth.
We upgrade to BUY call with a higher TP of S$9.45 (prev. S$9.28). We peg our TP to -1 SD of 5-year mean P/E of 21.4x. Current prices are trading at attractive valuations (18.5x P/E) that is more than 2 SD below the 5-year mean.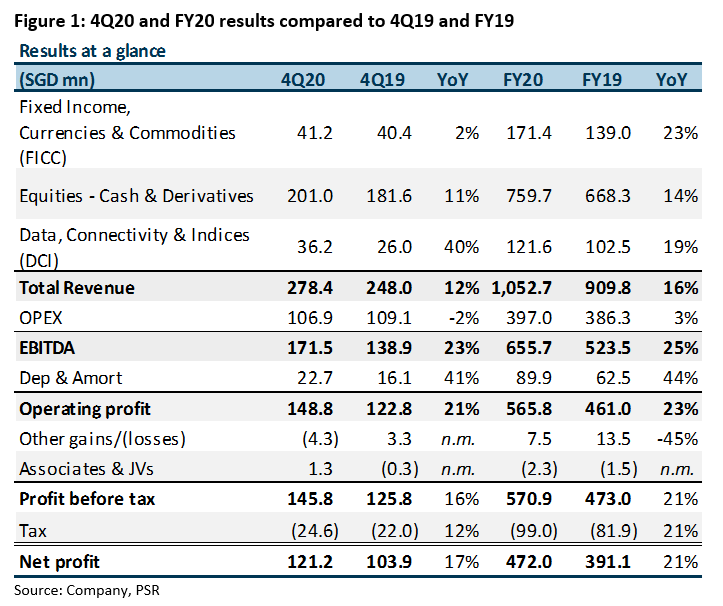 The Positives
+ Cash equities business see sustained participation from retail investors in 4Q20.
Trading and clearing revenue within the segment grew 48.3% YoY from S$44.4mn to S$65.8mn within the quarter with increased trading activity observed across all customer segments. Depressed market conditions provided favourable investment opportunities, as interest from retail investors continue to gain momentum. SGX observed 64,000 new retail CDP account opened in the year compared to 45,000 in FY19 (+40%).
+ DCI revenues grew 39.5% YoY in 4Q20 with acquisition of Scientific Beta.
The consolidation of revenues from Scientific Beta for 2H20 added S$14.4mn to the segment in FY20. Apart from organic growth, the full-year contribution of revenues from Scientific Beta will provide for growth within the segment in FY21.
+ Proposed final dividend of 8.0 cents per share (3Q20: 7.0 cents) on sustained earnings growth.
Moving forward, SGX expects distribute 32 cents per annum in dividends, representing a 7% increase YoY. This is in line with SGX's policy to pay a sustainable and growing dividend in line with the Company's long-term growth prospects.
The Negatives
– Capital-raising activity remains subdued with poorer market conditions.
Listing and corporate action revenues were down 5.2% and 27.5% YoY in 4Q20 respectively with various IPOs deferred due to the COVID-19 outbreak. Nevertheless, as the economy begins to recover, capital-raising activity is expected to return.
Outlook
Strategic acquisitions lay groundwork for future growth.
Following the acquisition of index firm Scientific Beta in 3Q20, SGX has also fully acquired FX trading platform BidFX at the end of June as it expands its footprint into the FX OTC market. Both acquisitions will complement SGX's current business by expanding its suite of products and presents cross-selling opportunities for the company.
Scientific Beta has contributed a meaningfully to SGX's DCI business (S$14.4mn) in FY20 on half a year's revenue. It will grant SGX capabilities to launch novel products from smart beta investing to ESG investing that caters to the demands of market participants.
BidFX provides SGX with an entry into the FX OTC market that will complement its current FX futures products. BidFX recorded an average daily volume (ADV) of US$31bn within the US$6.6tn industry in June 2020, the Company has experienced a CAGR of 57% since 2017. The platform presents ample room for organic growth with more than 100 institutional clients around the world including banks, hedge funds as well as asset managers.
Active management of suite of products ensures business longevity.
With cessation of non-Singapore MSCI index futures products in February 2021 announced in May, SGX has partnered with FTSE to launch the FTSE Taiwan Index futures to replace the largest contract (i.e. MSCI Taiwan Index futures) that will be expiring. The new product has also been granted approval with the US Commodity Futures Trading Commission for sales and distribution in the US market, which was previously no available for SGX's MSCI products. Plans have been laid out with FTSE to launch an expanded suite of products ahead of the license expiry with MSCI in February 2021.
Investment Actions
We upgrade to BUY recommendation with an upward revision of our TP to S$9.45 (prev. S$9.28) on sustained 4Q20 earnings. Our TP is pegged to 21.4x P/E, 1 SD below SGX's 5-year mean. Current price is trading at attractive valuations (18.5x P/E) and upward revision of quarterly dividend to 8.0 cents per share provides a modest yield of 3.9%.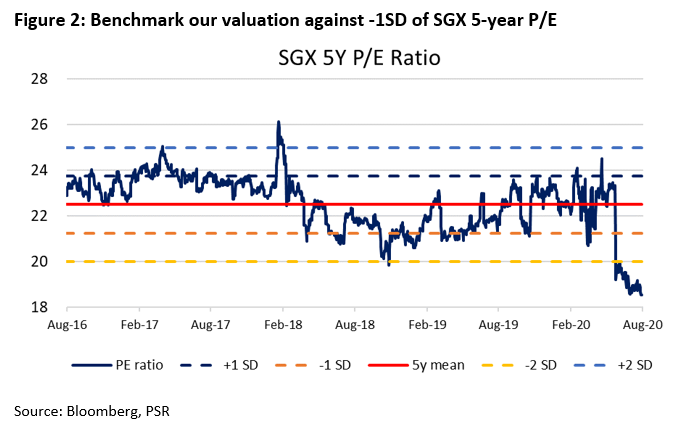 Source: Phillip Capital Research - 3 Aug 2020

https://sgx.i3investor.com/servlets/ptres/14414.jsp