LETS JOIN KIM'S STOCKWATCH GROUP?
UCHI TECHNOLOGIES BERHAD (UCHITEC)
UCHITEC -
It's a
BUY SIGNAL.
"GET YOUR TICKET AGAIN BEFORE IT'S TOO LATE AT RM5.85 " - Kim
On 5th & 8th February 2021, I had wrote and mentioned for entry this stock from RM2.93. It already shot up to second target price at RM3.20 & RM3.50.
KIM'S TARGET PRICE
The TP has been upgraded as follows:-
1. Good fundamental stock.
2. Cash Rich & Zero Debt company.
3. Incoming Good Q1FY21 report next June.
4. Involved with storage vaccines (Deep freezer) in Europe.
WHAT KIM SAY?
"UCHI develops and manufactures products for laboratory and industrial instrument applications such as precision weighing scales, deep freezers, centrifuges, and pipettes. Their clients include Sartorius Group, based in Germany (FY2019 Revenue was €1,827m), and Eppendorf, a leading life science German company."
WHY I PICKED THEM AS A GEMS?
"I like Uchi for its strong relationship with its key customer and how it remains the sole supplier of its coffee modules. Its customer, which manufactures deep freezers used within the vaccine logistics supply chain, could provide a near-term earnings catalysts" - Kim
On news 14th December 2020 - SLS and Eppendorf to supply ultra-low temperature freezers for UK COVID-19 vaccines | SelectScience
SLS and Eppendorf to supply ultra-low temperature freezers for UK COVID-19 vaccines
Scientific Laboratory Supplies (SLS) and one of the leading international life sciences companies, Eppendorf, have been chosen to provide ultra-low temperature (ULT) freezers for the country's supply of COVID-19 vaccines.
SLS – one of the UK's largest independent suppliers of chemicals, laboratory equipment and consumables – was awarded a contract by the Department of Health and Social Care (DHSC) to equip two central storage sites and 54 regional hubs with the vital laboratory equipment required for safe and secure storage of the newly developed vaccine.
SLS has over 25 years of experience supporting the UK life sciences and healthcare sectors with a wide range of laboratory equipment, and has worked closely with Eppendorf, the DHSC and the NHS to ensure that these freezers would be ready as soon as a vaccine became available. The SLS team provided information and advice, identifying Eppendorf's UK-manufactured ULT freezers as the best suited to the vaccination programme's needs. The contract will provide 380 of the 101 litre under-bench units, and 60 of the 570 litre mass storage units, vastly increasing the sites' current capacity to safely store the vaccine. The company is also coordinating the delivery, installation and testing of the units, as well as supplying the personal protective equipment necessary for each site, allowing the entire rollout to be completed in a matter of weeks.
Bob Mclaughlin, Sales Director at SLS, explained: "This is an extremely ambitious and challenging project as, until recently, we didn't know when a vaccine might be approved, or what its storage requirements might be. Open communication and adaptability have been essential, and we have worked side-by-side with Eppendorf to develop a strategy that would allow us to deliver and validate these large, heavy ULT freezers to almost 60 sites at very short notice. We are very proud of what we have achieved, providing everything on time and on budget to help in the UK's fight against SARS-CoV-2."
Steve Dey, Head of European Segment Marketing at Eppendorf UK, added: "Eppendorf is very proud that products we have long provided to the global life science community will assist with efforts to beat SARS-CoV-2. Working closely with our long-term partner SLS and our UK manufacturing site, we are extremely pleased that our ultra-low temperature freezers will be in the front line, supporting the NHS and the British public."
ANOTHER KIM REASON WHY HE CHOOSED UCHI :-
The main product of Uchitec is electronic control system. By its application, it can be categorized into
1. For household art-of-living products, mainly fully-automated coffee machines
Uchi used to be dependent on several coffee manufacturers,
which includes the likes of Nespresso, Krups, Saeco, Bosch and Jura, for
business revenue. This business model changed when Uchi signed an
exclusive agreement with Swiss-based coffee machine manufacturer, Jura last 3 years.
This agreement eventually led to Uchi being the sole source for Jura's coffee
machine modules, which aided the latter with technological improvement
and upgrades and thus provided Jura with an edge over competitors. While
Uchi still manufacturers some coffee modules for the other brands, but once
these are removed from the shelves, they will not be
replaced and therefore will not be used in future models.
- The Rise In Home Coffee Consumption
Out-of-home coffee consumption, such as in cafés and restaurants, makes up around 25% of total consumer demand for coffee. So, when some 95% of these businesses closed in early 2020, temporarily or permanently, the coffee industry took a tremendous hit.
2. For biotechnology laboratory or industrial instruments, such as weighing scales, centrifuges and deep freezers.
Among the two categories above, art-of-living products is the product category that contributes the most, at 81% of revenue as of financial year 2019. Biotechnology products contributed 18% of revenue in the same financial year.
Uchitec holds three 100%-owned subsidiaries, two in Malaysia and one in China. Its subsidiary Uchi Optoelectronic (M) in Malaysia, or called "UOM", is the main operating unit performing R&D activities and manufacturing of electronic control modules, while the other two subsidiaries are assembly arms of UOM. It is also worth to take note, according to responses from management during annual general meeting (AGM) 2020, due to trade war between US and China, company is adjusting production volume in China factory and in Penang factory.
- Growing the biotech segment
The biotech segment accounts for the remaining 21% of Uchi's revenue.
Uchi serves 2 major customers here, namely Sartorius and Eppendorf,
which are both international pharmaceutical and laboratory equipment
suppliers, manufacturing electronic modules for use in precision weighing
scales, electronic pipettes and deep freezers.
- Optimistic on future growth
While the ambition had been to grow this division, which would be positive
as it carries higher margins, the revenue split has been pretty stable over the
years. I am nevertheless optimistic that revenue will eventually grow as
trust and relationships are built leading to a higher number of new products
outsourced (the deep freezer for Eppendorf was one of the more recent
products). Moreover, the higher manufacturing cost in Europe,
Malaysia could be another reason for product transfer, as we believe that
Uchi offers better cost-efficient solutions. Also
SLS and Eppendorf to supply ultra-low temperature freezers for UK COVID-19 vaccines!!!!
- Ultra-low Temperature Freezer Market: Key Players
The ultra-low temperature freezer market is fairly fragmented in nature. Several key players hold a worthwhile position in the market. These players are observed to be engaged in organic as well as inorganic growth strategies. Leading key players of the ULT freezer market are Eppendorf AG, Helmer Scientific, Panasonic Healthcare Corporation, Thermo Fisher Scientific, Arctiko A/S, Bionics Scientific Technologies (P) Ltd, Glen Dimplex, Haier Biomedical, LABCOLD, and Remi Group.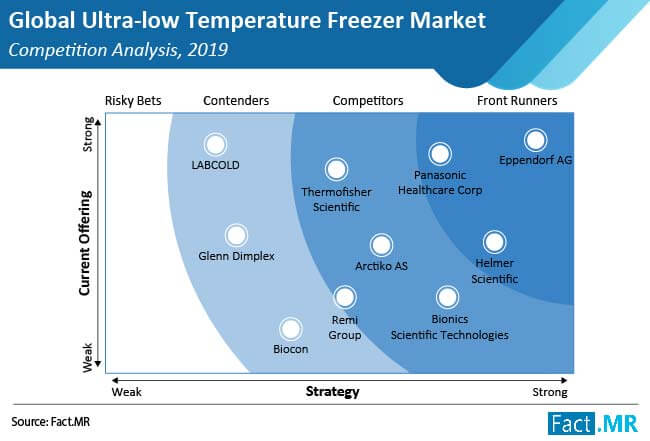 3. ODM business
Uchitec is original design manufacturer (ODM) of electronic control system. Their products are not finished products, but partial products that need to be further assembled and completed by customers.
More than 90% of their products are exported to Europe. More precisely, exported to Switzerland, Portugal and Germany. The breakdown percentage of revenue contribution from these three countries has not been changed much, at least since 2017 when this information started to disclose in annual report. In case you wonder who is biggest customer of Uchitec, it is Swiss coffee maker Jura.
4. High profit margin
Uchitec is known for its capability in maintaining a very high operating profit margin. From disclosure in annual reports. operating profit margin has been at a level of above 40% since 2000. Note that this operating margin is calculated after taking account of raw material cost, employee expense, depreciation and R&D expense, so it is indeed very impressive.
5. Net cash company
Uchitec has zero borrowing
Back in 2017, Uchitec had even more cash, standing at RM243 million. In 2018, management thought it was not necessary to hold so much of cash, therefore about RM90 million was paid back to shareholders as capital repayment
6. Current Financial highlights
Revenue and Earnings Surged Further in 4Q20

4Q20 revenue and core profit surged by 33% and 41% qoq respectively, even after the strong previous quarter, which had recovered from order backlogs due to production halts during the Movement Control Order (MCO) in 2Q20. With the strong revenue and hence better operating leverage coupled with favourable revenue mix, EBITDA margin further improved by 2.9ppts qoq. Overall, this has been the strongest quarter ever reported by Uchi, both in terms of revenue and profit, which we believe is being underpinned by strong demand for household appliances spurred by the work-fromhome trend.
2020 Results Above Expectations, DPS Ahead of Expectations

Cumulatively, Uchi's 2020 core profit of RM85m (+10% yoy) came in above expectations, accounting for 120% and 124% of our and the street's full-year estimates respectively. Revenue in US$ terms had contracted by 1.8% yoy and we believe this was also better than management's earlier revenue guidance of a single-digit decline. The earnings surprise was largely due to a combination of better-than-expected revenue and EBITDA margin. DPS for the full year amounted to 17 sen (FY19: 16 sen), which was also a positive surprise.
FINANCIAL SUMMARY
SYMBOL & CODE
CURRENT QUARTER
CONSOLIDATED INCOME STATEMENT
Individual Period
Cumulative Period
RM'000
RM'000
RM'000
RM'000
REVENUE
PROFIT/(LOSS) BEFORE INCOME TAX
NET PROFIT/(LOSS)
BASIC (BASED ON ORDINARY SHARES - SEN)
DIVIDEND PER SHARE (SEN)
NET ASSETS PER SHARE (RM)


7. Improved outlook has helped PE multiple re-rating
Uchi's stock price has re-rated after the recent 4Q20 results announcement,
driven by management's guidance of an improved outlook over the near
term. This is a marked contrast to its outlook and guidance over the past few
years, which have been sombre and mostly expecting sales to be flat.
8. Earnings upside risk is real
I think that positive earnings risks are likely considering Jura's confidence
in growing its business in new geographical markets while gaining
momentum in the office and professional segment (which could help in
margin expansion). Meanwhile, I also believe that there is scope for Uchi
to secure new products/customers, as management has continually been
participating in trade shows and showcasing its abilities and offering costcompetitive solutions.
9. Fair Value (RM4.88) and My TP RM5.85
In my view,
UCHITEC current price is 36.93% below estimated fair value. So, I will add 20% from FV 4.88 = RM5.85 is my target price.
10. Maintain BUY with higher target price of

RM5.85
With the improved latest earnings growth prospects and potential capital
management initiatives, I believe Uchi's PE multiple could continue to
re-rate over the near term. Moreover, the company is well managed and
prudently run, as reflected in its expanding cash position and zero debt.
11. The price-to-earnings ratio (P/E ratio)
If we take comparison to the industry's such as Vitrox, Penta, Greatech, that have price-to-earnings (PE) ratios in the range of 60-80 (PE). But for UCHI only 19 P/E. So I foresee UCHI P/E must and will up at least 31 (P/E) = RM5.85
UCHI tend to be popular with investors, and for good reason and some research suggests a significant amount of all stock market returns come from reinvested dividends. If you are hoping to live on your dividends, it's important to be more stringent with your investments than the average punter.
In this case, UCHI likely looks attractive to investors, given its 4.9% dividend yield and a payment history of over ten years. It would not be a surprise to discover that many investors buy it for the dividends. Some simple analysis can offer a lot of insights when buying a company for its dividend.
12. Positive Profit Growth
UCHITEC managed to achieve better profit growth on the past 2 quarters by average +69%.
Past Quarter Reports
| Quarter Date | Revenue (RM) | (%) | EPS (RM) | (%) |
| --- | --- | --- | --- | --- |
| 2020-12-31 | 53,564k | +33% | 0.072 | +36% |
| 2020-09-30 | 40,418k | +57% | 0.0528 | +102% |
| 2020-06-30 | 25,721k | -28% | 0.0262 | -27% |
| 2020-03-31 | 35,553k | -10% | 0.0357 | -19% |
| 2019-12-31 | 39,443k | -8% | 0.0439 | -14% |
---
Lastly, don't forget to click on our telegram links and join us. Let us give you the latest update on the stock market and our group development. We hope you enjoy reading our blogs and give us your support.
If you would like to know more about Kim's Group Trader (KGT) and Kim's Investment Club (KIC). You may reach out to us via links.
LETS JOIN KIM'S STOCKWATCH GROUP?
KIM
---
Disclaimers: The research, information and financial opinions expressed in this article are purely for information and educational purpose only. We do not make any recommendation for the intention of trading purposes nor is it an advice to trade. Although best efforts are made to ensure that all information is accurate and up to date, occasionally errors and misprints may occur which are unintentional. It would help if you did not rely upon the material and information. We will not be liable for any false, inaccurate, incomplete information and losses or damages suffered from your action. It would be best if you did your own research to make your personal investment decisions wisely or consult your investment advise.
https://klse.i3investor.com/blogs/spartan/2021-03-05-story-h1542031005-MY_LOW_PROFILE_GEMS_COMING_TO_SOAR.jsp