Dear Friends/Investors of i3 Forum
If you read the opinions of analysts and media they all surmise that CPO Prices will only be good for the 1st Half Year of 2021
And they all conclude that by 2nd Half of 2021 CPO will soften and fall lower to as low as Rm3000 a ton or even lower to Rm2700
Now we think this Time CPO Prices will go up much much higher because of these TWO POWERFUL FACTORS
1) THE RISE OF WHEAT, CORN & SOYBEAN COLLECTIVELY DUE TO DROUGHT, FLOODS & DEMAND FROM CHINA
See how High Soybean Oil has Risen
| Date | CPO, BMD (US$/MT) | SBO, ROTT (US$/MT) | PO Discount to SBO |
| --- | --- | --- | --- |
| 6 May 21 | 1023 | 1580 | 557 |
| 5 May 21 | 982 | 1558 | 576 |
| 4 May 21 | 985 | 1548 | 563 |
| 3 May 21 | 990 | 1554 | 564 |
| 30 Apr 21 | 943 | 1500 | 557 |
| 28 Apr 21 | 960 | 1525 | 565 |
| 27 Apr 21 | 992 | 1570 | 578 |
| 26 Apr 21 | 947 | 1520 | 573 |
As can be seen from the above Prices for Msay 6th 2021
CPO (Crude Palm Oil) was USD1,023 A METRIC TON & SBO (Soy Bean Oil) is USD1,580
How much higher is Soyoil
USD1,580 minus USD1,023
= USD557 EXTRA
HOW MANY PER CENTAGE MORE
USD557 Divides by USD1,023
= 54.4% More
From here we SEE that Soybean Oil is 54.4% More Expensive Than Crude Palm Oil
Other Vege Oils are all more expensive than Soybean Oil
SO THERE IS NO OTHER CHEAPER SOURCE OF VEGE APART FROM PALM OIL
Since the Difference is so Huge at 54.4% the chances of More People Turning To Cpo due to economy is getting better and better as inflation get worst.
SO WHEN PEOPLE SAY CPO PRICE GOES UP INDIA WILL STOP BUYING PALM OIL AND WILL TURN TO BUYING OTHER CHEAPER VEGE OIL (THIS IS IMPOSSIBLE AS PALM OIL IS THE CHEAPEST ON WORLD MARKET)
SOYBEAN OIL, CORN OIL, CANOLA, SUNFLOWER SEED OIL, GROUND NUT OIL, COCONUT OIL & OLIVE OIL ARE ALL WAY MORE EXPENSIVE THAN PALM OIL
BUT CRITICS & DOUBTERS SAY BY NEXT HALF OF 2021 PRODUCTION OF CPO WILL INCREASE SO PALM OIL PRICES WILL GO DOWN OR LOWER
Again look at the Dry Weather in USA, Brazil & Argentina - All Major Corn & Soybean producing Countries Now in Drought
See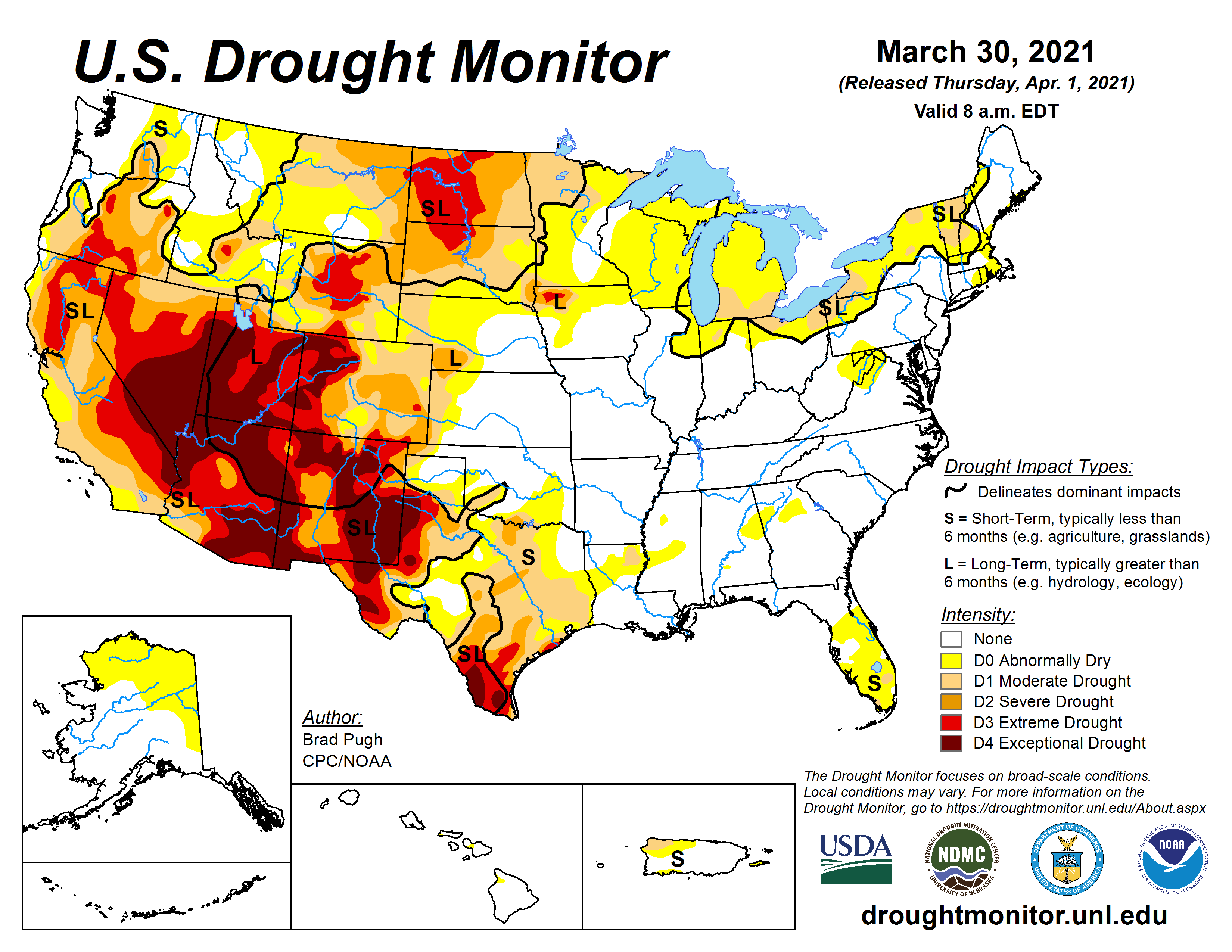 As you can see
HALF OF USA IS IN DROUGHT. USA IS AMONG THE WORLD BIGGEST PRODUCER OF SOYBEAN & CORN
2) THE SECOND REASON WHY PALM OIL PRICES WILL REMAIN ELEVATED IS DUE TO JOE BIDEN PIVOTING TO GREEN ENERGY DUE TO CLIMATE CHANGE
AS A RESULT PHILLIPS 66 & OTHER REFINERIES ARE NOW CONVERTING TO BIOFUEL
THIS WILL FOLLOW BRAZIL IN USING CORN AS BIODISEL & INDONESIA USING PALM OIL AS BIODISEL
USA'S SUGAR, CORN & SOYBEAN WILL NOW BE CONVERTED INTO GREEN ENERGY BIOFUEL LIKE NEVER BEFORE
THAT MEANS THAT THERE WON'T BE ENOUGH COMPETING VEGE OIL EVEN FOR WHOLE OF 2021 & BEYOND AS LONG AS JOE BIDEN IS IN POWER
See
ETHANOL FROM SUGAR CANE, CORN OR SOYBEAN
THE MORE ETHANOL CONTENT THE CHEAPER AND CLEANER THE FUEL
See Phillips 66
Phillips 66 Plans to Transform San Francisco Refinery into World's Largest Renewable Fuels Plant
Conversion is expected to reduce the plant's greenhouse gas emissions by 50%
HOUSTON--(BUSINESS WIRE)-- Phillips 66 (NYSE: PSX), a diversified energy manufacturing and logistics company, announced today that it plans to reconfigure its San Francisco Refinery in Rodeo, California, to produce renewable fuels. The plant would no longer produce fuels from crude oil, but instead would make fuels from used cooking oil, fats, greases and soybean oils.
The Phillips 66 Rodeo Renewed project would produce 680 million gallons annually of renewable diesel, renewable gasoline, and sustainable jet fuel. Combined with the production of renewable fuels from an existing project in development, the plant would produce greater than 800 million gallons a year of renewable fuels, making it the world's largest facility of its kind.
The project scope includes the construction of pre-treatment units and the repurposing of existing hydrocracking units to enable production of renewable fuels. The plant will utilize its flexible logistics infrastructure to bring in cooking oil, fats, greases and soybean oils from global sources and supply renewable fuels to the California market. This capital efficient investment is expected to deliver strong returns through the sale of high value products while lowering the plant's operating costs.
SO FROM THESE EXAMPLES WE KNOW THERE IS NOW A LONG TERM STRUCTURAL CHANGE FOR THE USE OF PALM OIL ALONG WITH SOYBEAN OIL AS A RENEWAL BIOFUEL
BEST REGARDS
Calvin Tan Research

https://klse.i3investor.com/blogs/www.eaglevisioninvest.com/2021-05-11-story-h1565030522-TWO_POWERFUL_FACTORS_WHY_PALM_OIL_BULL_RUN_CAN_LAST_MUCH_LONGER_THIS_RO.jsp