---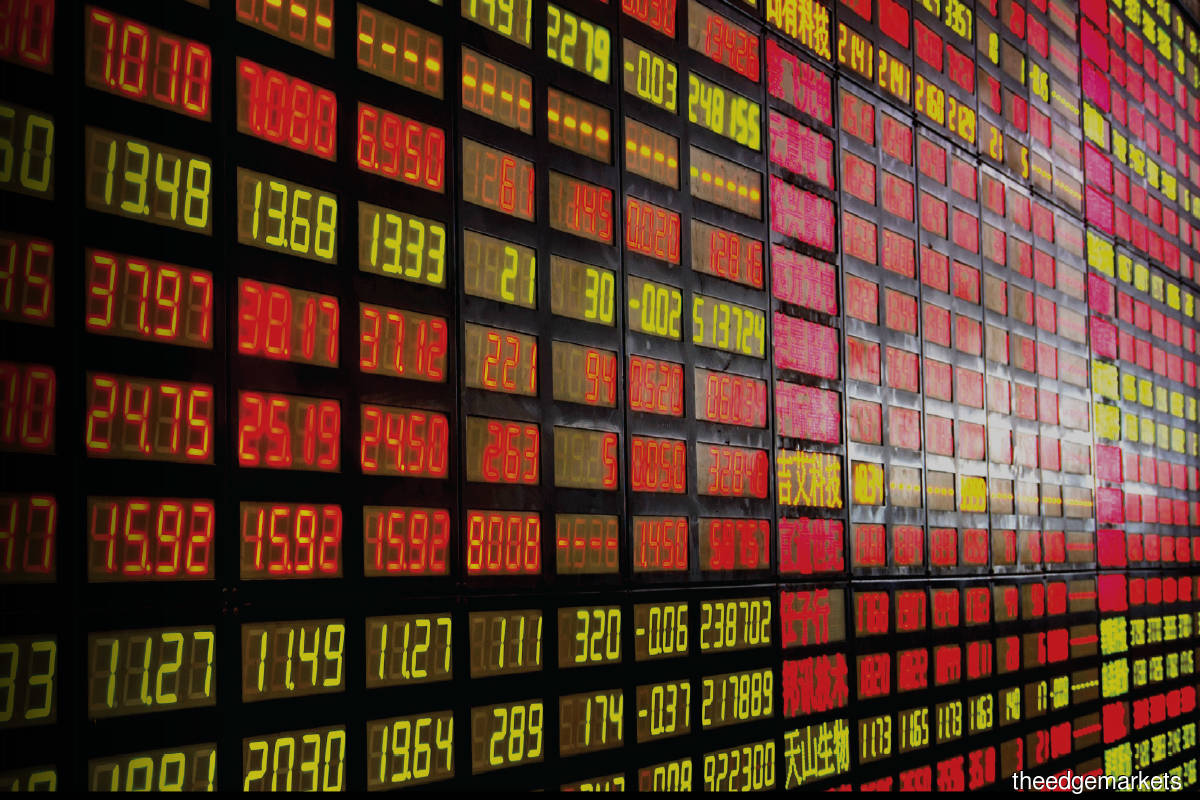 IT has been another eventful year for Bursa Malaysia, as the nation began transitioning to the endemic phase of Covid-19 on April 1 amid global headwinds such as high inflation, rising interest rates and geopolitical tensions.
The local market — along with other Asian bourses, with the exception of Singapore's Straits Times Index — is ending the year in negative territory. The FBM KLCI had lost 5.7% year to date (YTD) to 1,478.54 points on Dec 16 compared with the STI's gain of 3.7%.
Japan's Nikkei 225 is down 4.4% YTD but Hong Kong's Hang Seng Index and South Korea's Kospi are far bigger losers, down 16.9% and 20.7% respectively.
Unlike 2021, Bursa's lower trading volumes and values underscore reduced retail interest as investors may have opted out of the market following the sharp correction in the share price of glove makers and technology companies, as well as weaker YTD performances.
CGS-CIMB Research notes in a Dec 16 report that all key investor groups had recorded lower trading activities YTD.
"Average daily trading volumes and values fell by 48.6% and 39.9% [respectively] to three billion units and RM2.2 billion from Jan 1 to Nov 30, 2022, after 5.8 billion units and RM3.7 billion in 2021. The trading value for retail investors from Jan 1 to Nov 30, 2022, was RM230 billion — 60.4% below the RM581 billion recorded in the same period a year ago," says CGS-CIMB Research.
It is noteworthy that all key indices on Bursa had posted negative returns YTD (as at Dec 9, 2022) due to diminished interest from retail investors and net selling by local institutional investors, it adds.
"The FBM KLCI, which represents the top 30 largest market cap stocks on Bursa Malaysia, outperformed the FBM Top 100, FBM Emas and FBM Hijrah Shariah. This represents the second consecutive year the FBM KLCI has outperformed these indices. The FBM KLCI's gain was boosted by the outperformance of the finance sector, which accounted for 42% of its weightage."
Relative to the other sectors, the energy and finance sectors have outperformed.
"The energy sector registered YTD returns of 10.5% (versus the FBM KLCI's -5.8%) due to improved earnings prospects of energy players on higher oil prices. The finance and plantation sectors, in second and third places respectively in terms of returns, trailed the market leader with single-digit gains of 6% and 2.7%. Banks are expected to benefit from the rate hike cycle, while the plantation sector gained from improving crude palm oil (CPO) prices due to the disruption to the sunflower oil supplies from Ukraine. Another interesting point to note is that the property index is on track to post five consecutive years of losses, which is unprecedented, suggesting that market sentiment for the sector is low," says CGS-CIMB Research.
The Edge takes a closer look at this year's top winners and losers, which have been grouped according to market capitalisation.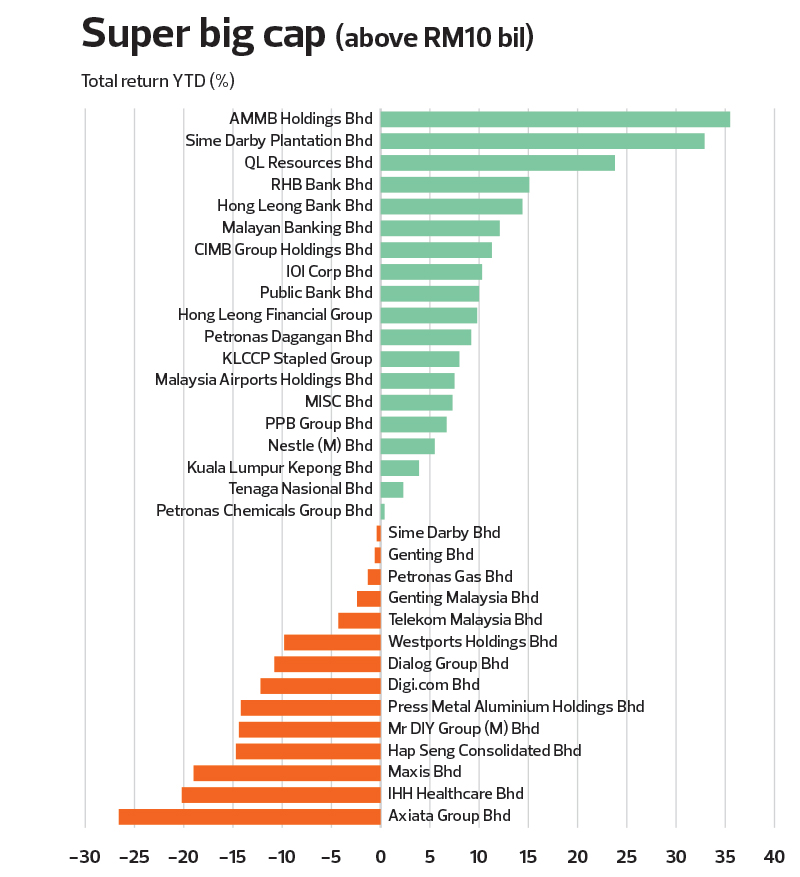 Super big cap (market cap of more than RM10 billion)
There are 33 companies in this category.
The top performers were banks, with AMMB Holdings Bhd (+35.5%) topping the list, followed by RHB Bank Bhd (+15.1%), Hong Leong Bank Bhd (+14.4%), Malayan Banking Bhd (+12.1%) and CIMB Group Holdings Bhd (+11.3%). The banks, including Public Bank Bhd (+10%), collectively boast a whopping market capitalisation of RM335.73 billion between them.
Sime Darby Plantation Bhd (+32.9%) also emerged as a star performer in a sector saddled with severe labour shortages over the course of the pandemic, while major poultry player QL Resources Bhd (+23.8%) saw high demand across its business segments.
It is worth noting that AMMB Holdings and QL Resources were included in the FBM KLCI 30-stock benchmark index on Dec 19, replacing Top Glove Corp Bhd and Hartalega Holdings Bhd, glove makers whose shares have been under selling pressure for most of 2021 and 2022 as the threat of Covid-19 subsided amid rising vaccination rates globally.
Other plantation players that recorded gains this year were IOI Corp Bhd (+10.3%) and Kuala Lumpur Kepong Bhd (+3.9%).
Among the top losers were telecommunications companies Axiata Group Bhd and Maxis Bhd, which fell by 26.6% and 19% YTD respectively.
IHH Healthcare Bhd was the second top laggard, having dropped 20.2%.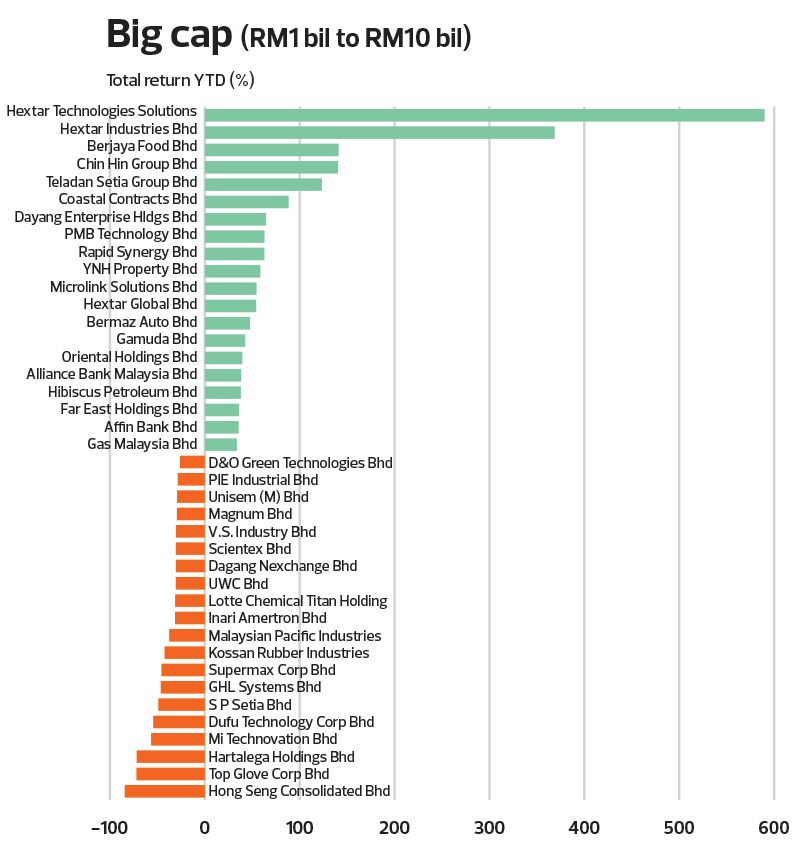 Big cap (RM1 billion to RM10 billion)
Over at the big cap space, Hextar Technologies Solutions Bhd (+590%) emerged as the top gainer with a 6.7-fold increase YTD from RM2.51 to RM16.80 as at Dec 21. In an announcement, Bursa drew attention to the recent sharp rise in the price of Hextar shares, and the unusual market activity queries issued to the company on Oct 19 and Oct 31. Hextar, in response to the queries, said it was not aware of any corporate development or explanation that could have led to the unusual trading activities.
Other firms which chalked up handsome gains included Berjaya Food Bhd (+141%), Chin Hin Group Bhd (+140.5%), Teladan Setia Group Bhd (+123.4%), Coastal Contracts Bhd (+88.3%) and Dayang Enterprise Holdings Bhd (+64.5%).
Top losers included software solutions company Hong Seng Consolidated Bhd (-84.4%), and glove makers Top Glove (-72%), Hartalega (-71.8%), Supermax Corp Bhd (-45.7%) and Kossan Rubber Industries Bhd (-42.4%).
Top Glove, which has been in the red for two consecutive quarters, said it expects at least another loss-making quarter ahead, before it can return to profitability — probably in the next nine to 12 months — amid a persisting supply glut that has sent prices tumbling to their "lowest in history".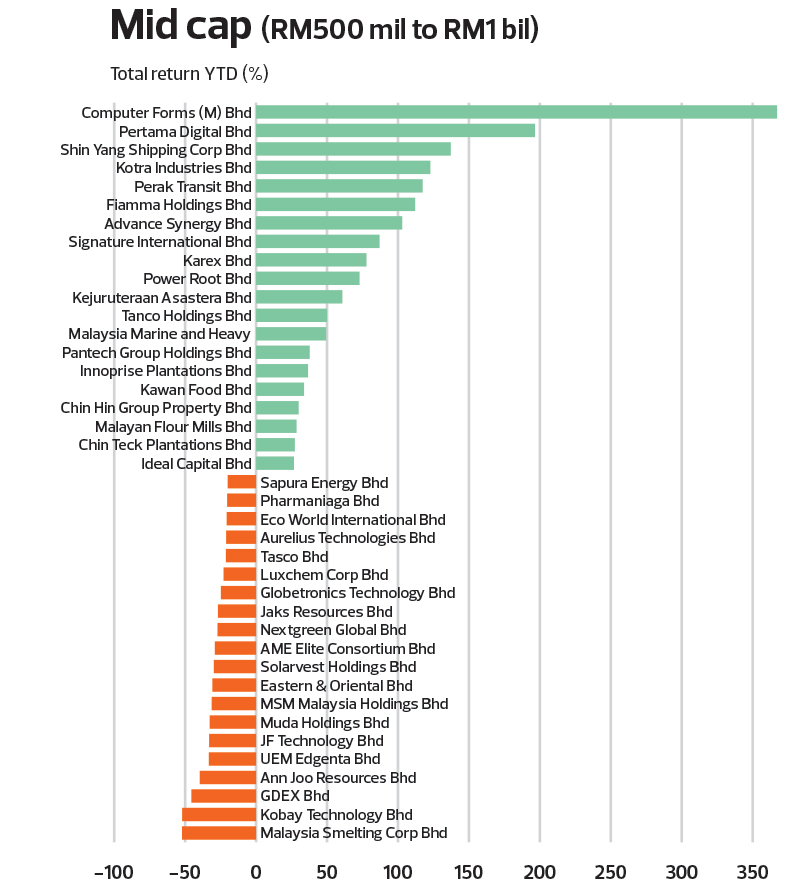 Mid cap (RM500 million to RM1 billion)
For mid cap companies, the top gainers included tycoon Datuk Seri Chiau Beng Teik's counters — Chin Hin Group Property Bhd (+30%), Fiamma Holdings Bhd (+112.1%) and Signature International Bhd (+87%).
Other notable counters in the top gainers' list included Computer Forms (M) Bhd (+367.2%), Pertama Digital Bhd (+196.6%), Shin Yang Shipping Corp Bhd (+137.2%), Kotra Industries Bhd (+122.8%) and Perak Transit Bhd (+117.4).
Top losers were players in the technology sector such as Kobay Technology Bhd (-52.1%), JF Technology Bhd (-33.1%), Globetronics Technology Bhd (-24.8%) and Aurelius Technologies Bhd (-21.1%).
Other top losers were Malaysia Smelting Corp Bhd (-52.2%) and GDEX Bhd (-45.6%).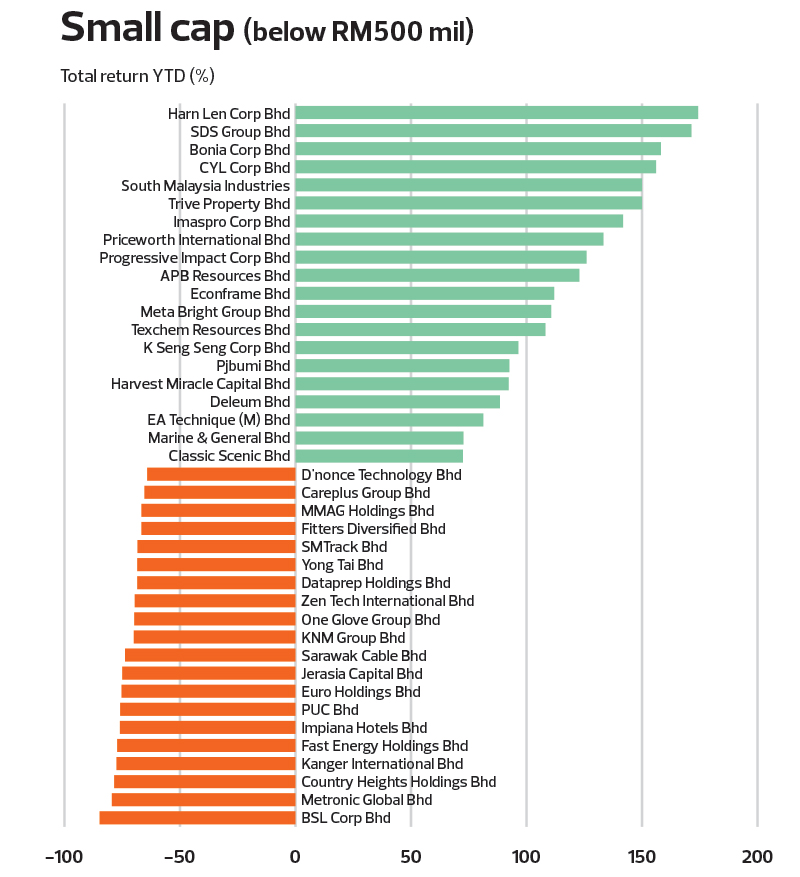 Small cap (below RM500 million)
Top gainers in the small cap category included Johor-based oil palm planter and property developer Harn Len Corp Bhd (+174.3%), which reported a net profit of RM4.93 million in 2QFY2022, thanks to the better average selling prices of CPO and palm kernel.
From a net loss of RM58.3 million in the financial year ended Dec 31, 2019 (FY2019), the group returned to the black with a net profit of RM98.8 million in FY2020, before slipping into the red again with a net loss of RM22.2 million in FY2021.
Another top gainer was Classic Scenic Bhd (+72.5%), in which businessman Eddie Ong surfaced in March last year as a new major shareholder with a 29.98% stake — 15.04% directly held and 14.94% held through Hextar, then known as Complete Logistic Services Bhd.
The two blocks of shares were sold by the investment vehicle of founding managing director Samuel Lim Chee Beng's family, Lim Ket Leng Holding Sdn Bhd, which no longer owns any shares in Classic Scenic.
In July this year, Ong consolidated his shareholding in Classic Scenic by acquiring Hextar's 14.94% stake in the maker of wooden picture frame mouldings. Since July, Classic Scenic's share price has gained 75.7% to close at RM1.16 last Wednesday, giving the company a market cap of RM286.21 million.
Top losers included PUC Bhd (-75.9%) — its share price tanking after it failed to attain a digital banking licence — and Country Heights Holdings Bhd (-78.5%), whose share price dropped sharply twice this year in March and May. The reason for the share price drops was unclear.
In May, Bursa slapped Country Heights with an unusual market activity query, alongside a spike in trading volume and its share price hitting limit down. The company, in response, said it was unaware of any corporate development that would have caused the sharp fall in its stock.
Country Heights is a property conglomerate controlled by tycoon Tan Sri Lee Kim Yew.

http://www.theedgemarkets.com/node/649893